Remember that wood-carved Toyota Land Cruiser from a while back? Well, we've found more of these woodworking art videos. But this time, it's a wooden motorcycle—a Harley-Davidson, to be exact.
Unfortunately, the owner of the video YouTube channel Hobby Kayu didn't mention which specific model the wooden figurine is based on, though this does appear to be a mix of an Iron 883 street bike and a Street Bob cruiser, two stylish models from Harley's wide lineup. Let's just assume it's a custom Harley we're looking at here.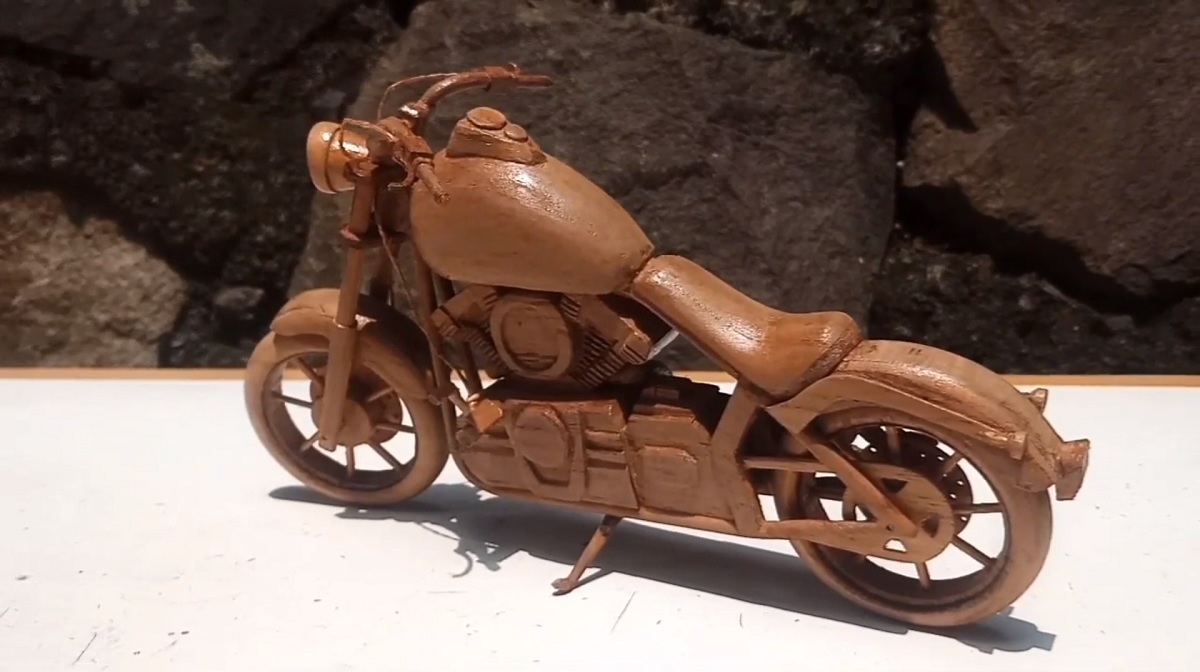 Now, there aren't many moving parts in a motorcycle's frame—no doors, hatch, or hood—so this might not look as intricate as a wooden SUV, but the details on this thing are superb. Just look at that V-twin engine and that exhaust. Pretty neat, right?
What makes this even better is that the bike actually moves properly, too. The wheels roll fine, and you can even steer the ride to boot. That's a win in our books. You can take a better look at the entire build here:
If you ask us, we think something like this wooden motorcycle would make for a good piece in any scale-model or die-cast collection. Would you agree?
Oh, and since you're here, would you like to see more cool builds?  If so, then you should check out our similar stories from recent months, such as this customized Hot Wheels build or this scale-model BMW Z4 restoration. While you're at it, we suggest you take a look at this stop-motion film of a 'self-assembling' V-twin engine as well. Enjoy.