Once again, the Philippine flag was hoisted in a foreign land after two Pinoy riders emerged as top finishers during the 2017 Suzuki Asian Challenge (SAC), held at the Johor International Circuit in Pasir Gundang, Malaysia, over the weekend.
Team Suzuki Pilipinas riders Mario Borbon Jr. and April King Mascardo again left an indelible mark in Philippine motorsport history for winning Race 1 and 2 of SAC.
It was also the first time that the country's national anthem was played at the Johor racetrack, in recognition of the astounding victories of the two Pinoys.
Sixteen riders from Australia, India, Indonesia, Japan, Malaysia, Nepal and Philippines are vying for top honors at the 2017 SAC. A one-make race program initiated by Suzuki in 2015, the SAC is considered a stepping stone by Asia's top riders to the prestigious MotoGP race.
The race program was spearheaded by former MotoGP and World Superbike rider Yukio Kagayama. All the riders are mounted on an equally-prepared GSX-R150, a 131kg race bike powered by a 147cc, single cylinder, DOHC, four-stroke engine.
ADVERTISEMENT - CONTINUE READING BELOW ↓
Aside from Borbon and Mascardo, a third member of Team Suzuki Pilipinas from Luzon also saw action at the Johor racing circuit.
After beefing up their confidence from the previous SAC races, the three riders consistently showed promising performances by consistently landing on pole position during the qualifying runs.
Mascardo, who hails from Mindanao, grabbed the pole position after posting the fastest qualifying time of 1:57.66, which broke last year's record. Ean Jay was third on the grid position in Race 1.
On Race 1, Borbon showed who's the real king on wet track conditions after he won the first top podium finish of the season. Sobretodo and Mascardo came in fifth and ninth, respectively.
On Race 2, Mascardo and Sobretodo alternately took the lead on the first laps. But misfortune struck Sobretodo when he figured in a collision with other riders in the middle of the race. This allowed Mascardo to pull away from the rest of the pack.
Mascardo's victory accorded Team Suzuki Pilipinas the first back-to-back win in the history of the SAC.
Round 2 of the SAC will be at the Chang International Circuit, Thailand, on April 14 to 15; Round 3 is at Suzuka International Circuit, Japan, on June 3 to 4; Round 4 at Sentul International Circuit, Indonesia, on August 12 to 13; and the final round is back in Chang International Circuit, Thailand, on December 2 to 3.
Good job, boys!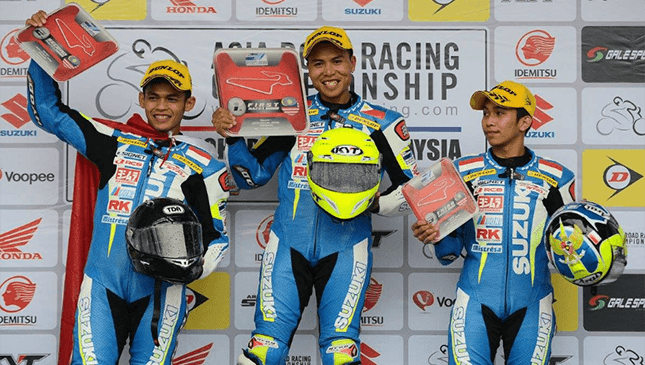 ADVERTISEMENT - CONTINUE READING BELOW ↓
Recommended Videos