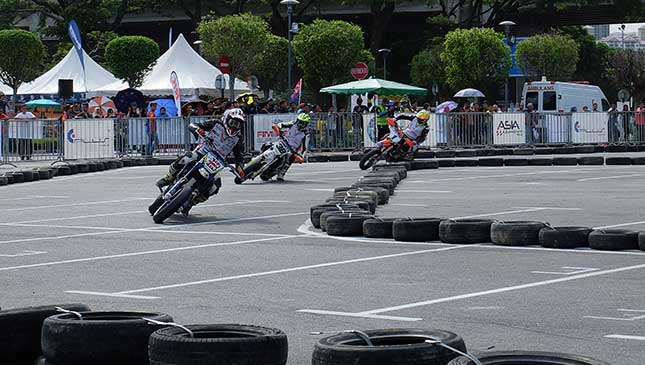 True to their word, organizers of the International Motorcycling Federation (FIM) Supermoto fulfilled their promise to bring this exciting motorcycle race back to the Philippines. In partnership with E-Global Plus, a Malaysian events company, the FIM Supermoto Leg 2 will be staged at the Quirino Grandstand this coming September 7 to 9, 2018.
Filipino race enthusiasts will see Asia's best supermoto riders battle it out on the makeshift track designed by the FIM, which include three different courses--flat track, motocross-style jumps, and paved tarmac. Riders include Simon Vilhelmsen of Denmark and Lewis Cornish of Great Britain. The latter bagged the 2017 FIM Asia Supermoto championship title.
Continue reading below ↓
Recommended Videos
However, Vilhelmsen nailed Cornish during the Round 1 of this year's season staged at the Nakhonchaisri Circuit in Thailand last August as the top finisher. Two Pinoy riders--Kenneth San Andres and Mark Reggie Flores--finished in ninth and tenth position, respectively. Just like in Kuala Lumpur, supermoto races become a big hit since they are held right at the center of the bustling city, so even shopping mall visitors can watch this heart-pumping race.
Expect more excitement at the Quirino Grandstand as the organizers will be able to come up with a longer and more challenging track compared to the Kuala Lumpur layout. If you recall, Metro Manilans missed the FIM Supermoto series last year after the organizers failed to secure the Quirino Grandstand due to a scheduling issue. In November 2016, organizers seemed to be dissatisfied with FIM Supermoto race that was held in Clark, Pampanga, because of the low turnout of spectators who trooped to the race track.
Despite these two glitches, Andrew Ching, chief executive officer of E-Plus Global, never entertained the thought of giving up the Manila leg of the Asia Supermoto. He believes this kind of motorcycle race is fast becoming popular on a global scale.
With the assistance of the Department of Tourism and National Parks Development Committee, E-Plus Global managed to secure the Quirino grandstand for the staging of the second leg of the FIM Asia Supermoto in September.
Come one, come all since admission is free, organizers said. Let's cheer for our Pinoy riders Kenneth and Mark! Go! Go! Go!
(Editor's note: These photos were taken during the 2017 FIM Asia Supermoto held in Kuala Lumpur last year)