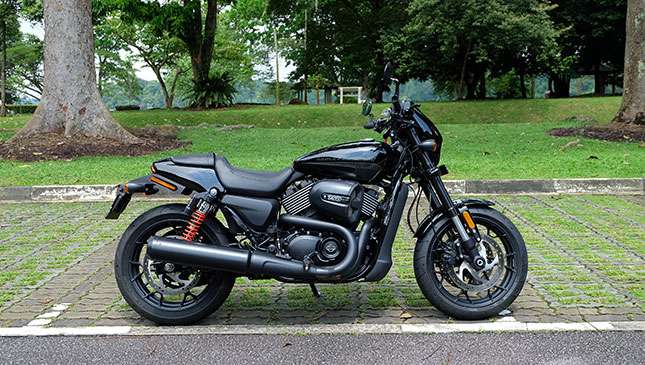 Almost three months after the international media got the first crack at this gorgeous street fighter in Singapore last April, the new Harley-Davidson Street Rod has finally landed on Philippine shores to the delight of urban riders.
Powered by the tuned High Output Revolution X 750 engine, Harley-Davidson of Manila says the 2017 Street Rod spews 18% more horsepower and 8% more torque compared to its predecessor, the Street 750 introduced in the Philipine market in 2015.
The two share the same middleweight platform which is now gaining popularity among motorcycle enthusiasts, who are looking forward to excitement in daily city rides besides out-of-town escapades on weekends.
Continue reading below ↓
Recommended Videos
More torque is produced up to middle of the rev range, an important trait in recovering speed in stop-and-go riding, and there's more power at the top end. The more aggressive engine response is credited to the larger, sportily-designed air box, dual 42mm throttle bodies, new four-valve cylinder heads, and high-lift camshafts. Also, the new design exhaust system adds more punch to the acceleration.
When Moto Sapiens tested it on the flawless roads of Singapore, the new Street Rod proved to be nimble and agile in weaving in and out of traffic, with its sharper chassis geometry and aggressive riding position from the so-called 'bulldog' handlebars. At the end of the drag-style handlebars are round-design, bar-end mounted rear-view mirrors with a patent-pending fold back design. No problem in tight parking with this street naked bike.
Compared to the Street 750, technical upgrades on the Street Rod include dual two-piston caliper disc brakes with ABS, and an inverted front fork secured by aluminum yokes. Meanwhile the Street 750 still relies on the traditional telescopic fork. Even the Street Rod's fork rake is tightened to 27 degrees from 32 degrees for a smaller turning radius.
For a meaner stance, the seat height of the Street Rod was raised from the 28in of the Street 750 to 30.1in in the new motorbike. It goes with a new tail section highlighted with LED taillights and turning indicators. A few millimeters were added to the swing arm to give way to the taller rear shocks, resulting in a sportier ride feel. However, this minor seat height adjustment still does not pose a problem to the average-sized Pinoy rider.
For better road traction, the Street Rod's rear tire is now 17in mounted on open spoke black cast aluminum wheels, while the Street 750 rolls on 16in rubber. Now it looks meatier.
The new Street Rod is available in three color options: Vivid Black (P649,000), Charcoal Denim, and Olive Gold (P667,000). Harley-Davidson of Manila says the 2017 Street 750 is still available: Vivid Black for P573,000, in color for P590,000, and in two-tone for P608,000.
Now take your pick: Street Rod or Street 750?