After more than a year of endless development and testing, Ducati has finally rolled out its 2020 Streetfighter V4 during a well-attended world premiere in Rimini, Italy, on October 23, 2019.
Still gorgeously wrapped in the Ducati signature deep red skin, the new Streetfighter V4 appeared on center stage with a more powerful stance and whoa—we see a set of aerodynamic wings!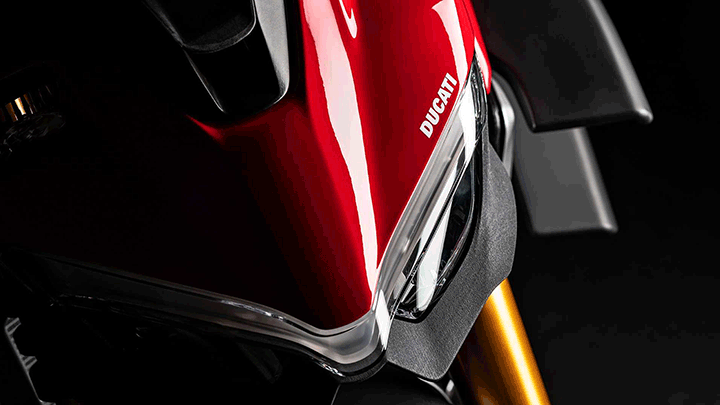 Nope, the Streetfighter has no plans of flying up in the sky. Those four angular winglets attached to the radiator edges are meant to keep this 208hp road bike stable at high speeds.
In principle, they have the same purpose as the winglets on the Desmosedici race bikes that crank out more than 250hp. They generate up to 28kg of downforce to keep the front wheel pinned to the asphalt at 270kph.
ADVERTISEMENT - CONTINUE READING BELOW ↓
Of course, the track-ready 2020 Ducati Panigale V4 S has its own set of biplane winglets, too. It was the Ducati team that first used these winglets in MotoGP; the other teams just followed suit. The new winglets on the Streetfighter and the Panigale are almost identical to the first-gen aerodynamic wings used by the MotoGP team, but were later modified for safety reasons.
Elsewhere, the new Streetfighter V4 looks quite unique and extraordinary, especially with the application of what the Ducati styling department describes as the "Joker's face" for the bike's fascia. The dual LED headlamps feature sleek, tiny winglets, too.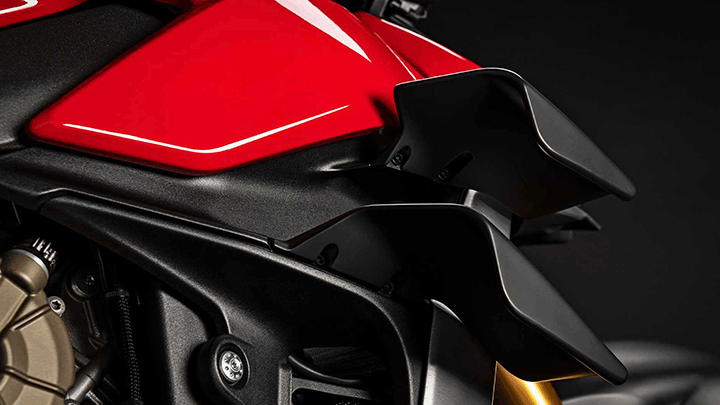 Obviously, just the aero kit is not enough to keep the bike stable when the rider pushes to the limit. The new Streetfighter V4 is equipped with an agile rolling chassis that's similar to that of its Panigale V4 racing sibling.
Also, a road bikes like this must provide a solid, comfortable perch for the rider, prompting Ducati to pad the seat with 60mm of foam versus the Panigale V4 S's 25mm cushioning. As regards safety, the Streetfighter has an impressive suite of performance-oriented electronic aids: cornering ABS, traction control, slide control, wheelie control, power launch, quick shifter (up/down), engine brake control, and an electronic suspension.
ADVERTISEMENT - CONTINUE READING BELOW ↓
Recommended Videos
At the heart of the Streetfigher is a 208hp 1,103cc Desmosedici Stradale V4 engine derived from the Ducati MotoGP powerplant. With an impressive dry weight of only 178kg, the new model has a power-to-weight ratio of 1.17hp/kg.
Offered in two variants—the base Streetfighter V4 (€19,990 or about P1.13 million) and the Streetfighter V4 S (€22,990 or roughly P1.3 million)—this latest jewel of the Ducati line will be available in Europe begining March 2020. Do you think it's worth the long wait and the price?