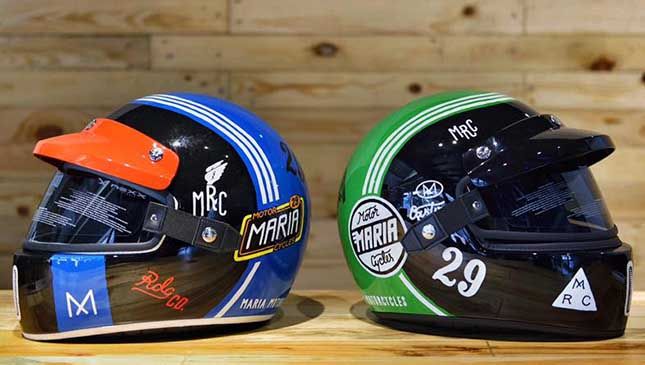 "The price of your helmet is equivalent to the price of your life." Thus, Paulo Duarte declared during an interview at the launch of Portuguese-made Nexx helmets in Taguig City last Tuesday.
Duarte, commercial sales manager of Nexxpro, and Rui Lima, in charge of the company's export sales, visited the Philippines to know the trend of the local demand for motorcycle helmets.
ADVERTISEMENT - CONTINUE READING BELOW ↓
Together with proprietors of Ride Manila—Vince Tagle, Nikki Confiado, and Alan Sevilla—Duarte and Lima made several rounds of local motorcycle dealerships and talked to the owners, to determine which bike models are among the bestsellers as part of their business planning. Ride Manila is the authorized distributor of Nexx helmets in the country.
Based on Duarte's observation, the buying pattern of Pinoy riders on helmets are anchored on two major issues: budget and styling. Safety benefits of the protective headgear only come in third, making them prone to road accidents, he said. This is when motorcycle dealers play a critical role.
"They (dealerships) just sell motorcycles, nothing else. Riders have to go to another place to buy a helmet," says Duarte. "They are only concentrating on aftermarket parts."
In stressing the need for local motorcycle dealers to promote safety equipment, Duarte thinks that selling quality riding gear will also do their business good—not only for profit but for establishing a longer relationship with their target market.
ADVERTISEMENT - CONTINUE READING BELOW ↓
Recommended Videos
So far, members of the Motorcycle Development Program Participants Association (MDPPA) are active in giving out helmet stickers to owners of newly-purchased motorbikes, to remind them of the importance of wearing protective headgear.
In Europe, Duarte said, motorcycle dealerships not only sell safety riding apparel, but inform their customers about the safety features. This means while the customers are selecting from the motorcycle model line-up, they can also check the riding gears on the rack.
In the Philippines, the two Nexx executives noted that Pinoy riders seldom inquire about the technical features of the helmet.
Other than the strength of the outer shell, among the other important issues that should be considered in choosing a helmet are its weight, ventilation system, locking mechanism, and materials used in ensuring the rider's comfort.
Another important consideration is that riders should match the type of helmet they use to the bike model they own. This is because there are different types of motorcycle headgear manufactured for a specific use.
ADVERTISEMENT - CONTINUE READING BELOW ↓
Nexx officials claimed that the proliferation of substandard China-made helmets is not only prevalent in the Philippines, but in many other Asian countries as well.
Nonetheless, they think that Pinoy riders, albeit slowly, are already beginning to realize the importance of wearing a dependable, durable, and comfortable helmet. Especially now that motorcycle-related accidents in the country are a dime a dozen.
Knowing these facts, are you ready to end your impulsive buying instincts?
ADVERTISEMENT - CONTINUE READING BELOW ↓