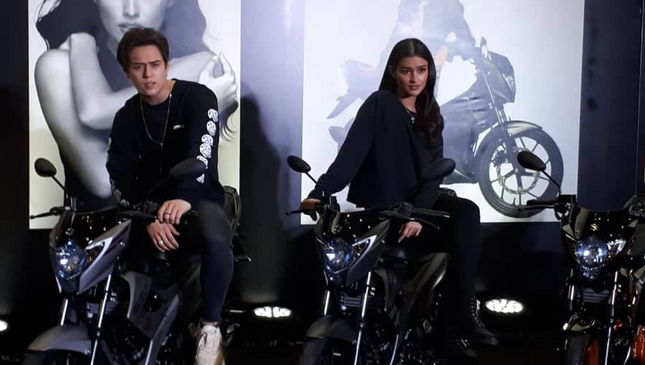 If you're wondering where the promotional campaigns of the country's Big Four motorcycle companies are headed, look no further than the recent pattern of events geared toward lifestyle motifs.
Now in the frontline of lifestyle activities for its motorcycle products is Suzuki Philippines, which is banking heavily on celebrity endorsements and fashion shows. After all, motorbikes aren't just daily transports. By associating these compact and afforable two-wheelers with stylish clothes, healthy living, yummy dishes, and of course, road trips--the riders' world becomes more exciting and colorful.
Last week, Suzuki Philippines launched the new Suzuki Skydrive Sport, drumbeating the lifestyle theme by partnering with Bench, one of the country's top clothing companies, and classy Kashieca women's wear. Spicing up the event were Suzuki celebrity endorsers Enrique Gil and Liza Soberano, who appeared on the ramp looking chic and youthful with the new Suzuki Skydrive Sport.
Continue reading below ↓
Recommended Videos
Question: Were the guests' eyes trained on Enrique or Liza, or on the new Skydrive Sport scooter? Well, one thing for sure is that the sparkling pink body finish of the Skydrive Sport will not escape attention. Powered by a fuel-efficient 113cc 4-stroke engine, the 2018 Skydrive Sport comes in three striking colors--pink, matte black, and silver. The matte black and silver variants both have pink stripes on the front cowl, side fairings, and body claddings. The Skydrive Sport has noticeable upgrades on the headlamps, front disc brakes (now mounted on the left side), muffler design, and larger floor board. It is priced at P67, 900.
If you're asking if men will dare to ride the pink Skydrive Sport scooter, watch Suzuki's latest advertisement and check out how Enrique Gil looks while on board this trendy commuter.
Suzuki also took the opportunity to unveil its new Suzuki Raider 150 Combat Series. The Matte Grey painted fairings are matched with Army-inspired side markings that gives the rider the impression that this top-selling underbone is ready for extreme action. The standard retail price for the new Suzuki Raider 150 Combat Series is pegged at P97,900.
After seeing these two new Suzuki lifestyle bikes, would you rather be the fashion-conscious rider? Or the adventure-seeking one?