Why do things like these happen to us every Christmas time?
This was the damning question raised by George Royeca, chief transport advocate of motorcycle-taxi company Angkas during a press conference after its 27,000-strong rider-partners held a massive protest rally at the historic People Power Monument.
Royeca couldn't help but establish a pattern of disruptive moves on the part of government authorities that adversely affect not only the company operations, but also the livelihood of its riders.
The most recent was a directive from a technical working group (TWG) of the Department of Transportation (DOTr) that now requires Angkas to downsize the number of its riders plying the streets. From a total of 27,000, the allowed number of Angkas riders goes down to 10,000 for Metro Manila and 3,000 for Metro Cebu. This begins tomorrow, December 23, 2019.
Continue reading below ↓
Recommended Videos
Tomorrow also officially marks the start of the pilot-run extension accorded by the TWG to Angkas, but it will now be joined by two other motorcycle-taxis companies: JoyRide and Move It. Just like Angkas, these two new players are allowed to operate with 10,000 riders each in Metro Manila.
This, along with several other issues, did not sit well with Angkas.
"That is not right. That is anti-competition: To force our riders to leave their jobs in favor of two other groups," said Royeca.
Angkas also questioned the decision of the DOTr-TWG, led by retired P/Maj. Gen. Antonio Gardiola Jr., to allow JoyRide and Move It to join the extended pilot run without releasing to the public the credentials (training record, insurance policy, and road-safety standards, among others) of these two new industry players.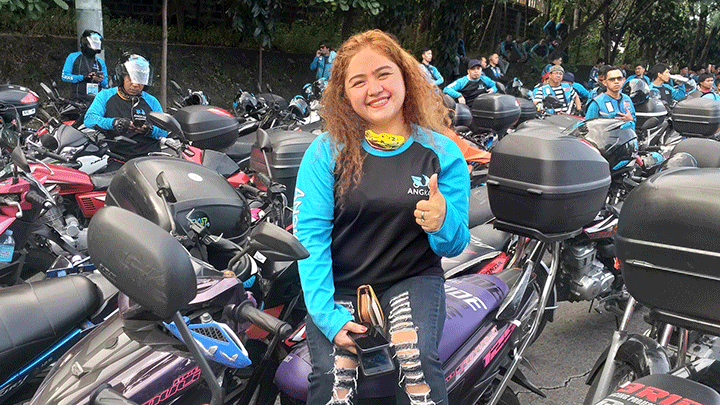 "It took two years to get the pilot run. It took us three years to be recognized as a motorcycle company. And yet, these two were able to get in in three months to be included in the pilot run," Royeca lamented.
The night before the big Angkas protest rally, Gardiola issued a statement saying: "Nagdagdag tayo ng dalawang TNCs (transport network companies) upang hindi ma-monopolize ang mga datos ng mga kalahok sa pag-aaral na ito."
Gardiola also warned Angkas against using social media to garner public support and sympathy.
"Hindi ekonomiya o kita o trabaho ng mga rider ang pinag-aaralan dito kaya kailangan yung angkop sa pinag-aaralan ang talakayin sa mga usapin," the former police official, now a member of the Land Transportation Franchising and Regulatory Board (LTFRB), said.
As the word war between the two groups heats up, Angkas's riders are left in suspended animation since the DOTr-TWG has failed to indicate if all active riders will still be allowed to ply the streets tomorrow, although the original pilot run officially ends on December 26, 2019.
Why leave them out now when it's Christmas time and public transportation is scarce? That's what Royeca is asking. While this telenovela involving Angkas and some bright boys from the government continues, it's the commuters who are suffering.
Any suggestions on how this should end?