After a long-drawn-out struggle, the government has finally decided to allow ride-hailing motorcycle company Angkas to resume operations via a pilot run in Metro Manila and Metro Cebu, in time for the opening of classes next month.
"I am grateful and proud that, after their careful scrutiny, the DOTr saw the merits of Angkas in terms of rider safety and security, in effect proving what we have been saying right from the start—that Angkas prioritizes safety and accountability above all else," says George Royeca, the company's head of regulatory and public affairs.
Royeca also thanked the Department of Transportation (DOTr), the Land Transportation Franchising and Regulatory Board (LTFRB), the Philippine National Police–Highway Patrol Group (PNP-HPG), and the motorcycle clubs that worked with the DOTr-formed technical working group (TWG) to draft the guidelines for Angkas' six-month pilot run, which begins in the first week of June.
DOTr secretary Arthur Tugade has signed the guidelines for the implementation of the pilot run to ensure the safety and comfort of the riding public in two of the country's most heavily populated urban areas. Based on the recommendations of the TWG, among the conditions set by the DOTr are the use of proper uniforms and riding gear among Angkas' 27,000 riders, observing the 60kph speed limit, the availability of an insurance package for passengers, and the establishment of a fare matrix.
Continue reading below ↓
Recommended Videos
One unique feature of the implementing guidelines is the setting up of key performance indicators to monitor and determine the causes of road accidents involving Angkas riders. Very impressive!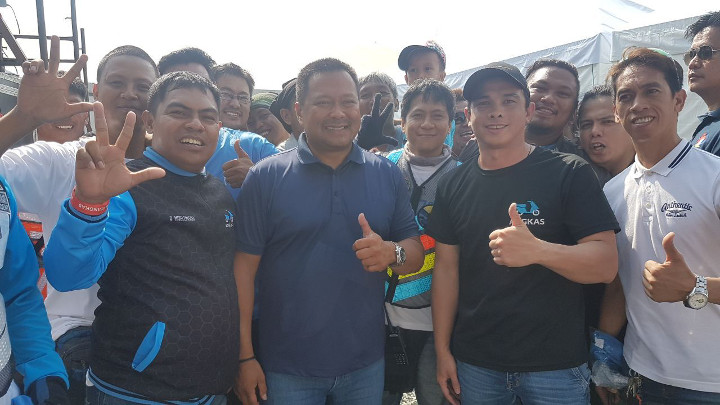 But good things like these do not just fall from the heavens, so give credit where credit is due. Royeca was cordial enough to admit that Angkas got a boost from Senator JV Ejercito to secure the DOTr's approval of the pilot run.
Ejercito, a rider himself, interceded to have the pilot run approved before all hell breaks loose again when classes resume next month. Ejercito is the author of Senate Bill No. 2180, or the Public Utility Motorcycles Act of 2019, which aims to legitimize motorcycle taxis.
While awaiting for the bill's approval when Congress resumes session in July 2019, Ejercito sees the need not only to augment the country's public transportation and find alternative rides in traffic prone cities. "I also emphatize with our motorcycle owners who just want to earn a decent living for themselves by using the motorcycles that they already have," he said.