If you're among those who are still skeptical about the riding skills and the road discipline of Angkas riders, read on.
Last week, instructors of Total Control Training, a riding school based in the US, arrived in the country with the primary objective of honing the skills of the motorcycle-taxi company's 27,000 strong riders, who are currently being monitored and evaluated by the Department of Transportation.
It may or may not be a coincidence, but Total Control arrived here two weeks before the six-month pilot run of Angkas expires on December 26, 2019.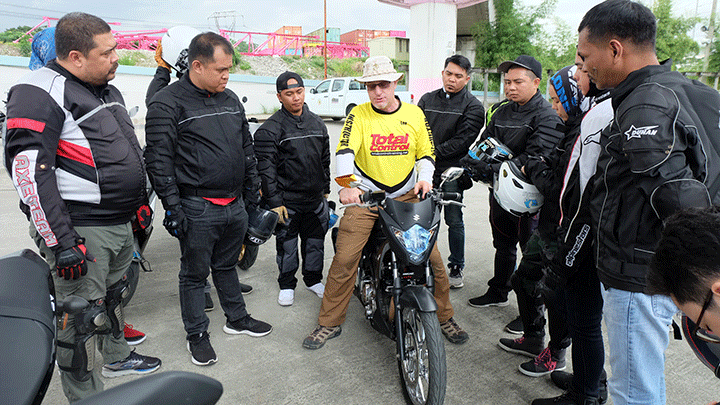 "They already have a good safety mindset. Angkas has created what we call in the US a 'culture of safety,'" said Lee Parks, president of Total Control. But he stressed that there's still a lot to do in terms of honing the skills the company's riders and instilling in them a strong sense of discipline.
Continue reading below ↓
Recommended Videos
In a quiet but secure area at the BFC Transport Terminal in Marikina, Total Control set up a makeshift course to carry out its intermediate and advanced training levels.
The intermediate level involves classroom and practical exercises on throttle control, brake control, vision (peripheral, target fixation), line selection, low-speed turns, and evasive maneuvers, among others. Living up to their company's name, Parks's group of instructors demonstrated how to pull off smooth yet powerful take-offs, proper braking, and safe, clean maneuvers in tight spots.
What about the advanced level? Sorry, we missed that part due to unavoidable reasons.
In these sessions, the Angkas riders were allowed to use their own motorcycles to familiarize themselves with the handling characteristics of their stallions.
The training modules being used by Total Control for the initial sessions are meant to allow the riders to experience the company's specialized program. This then allows Parks and his group to determine if the riders are qualified for the trainers' program set for the first quarter of 2020.
If the riders who participate in the said program pass the final exams at the end of the period, they earn a trainers' certificate from an elite, foreign-based riding academy.
By now, you might be wondering: What sort of credentials does this US-based riding academy have to guarantee that it can help Angkas meet the safety requirements imposed on local motorcycle-taxi companies?
Well, Total Control is well-known for providing training to the US Marines after the US Department of Motor Vehicles (DMV) reported that many of the corps' servicemen were being killed in motorcycle-related accidents than in actual battle.
Moto Sapiens also noticed that Total Control uses a strong psychological training approach to correct riders' bad habits. So, we asked Parks point-blank: Is there any hope that Filipino riders will become more disciplined?
"I might have thought that before I met the Angkas people only, because they have really stepped up their game and added a lot of training process and rules to kinda make sure that their people are doing the right thing," Parks replied. "I don't think it's too late, but I believe that's gonna happen with the next generation of riders."
Just between us: Former Senator JV Ejercito (photo above, standing in the middle), who has been pushing for the legalization of motorcycle taxis in the country, made a surprise visit to the Total Control session to personally assess the conduct of the training. Was he impressed? Please wait for the next article.
Do you believe that Angkas riders really need the help of foreign riding experts to improve their skills?