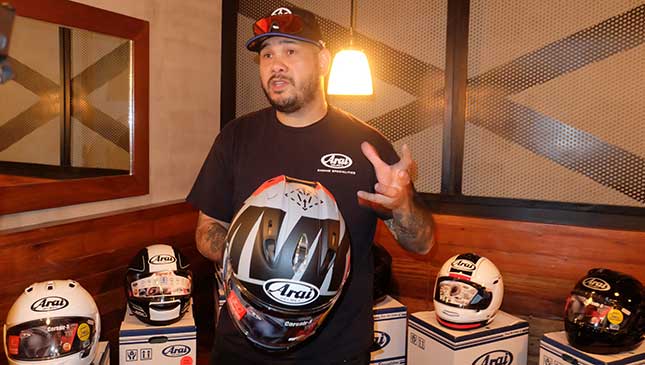 Motorcycle apparel and accessory shops are now flooded with helmets. Drop by any of these establishments and you'll see the assorted brands lined up neatly on the shelves, each of them bearing awesome designs and technology.
However, if we're talking about helmets with established dealerships here in the Philippines, one familiar brand is missing in action—Arai helmets.
For so long, Arai motorcycle helmets found their way to the local market only through independent importers that lack the tag 'official dealership' as designated by its main headquarters in Saitama prefecture in Japan.
Needless to say, these importers do not offer warranties for every purchase of high-quality Japan-made motorbike helmets. And aside from not being able to supply spare parts, these importers bring in Arai helmets to the Philippines in small numbers.
Continue reading below ↓
Recommended Videos
To give you an idea how tough the Arai helmets are, many MotoGP riders carry this brand. Among them are Maverick Viñales, Carl Crutchlow, Dani Pedrosa, and Nicky Hayden. These top guns have experienced being thrown off from their bikes at 300kph, but still managed to walk away from the track unscathed.
Because they're armed with advanced helmet technology to protect the rider's head, Arai products don't come cheap.
James Aro of BikerBox, Inc., the new official dealer of Arai helmets in the country, says the top-of-the-line carbon fiber headgear of this brand may cost $4,000 or P200,000. Do you find the price of Arai painful?
But do not freak out...yet. BikerBox offers the Corsair X,which is made of ultra-strong fiberglass composite fiber that is widely used by MotoGP riders. This costs P71,500 at Bikerbox, which recently bagged Arai dealership in the country facilitated by a major Arai store in the US.
If the Corsair X still does not fall within your budget, then you can go for the Signet-X Focus or Vector 2 Blaze with a price tag of P62,500 and P48,500, respectively.
Aro explains that there might be a big difference in price range, but the overall technology that zero in on safety and comfort remains constant in all of Arai products.
Another touchy issue on helmets is comfort. Since majority of the high-end helmets are mainly targeted for the American and European markets, many of these products have long oval-shaped shells to fit burly Caucasians. Now, Arai has designed helmets purposely for the Asian market which are rounder in shape.
Aside from this, Arai came up with inner layers that can be adjustable—you can have them thinner or thicker. The adjustments can be done with the use of additional layers to ensure optimum fit in the jaw area and on the top part of the head. According to Aro, this unique design is exclusive to Arai.
By the way, experts say that the integrity of a motorcycle helmet only lasts for five years. If you get an Arai, BikerBox assures that all of its products come with a five-year warranty.
These awesome helmets and spare parts will be supplied by Arai USA to BikerBox.