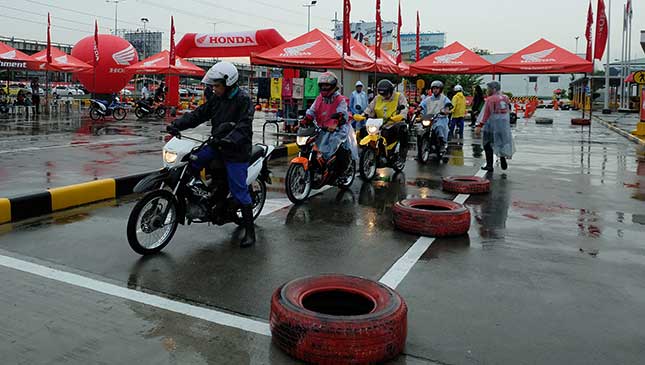 Enough is enough!
With the drastic increase of motorcycle-related accidents in the country, Senator Joseph Victor 'JV' Ejercito has filed a bill in the upper chamber requiring a rider to first undergo a mandatory safety riding training.
Dubbed as 'An Act Establishing A Mandatory Motorcycle Safety Training Program, and Providing Penalties Therefore,' Senator Ejercito filed Senate Bill 1822 as a result of the alarming surge in the number of road accidents in the country, mostly involving two-wheelers.
Citing data obtained from the Philippine Statistics Authority, motorcycle-related injuries comprise 69% of the total identified transport accidents nationwide.
"Motorcycle riders have been the top victims of road crashes in Metro Manila since 2010. In Metro Manila alone, the Accident Recording and Analysis System of the Metro Manila Development Authority reports that motorcycles rank first among vehicles that are involved in accidents," says Ejercito, a motorcycle enthusiast.
Ejercito earlier shared with Moto Sapiens his dismay over the rising incidents of motorcycle accidents in Marilaque (Marikina, Rizal, Laguna, Quezon) highway, which is where the rest house of his father, former president and now Manila mayor Joseph Estrada, is located in Tanay, Rizal.
Almost every weekend, particularly on Sunday mornings, the Marilaque stretch is infamous for riders overshooting from a tight turn or being hit by an oncoming vehicle after their bikes straddled the opposite lane while cornering at high speeds.
"Furthermore, there is a need to look into the proliferation of motorcycles nationwide," Ejercito added. "According to the Land Transportation Office, of the total 8.7 million vehicles registered with the LTO for 2015, 4.8 million are motorcycles."
The MMDA data showed that in Metro Manila alone, there was a total of 110,025 incidents of road crashes in 2017. This is equivalent to 301.44 average road crashes a day with 1.17 fatalities per day.
The agency also claimed that 80% of the motorcycle accidents were traced to human error.
But based on the data obtained by Moto Sapiens, there are already 6.1 million registered motorbikes in the country in 2017. The Motorcycle Development Program Participants Association claimed that the total sales of motorcycles in the country reached 1.4 million last year.
Ejercito's proposed measure came after LTO chief Edgar Galvante asked the driving schools in the country to come up with a standardized training program for student drivers.
During the recent National Motorcycle Convention held in Legazpi City, Ejercito shared with President Duterte his plans of drafting a proposed measure that will require riders to undergo formal training, before they can purchase a motorcycle. Instantly, he was given a 'thumbs up' sign by the Chief Executive. Actually, the issue also became the core topic of the President's speech during the event attended by more than 4,000 big bikers.
We are hoping this gesture from the President, who is a rider himself, will translate to the passing of Senate Bill 1822 into law in the soonest time possible.