Ducati enthusiasts from the Visayas region must have had a merrier Christmas than most of us did: On December 14, 2019, the iconic Italian motorcycle marque became the latest addition to the so-called 'Big Bike Boulevard' on Ouano Avenue in Mandaue City.
This is where the showrooms of the biggest brands in the industry now proudly stand side by side, which means for residents of Central Visayas, there's no more need to travel all the way to Quezon City or Davao City just to buy a Ducati or have their units serviced.
Ducati Cebu is owned by Wheeltek under the Odulio family, and it's the seventh motorcycle brand now being carried the company. Here's how the Ducati Cebu showroom became a reality according Bobby Orbe, Wheeltek's division manager for big bikes.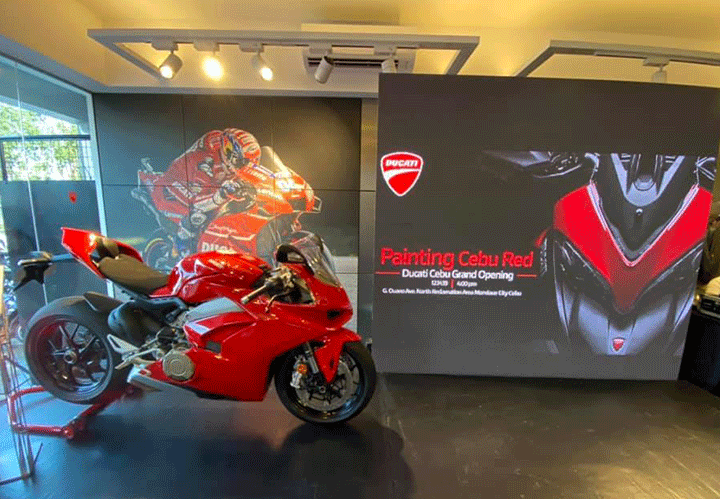 Being a sought-after brand, Ducati has long been in the radar of Wheeltek. Negotiations to open a Cebu dealership started a year ago, but Wheeltek and local Ducati distributor Access Plus became busy with other things along the way.
ADVERTISEMENT - CONTINUE READING BELOW ↓
The former had its hands full with the opening of the Harley-Davidson of Cavite showroom on October 2, 2019. It took Wheeltek only 18 months to establish this dealership, from the start of the negotiations to the completion of the showroom.
Other than local Ducati fans, Wheeltek, and Access Plus, another entity was growing impatient about the long wait: none other than Ducati itself. It turned out the regional bosses were aiming for a showroom to be constructed in Cebu by the end of 2019, to cater to the needs of existing and soon-to-be Ducatisti.
In the early part of December last year, Orbe and his boss, Roscoe Odulio, found themselves rushing in and out of the country to complete the requirements set by Ducati just to meet the end-of-2019 deadline. The last 30 days of setting up shop became toxic for both camps, but everyone was moving. No need to panic.
ADVERTISEMENT - CONTINUE READING BELOW ↓
Recommended Videos
Again, Wheeltek proved it can move mountains to deliver the goods. Ducati Cebu boasts a display area for 30 motorcycles, a service bay, an exclusive corner for original Ducati riding apparel, and a comfy customers' lounge—all designed and constructed in compliance with the strict global standards set by the Italian company.
There are other iconic brands in Wheeltek's radar for 2020. For now, we at Moto Sapiens will just keep our mouths shut—all we know is that Wheeltek has already mastered the art of cramming. Kudos to them!