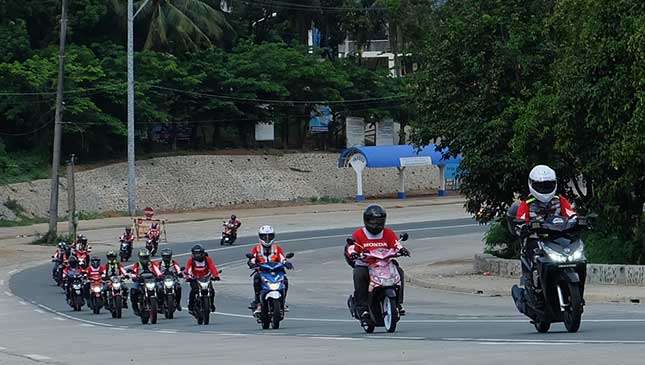 About a month from now, the Department of Environment and Natural Resources (DENR) will start implementing its Administrative Order 2010-24 which was issued last September 27, 2010. This requires all local motorcycle manufacturers, assemblers, and importers to produce only Euro 3-compliant products beginning September 27 this year.

Prior to registration of a motorcycle unit, manufacturers and importers are required to secure a Certificate of Conformity (COC) obtained from the DENR to be able to get a Certificate of Stock Report (CSR) from the Land Transportation Office (LTO).

Under AO 2010-24, motorcycle units that were produced before the cut-off date will still be allowed to be sold by the dealers as long as the CSR has been issued after the deadline. This new emission regulation involves both current and new models that will be produced in the Philippine market.

It can be recalled that the Motorcycle Development Program Participants Association (MDPPA) expressed its support for the DENR policy when it was approved during the administration of President Aquino. This policy would mean an additional cost for the production of motorcycles because it will need upgrades on the fuel systems and catalytic converters on every motorbike to be manufactured and imported for the local buyers.

However, the implementation of DENR Administrative Order 2010-24 raises two critical questions.

1) Are all motorcycles companies willing to comply with this emission regulation, considering that not all motorbike manufacturers, assemblers, and importers belong to MDPPA?

2) Is the DENR technically capable of checking if the motorcycles being assembled locally are Euro 3-compliant?

Although the MDPPA repeatedly gave assurances that its members are ready to oblige with the DENR directive, there are other motorcycle companies—Chinese brands, in particular—that are not under its wings but still account for a big slice of the total annual sales.

The MDPPA, which comprises four Japanese brands and one Taiwanese manufacturer, declared total year-on-year sales in 2016 that reached 1.1 million. The predominantly Chinese non-MDPPA members sold approximately a third of that amount in the same period.

And since the DENR is presently relying only on documents submitted by the motorcycle companies with regard to the emission compliance certification, some sectors fear that some manufacturer and importers might not oblige with the memorandum order by not declaring the true emission standard of their product.

Also, the DENR is not yet equipped with the proper emission testing facility, which would cost the government millions of pesos, to be able to accurately check the Euro emission level of a motorcycle product.

With the September 27, 2017 deadline fast approaching, many sectors are asking: Are both parties really serious about this?
ADVERTISEMENT - CONTINUE READING BELOW ↓
UPDATE as of June 11, 2018: The 45th Tokyo Motorcycle Show in Odaiba was held from March 23 to 25 this year. The photos and videos shared by their visitors might have caused confusion among netizens since they have almost the same group of motorcycle companies showing off their latest hardware and technology. Moto Sapiens attended the Tokyo Motorcycle Show. This year, 135 companies with 882 exhibit booths showed off their latest two- and three-wheelers, modern electric bikes, accessories, and even riding paraphernalia. There were launch events of new motorcycles, relaunching of face-lifted units, and even revivals of classics by Japanese, European, American, and—wait—two Taiwanese brands.
ADVERTISEMENT - CONTINUE READING BELOW ↓
Recommended Videos