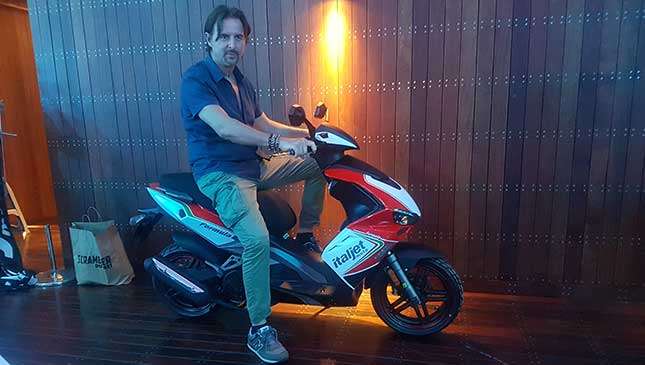 There are two main reasons why Massimo Tartarini, president and CEO of the Italjet motorbike company, intends to visit the Philippines more often. Massimo, grandson of former Ducati motorbike designer and Italjet founder Leopoldo Tartarini, had dinner in BGC last week with executives of Access Plus and a select group of Pinoy motorcycle journos.
He surprised the media by showing up for the occasion not in business attire but wearing a pair of cargo pants, running shoes, and a short-sleeved polo shirt. Oozing with Italian flair, he looked very casual with a choker, too. It was his first time to set foot in the Philippines.
Despite being already in vacation mode, Massimo was ready to talk about his plans for the Philippine market.
First, his visit to Manila meant business. Massimo is aware of the strong following of Italjet bikes in the Philippines because of social media sites. "We see big things coming for the Philippines within the next two years," he said.
ADVERTISEMENT - CONTINUE READING BELOW ↓
Aside from the Formula 150 scooters and Italjet Ascot e-bikes now available at the Access Plus dealership in P. Tuazon Ave, QC, the Italjet exec wants to introduce the Italjet Café Racer in 250cc and 400cc variants next year. But the bigger news is that the all-new Italjet Dragster, powered by a two-stroke, turbocharged, 150cc engine that packs 50hp, is also being eyed for the Philippine market.
Already in the final stages of development, the concept model of the Dragster will likely have its global introduction at the EICMA show in Italy to be held in November this year. Hopefull, Massimo said, the new Dragster will be here some 10 months later.
"The new Dragster is not just a redesigned nor a restyled model. It's a totally new model with an aluminum frame and a radical design concept," Mossimo pointed out.
There are also negotiations with Access Plus for the setting up of an Italjet showroom in the country. The Italjet plant that will rise in India will eventually boost the brand's presence in the Asian market, he emphasized.
These business aspects were the first reason why Massimo will be frequenting the Philippines. And the other reason is: "I'm going to Boracay tomorrow," he said with a big smile.
So excited to see the world-class paradise island, Massimo arrived in the country one week earlier than scheduled. He says he had heard a lot about Boracay from his brother who visits the place almost every two months.
Well, there goes the Tartarini brothers painting the island red. Enjoy Boracay, guys!
ADVERTISEMENT - CONTINUE READING BELOW ↓
Recommended Videos