In a bid to retain its supremacy in the world's toughest off-roading competitions, Austrian motorcycle brand KTM has taken the wraps off seven new models, now equipped with more advanced riding systems and suspension upgrades, for 2021.
The latest KTM enduro lineup sports stylish 'Ready to Race' graphics and updated color schemes inspired by the Orange Team's successful feats in the prestigious WESS Enduro World Championship, including the Red Bull Romaniacs and the Red Bull Erzbergrodeo. Check them out below:
1) 2021 KTM 500 EXC-F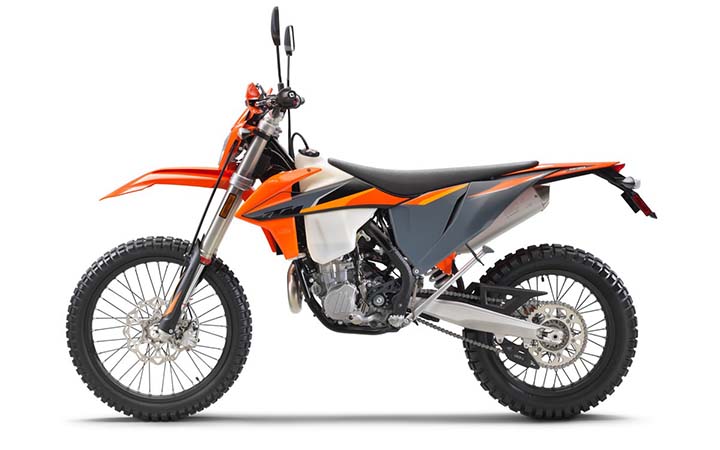 Leading the pack is the 500 EXC-F, which boasts updated WP Xplor forks that come with external preload adjuster as standard, making spring preload adjustments based on rider preferences and terrain quick and easy. In the back, it also has a WP Xplor rear shock with progressive damping system.
Continue reading below ↓
Recommended Videos
The 500 EXC-F is equipped with a 510cc liquid-cooled, four-stroke single-cylinder engine, and also comes with a new shift locker. High-performance Brembo brakes handle stopping duties on this street-legal, dual-purpose bike.
2) 2021 KTM 350 EXC-F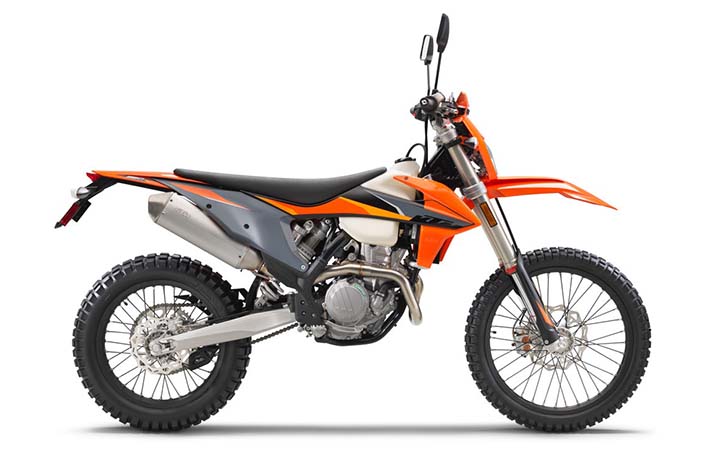 The major components of the 350 EXC-F are bolted to a high-tech, lightweight chrome-moly frame with carefully calculated flex parameters for precision riding characteristics. Its single-piece cast-aluminum swingarm is manufactured using a gravity die-cast process, resulting in exceptional strength and agility. Powering this potent off-roader is a 349.7cc liquid-cooled, four-stroke single-cylinder engine that uses a Keihin EFI fuel-management system.
3) 2021 KTM 500 XCF-W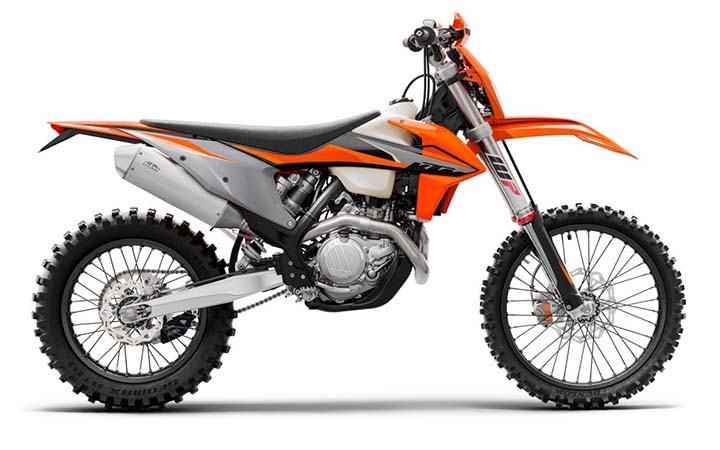 Built only for off-roading, the 500 XCF-W features a more aggressive mapping and less power compared with the 500 EXC-F. Its six-speed, wide-ratio transmission is perfectly suited for off-road duties.
4) 2021 KTM 350 XCF-W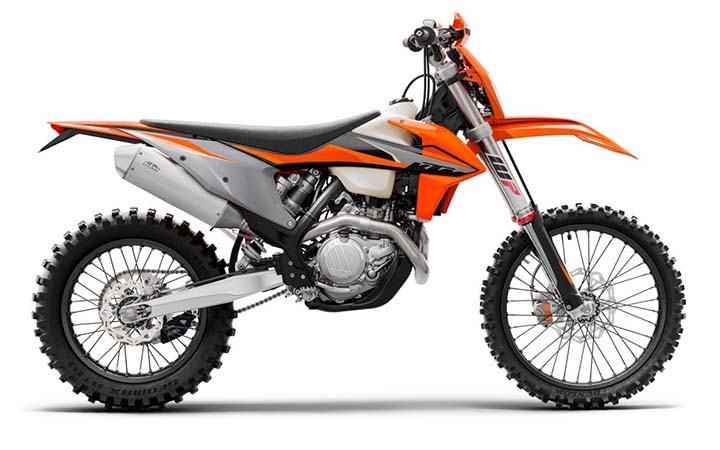 The 350 XCF-W is another off-road-only machine that comes with a handlebar map switch for selecting between two engine mappings and activating traction and launch control. It tips the scales at 108kg, without fuel. Ground clearance is a towering 14 inches.
5) 2021 KTM 300 XC-W TPI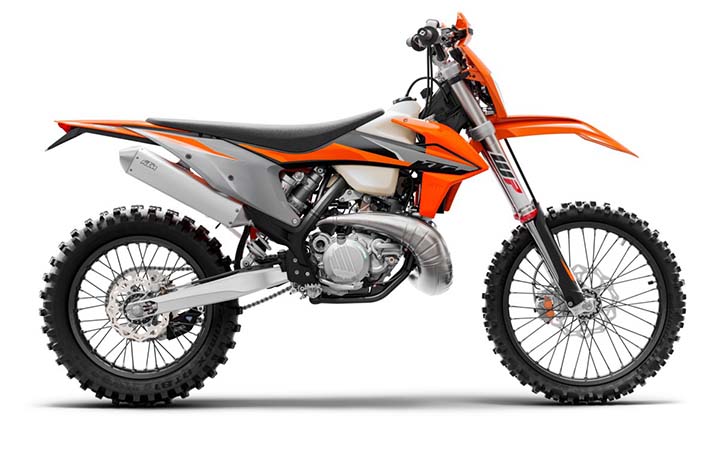 The 293.2cc two-stroke engine of the off-road-only 300 XC-W TPI is equipped with a patented TPI fuel-injection system for perfect combustion at any altitude. It needs no premixing, and fuel consumption is reduced without compromising aggressive power delivery.
6) 2021 KTM 250 XC-W TPI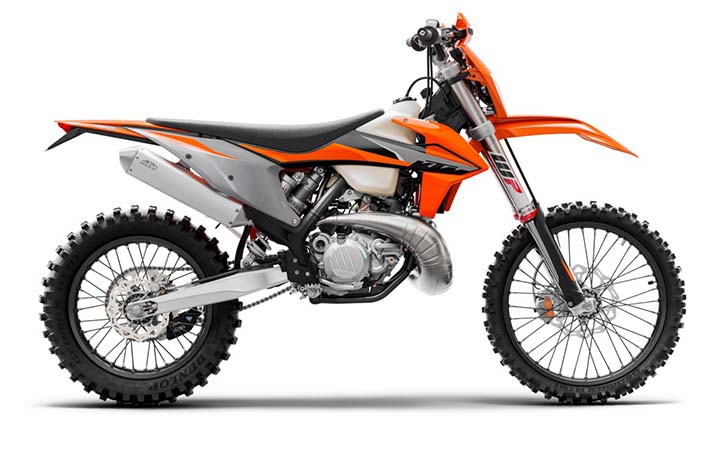 Equipped with a 249cc liquid-cooled, two-stroke single-cylinder engine, the 250 XC-W TPI has an optional map-select switch that allows the rider to choose an alternate engine map that can provide aggressive power delivery, as opposed to the standard setting that delivers smoother and more tractable off-road handling. A modern electronic oil pump feeds oil from the 700cc tank to the intake to ensure a perfect fuel-oil mix under any condition, while reducing harmful emissions by as much as 50%.
7) 2021 KTM 150 XC-W TPI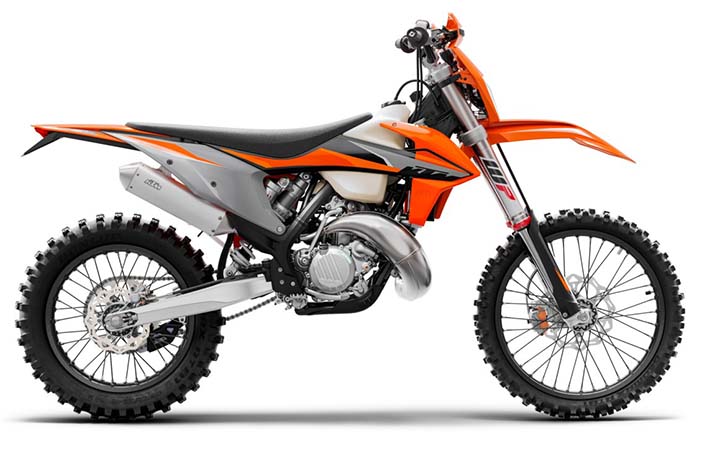 The youngest among KTM's off-road machines, the 150 XC-W TPI is blessed with its big brothers' high-performance features. However, it's equipped with a smaller and tamer 143.99cc liquid-cooled, two-stroke engine fitted with a patented TPI fuel-injection system.