Due to the public's mounting complaints on the proliferation of motorcycles with exhaust systems emitting excessive sound, Land Transportation Office (LTO) chief Edgar Galvante has issued a memorandum order for the conduct of an intensified crackdown against these causes of public nuisance.
OTHER STORIES YOU MIGHT HAVE MISSED:
Driver follows navigation app, ends up on train tracks
Here's your first look at the ASEAN-spec Honda CR-V
"With [existing] policies in place and in compliance with the directive of President Rodrigo R. Duterte to enforce the prohibition against 'bora-bora' (motorcycles with modified mufflers causing undesirable/irritating sound), you are hereby directed to implement stringent enforcement activities against the operation of such motorcycles," Galvante stated in the memo dated April 29, 2019.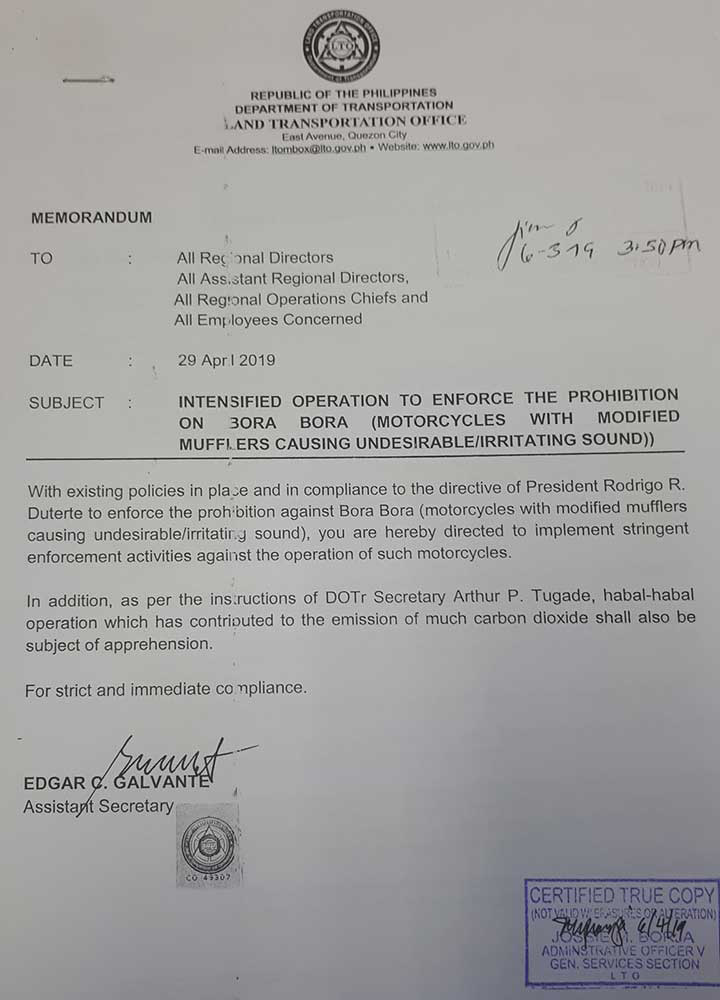 However, the document obtained by Moto Sapiens showed that copies of the memo were received only on June 3, 2019, by regional, district, and operations chiefs of the agency. Also, Galvante apparently acted on Duterte's speech during the 2019 National Motorcycle Convention held in Iloilo City, where the chief executive had reiterated his warning against erring riders.
ADVERTISEMENT - CONTINUE READING BELOW ↓
Based on existing LTO regulations, motorcycles sporting exhaust pipes that emit a sound exceeding 115 decibels are subject to apprehension. LTO enforcers are directed to confiscate the license plates of violators, and since many two-wheelers have not been issued LTO plates yet, these motorcycles will likely end up in the impounding area.
"The owner of the motorbike will only get back his motorbike after he replaces its exhaust system with one that is compliant with the regulation. He can only replace the noisy pipe within the impounding area," our source, an official of the LTO Motor Vehicle Inspection Service (MVIS), told us. He also revealed that LTO enforcers are now armed with handy sound-level meters that will help them determine the noise level of an exhaust pipe in a more accurate fashion.
The penalty for the violation of the LTO provision on unauthorized/improper use of accessories, devices, and equipment and parts is P5,000.
Riders, start checking the sound level of your bike's exhaust using an app if you don't want your baby impounded. Always better to be safe than sorry.
ADVERTISEMENT - CONTINUE READING BELOW ↓
Recommended Videos