Land Transportation Office (LTO) assistant secretary Edgar Galvante has ordered all LTO officials and employees to defer the implementation of Republic Act (RA) 11235, otherwise known as the Motorcycle Crime Prevention Act.
In a memorandum dated July 1, 2020, Galvante cited two reasons for suspending the implementation of the controversial law: The unavailability of plates and decals for motorcycles, and the prevailing COVID-19 crisis which is affecting the daily operations of the agency.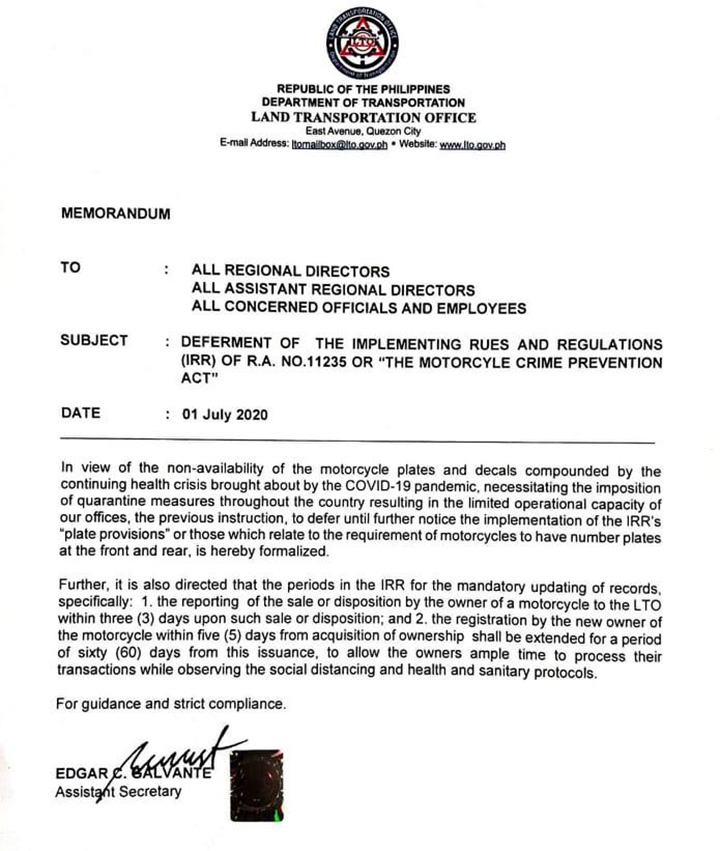 "In view of the non-availability of the motorcycle plates and decals compounded by the continuing health crisis brought about by the COVID-19 pandemic, necessitating the imposition of the quarantine measures throughout the country resulting in the limited operations capacity of our offices, the previous instruction, to defer until further notice in the implementation of the IRR's 'plate provisions' or those which relate to the requirement of motorcycles to have number plates at the front and rear, is hereby formalized," Galvante stated in the letter directed to all regional directors, assistant regional directors, and employees of the agency.
ADVERTISEMENT - CONTINUE READING BELOW ↓
Galvante also extended the deadline for owners of newly acquired motorcycles to report the sale or disposition of a unit from three days to 60 days. The same extended time frame is being accorded for updating a bike's registration, specifically the transfer of ownership, at LTO branches. Under RA 11235, riders are given only five days to update their documents.
This memorandum may be the LTO's response to news reports of its offices being clogged with applicants transferring their bike's ownership. The 'doble plaka' law imposes huge penalties ranging from P20,000 to P50,000, as well as jail terms, for those who fail to comply.
ADVERTISEMENT - CONTINUE READING BELOW ↓
Recommended Videos