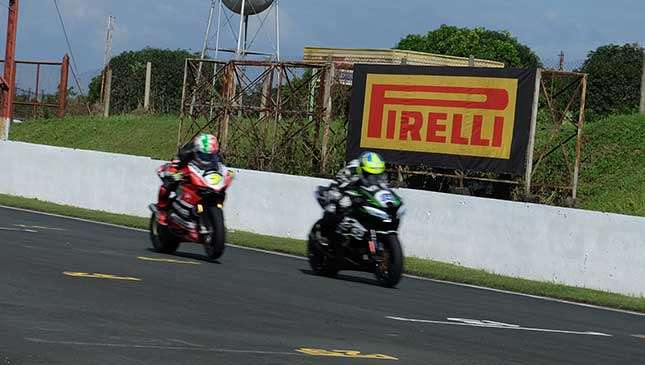 Has the Batangas Racing Circuit (BRC) been transformed into a UFC Octagon? Last weekend, tension gripped the 3.7km track when at least two altercations reportedly occurred.
Last Sunday, some Yamaha Spec V team members allegedly got involved in a fracas with fellow competitor Mickey Mazo at the pit lane. This happened after the 5th round of the Unified Sports and Racing Association (USRA) UBK/PSR Championships.
According to reports, Mazo sustained injuries as a result of the incident. Some spectators were able to take videos of the brawl and they became viral on social media.
This prompted the USRA to impose punitive measures against three members of the following Spec V team members: Laureano Mendoza, Michael Regala and Pipoy Alejandro. The governing body also issued the Spec V team a Notice of Sanction, which banned the three racers from entering venues where USRA events are happening. The team also faced a P100,000 fine for the mauling incident.
Continue reading below ↓
Recommended Videos
A quarrel also happened on Saturday. The Ducati Racing Team, led by Toti Alberto, filed a complaint before the Superbike Racing Association, the governing body of the Philippine Superbike Championship, regarding an incident involving his son TJ.
According to a separate incident report, TJ was returning to the pit lane when race competitor Jericho Arnaiz suddenly appeared beside him and verbally assaulted him that Saturday afternoon. The Albertos claimed that Arnaiz also challenged TJ to a fist fight. Thankfully, cooler heads intervened.
Arnaiz accused TJ of blocking his line during the qualifying session, which TJ vehemently denied. Toti Alberto described the incident as "very unsportsmanlike" and said it could tarnish the image of local motorcycle racing. The Albertos appealed to the race officials to investigate the matter.
Temperature is already is nearing boiling point as the sixth and final round of UBK/PSR, Ducati Cup and Superbike Championship is yet to unfold on September 30 to October 1 at the Clark International Speedway in Pampanga.
Do you think the organizers will be able to contain the tense atmosphere?
UPDATE as of June 11, 2018: The 45th Tokyo Motorcycle Show in Odaiba was held from March 23 to 25 this year. The photos and videos shared by their visitors might have caused confusion among netizens since they have almost the same group of motorcycle companies showing off their latest hardware and technology. Moto Sapiens attended the Tokyo Motorcycle Show. This year, 135 companies with 882 exhibit booths showed off their latest two- and three-wheelers, modern electric bikes, accessories, and even riding paraphernalia. There were launch events of new motorcycles, relaunching of face-lifted units, and even revivals of classics by Japanese, European, American, and—wait—two Taiwanese brands.