The six-man contingent of BMW Motorrad Philippines arrived at the Kuala Lumpur International Airport on September 21, 2019, for the BMW GS Trophy Southeast Asia Qualifier. Moto Sapiens was part of the contingent, and all of us were lacking sleep because of the early morning flight.
Clear weather topped with haze from Indonesia's forest fire welcomed the participants from six other Southeast Asian countries. As we deplaned, the team members discussed the lack of preparation and saddle time. This was the first time the Philippines is sending its own team, so there was palpable tension. 
I remembered a famous quote from American novelist Jodi Picoult: "Anxiety's like a rocking chair. It gives you something to do, but it doesn't get you very far."
Instead of heading straight to our hotel at Selangor, team members Don Lopez, Shawn Lim, and Pietro Jaldon requested our shuttle to take us to the Sepang International Circuit. Accompanying them were Gil Balderas, BMW Motorrad PH director; Toto Villanueva, a BMW certified instructor; and myself as the lone media representative from the Philippines.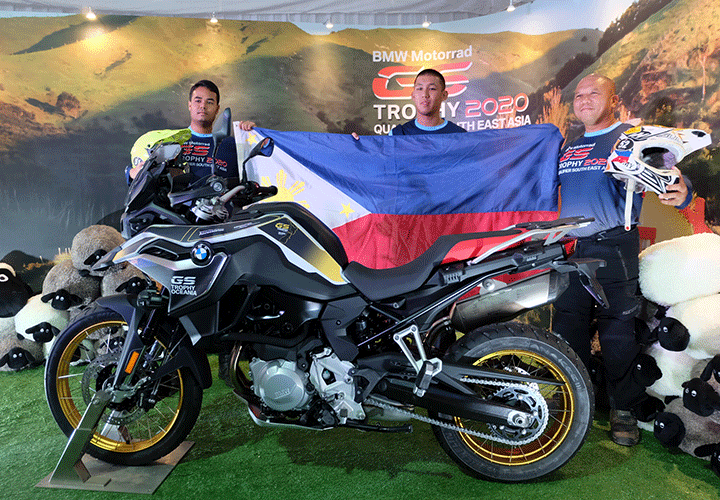 Continue reading below ↓
Recommended Videos
Barely finishing their late lunch, the trio of riders quickly stood up from the table and posted themselves near the makeshift off-road course to observe local participants battling for the GS Trophy Malaysia Qualifier attack the obstacle course. The top three competitors will represent Malaysia for the Southeast Asia Qualifier slated the next day.
After a briefing by the organizers on the rules of the game, the participants walked the track to familiarize themselves with the 14 challenging stages: All Black Tryouts, Lights Out, Barrel Roll, Hang Tire on Pole, Water Crossing, Garage, Tower, Slalom, Riding on Log, Hill Climb, Downhill Stop and Twin, Log Slide, Gravel Pit, and Bike Pull.
Mind you, these obstacle courses are not as easy as they sound. Scroll down and you'll see.
It appears that one walk-through on the track is not enough for the PH team. They did it again and again even after darkness started to set in, making others think one of them might have dropped his wallet somewhere.
The next day, the riders quickly geared up for the event. Some barely ate breakfast to keep them light and more agile. The Philippine team, designated as Group E, started with the All Black Tryouts, where the three members were got hold of a rugby ball and ran through a stretch of tires before kicking the ball to a goal made of tall bamboo poles. Here, the team with the fastest time earns big points. Our team, fortunately, did very well in this stage.
We can't help notice that other groups had larger contingents providing support to their teams. They even had video guys recording other teams' runs for them to use in analyzing their strategy. We cannot couldn't take it sitting down. So, instead of just jotting down notes and taking photos for my articles, I volunteered to be Team PH's water boy while Balderas acted as timekeeper.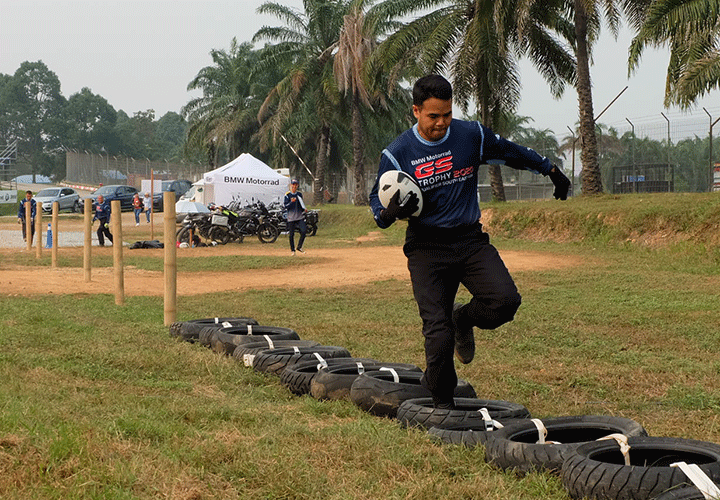 The next set of challenges—Barrel Roll, Tower, Hang Tire On Pole, Water Crossing, Garage, Slalom, Downhill Stop and Turn, Gravel Pit, and Log Slide—involved riding a BMW F850 GS. This feat was more physically exhaustive but only earned points for individual standing.
The rule says every time the rider touches the ground with his feet means a point deduction. This was when reality started to sink in for the Pinoy riders, who found themselves committing errors in some of the obstacles while many other participants showed flawless runs.
Yet, they knew this was not the time to bog down. There were two more exercises that required teamwork and offered bigger points.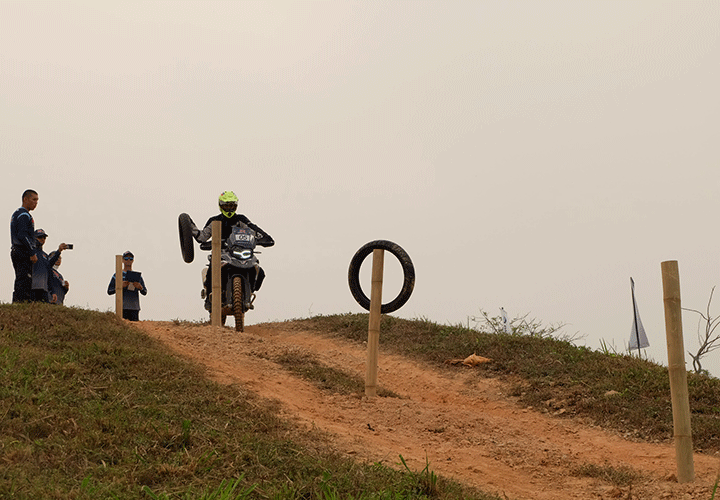 Before we go further, here's quick backgrounder of our three riders: Jaldon, 30, and Lim, 27, are the winners in the Visayas-Mindanao qualifier held earlier, while Lopez, being the most senior at 46 years old, topped the selection from the Luzon qualifier. Coming from different regions with different dialects was no issue—not even their age. Team unity became the top agenda.
We've never witnessed team chemistry like this: Lopez, being the most experienced in off-roading and endurance runs, was effective in strategizing; he became the group's 'Mr. Wisdom'. Lim, a young motocross enthusiast, was 'Mr. Speed.' And Jaldon, having both qualities, became 'The Equalizer.' There's definitely no room for alphas.
The rest of the exercises, particularly Bike Pull, was a true test of team spirit. Here's when the PH team shined best.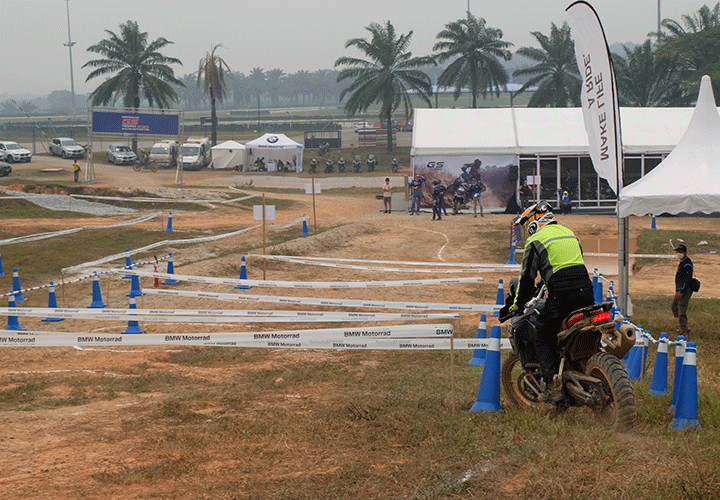 When a strategy on attacking a 60-degree uphill or downhill, moving a tire from one pole to another, or riding on a log with the F850 going sideways was agreed upon, everyone towed the line. Yes, there were errors in the actual execution, but never did we hear them blame each other.
They hit the last few stages—Water Carry and and Bike Pull—with a determined and focused attitude. What happened next was a jaw-dropping, lightning-quick performance from the Pinoys that secured them the first place in the former and second place in the latter.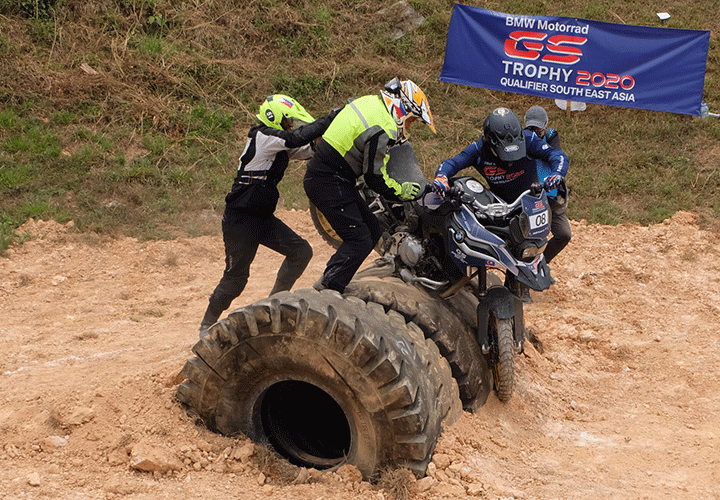 And the envelope please! Team Philippines takes an impressive second place finish overall while the Malaysian team is first place and will be Southeast Asia's representative in the prestigious 2020 International GS Trophy in New Zealand.
In the individual standings, Rider #52 Don Lopez placed fifth, Rider #53 Shawn Lim was at 13th place, and Rider #51 Pietro Jaldon finished in 14th place. There were 31 participants in all.
This a 180-degree turn from the bleak scenario we were initially worried about. We bet BMW Philippines owner Ramon S. Ang is all smiles back in his office in Mandaluyong City.
Congratulations, Team Philippines!