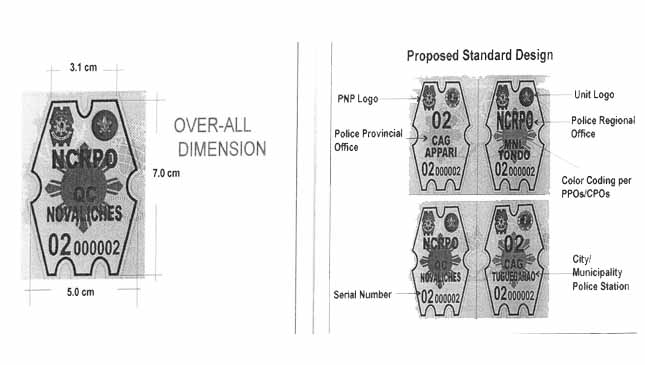 If you're not hiding anything, then you have nothing to fear.
This is the line of thinking of the Philippine National Police (PNP) in urging motorcyclists to get involved in the 'Campaign Plan: Clean Rider' which will be launched at 7am on Wednesday, August 1, at the Quirino Grandstand in Manila.
Director General Oscar D. Albayalde, chief of the Philippine National Police (PNP), who is also rider, will lead the ceremony tomorrow, which is expected to draw thousands of motorcycle riders who are from the National Capital Region (NCR) and its neighboring provinces.
So what exactly is the 'Clean Rider' project all about?
Nope, it doesn't exactly mean that the participating riders must be newly-bathed or their motorcycles newly-washed when they arrive at Quirino Grandstand for the ceremony.
All the riders need to do is to bring with them a copy of the motorbike's LTO registration, deed of sale (if still not registered to the bearer's name), driver's license, and another valid government ID.
ADVERTISEMENT - CONTINUE READING BELOW ↓
After presenting these documents to the PNP, the rider will be given a Clean Rider sticker for them to place on their motorbike. The sticker is proof that they have registered their motorbikes with the PNP.
According to PNP authorities, the primary objective of the campaign is to avert crimes perpetrated by the so-called Motorcycle Riding Suspects (MRS) in all parts of the country. Police have dropped the tag 'riding-in-tandem' when referring to criminals who use motorbikes as getaway vehicles.
"Further, the campaign's objective is to ensure the safety and security of motorcycle riders and to impound stolen motorcycles," the PNP statement added.
Bearing the PNP's logo 'Kalasag (shield),' the Clean Rider sticker is also color-coded depending on the region where the motorbike is registered. It also identifies which Police Regional Office and City or Municipal Police Station has jurisdiction over the owner.
The sticker also bears as serial number for easy identification, while the rider gets a smaller version of the Clean Rider sticker placed at the back of his or her driver's license.
The PNP unleashed the Clean Rider sticker campaign in the wake of rising number of crime incidents involving MRS and establishing a pattern that motorbikes are the most convenient get-away vehicles for lawless elements.
With this set up, motorcycles without Clean Rider stickers will likely end up being questioned more than those who have them by police authorities manning checkpoints.
Meanwhile, the 100,000-strong Motorcycle Philippines Federation (MCPF) has no objection to the PNP's latest anti-criminality campaign.
ADVERTISEMENT - CONTINUE READING BELOW ↓
Recommended Videos
"We are in full support of this project to help the crime-prevention program of the PNP," says Jojo medina, MCPF director for operations.
Simultaneous launching activities of the Clean Rider project will be held at the different PNP Police Regional Offices nationwide.