The Philippine National Police (PNP) has issued another warning against the increasing unauthorized use of PNP–Highway Patrol Group (HPG) stickers and logos within civilian motorcycle clubs.
PNP officials particularly cited the proliferation of the stickers and logos in the riding gear and motorbikes of some riders who have completed the 'Motorcycle Riding Course Safety Training' being offered by the HPG. While this program is primarily designed for PNP personnel who want to hone their riding skills, the introduction of the 'Executive Course' in the module has allowed the entry of trainees from the civilian sector. According to Camp Crame insiders, the fee for the Executive Course amounts to P30,000.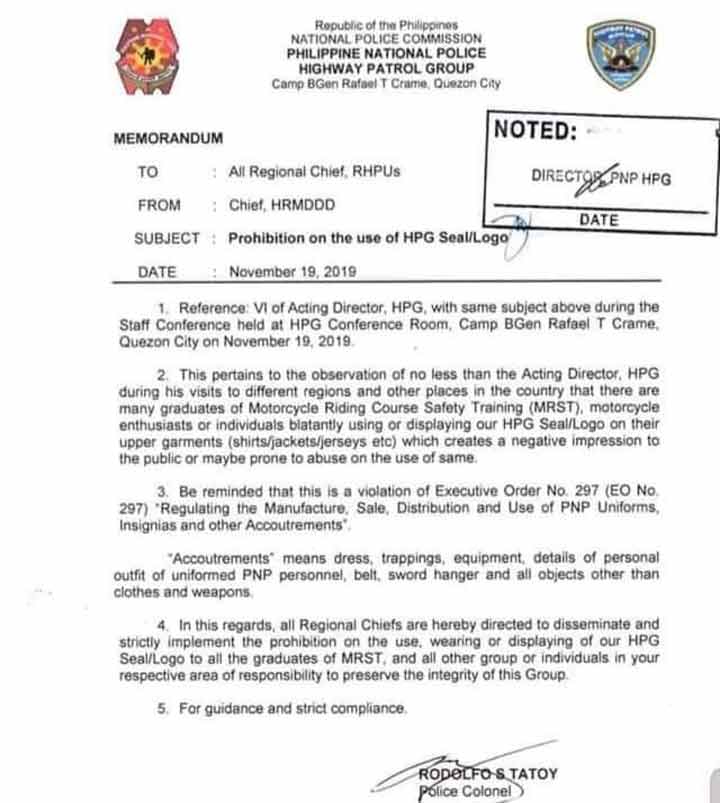 Continue reading below ↓
Recommended Videos
However, PNP-HPG director P/Brig. Gen. Dionard Carlos has noticed that many graduates of the course have taken the opportunity to use HPG stickers and logos, putting them on their riding gear and on their bikes' windshields. These civilian riders also think that the HPG insignias on their gear automatically give them the authority to use blinkers and sirens on their motorbikes.
"This pertains to the observation of no less than the Acting Director [of] HPG, during his visits to the different regions and other places in the country that there are many graduates of the Motorcycle Riding Training Safety Course, motorcycle enthusiasts, or individuals...blatantly using or displaying our HPG seal/logo on their garments which creates a negative impression to the public or [may be] prone to abuse on the use of same," says P/Col. Rodolfo Tatoy of the PNP–Human Resource and Doctrines Development Division.
Carlos called on the strict implementation of the Executive Order No. 297 on "Regulating the manufacture, sale, distribution, and use of PNP uniforms, insignias and other accoutrements." The said directive was circulated to all PNP-HPG regional and local units on November 19, 2019.
Guys, better take this seriously especially now that there are a lot of police checkpoints for the SEA Games. You've been warned.