Rain! Rain! Go away! Come again, another day!
Members of the Indian Motorcycle Riders Group (IMRG) must be singing this kindergarten song by now, asking the heavens for fair weather this weekend.
This Sunday afternoon, the IMRG boys will be joined by Jaime Dempsey--host motorcycle advebture series Ride N' Seek--when they visit the History Con 2018 at the World Trade Center in Pasay City. The Indian motorcycles brand in the Philippines is under the wing of Access Plus dealership.
History Con is considered Manila's biggest entertainment convention and is now on its third year. From vintage to retros, motorbikes of different brands will be at the center stage of the event. Riders will surely drool over a fleet of custom bikes on display.
Going back to Jaime. Sorry IMRG riders, don't push your luck because she will ride solo during the motorcade. Will she be on a scooter just like when she first visited the Philippines a few years back? Nope. The photo above shows Jaime Dempsey sitting on a Vespa scooter owned by yours truly. The photo was taken during an interview at the Summit Media office exactly two years ago.
ADVERTISEMENT - CONTINUE READING BELOW ↓
Instead, the 38-year-old American charmer will mount an awesome Indian Scout 1200 from WTC before they tour around the area. This will happen only if the weather cooperates. Many people feel a solid steel cruiser like the Indian Scout is more 'politically correct' and matches Dempsey's high-cut riding boots, slim denim pants, and sexy tattoos, when she goes for a ride. Jaime is a self-confessed lover of cruiser bikes.
Jaime is back in the country to shoot Season 6 of Ride N' Seek for the History Channel, and we were told she will ride an Indian Scout 1200 all the way. We heard that some 30 Indian motorcycle riders will join Dempsey during the motorcade.
Let's see. Will any one dare ask Jaime if the reports saying she likes riders sporting long hair and lots of tattoos are true? Boom!
See you at History Con 2018!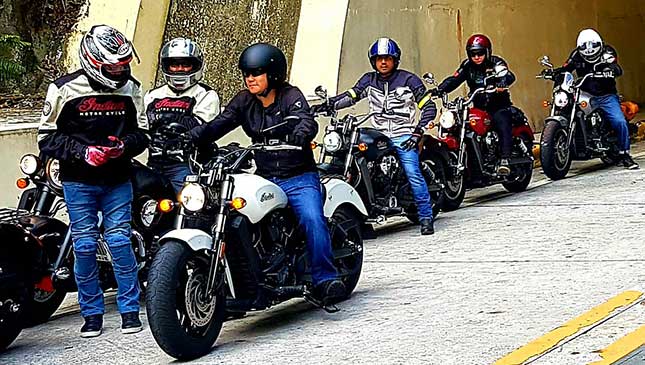 ADVERTISEMENT - CONTINUE READING BELOW ↓
Recommended Videos