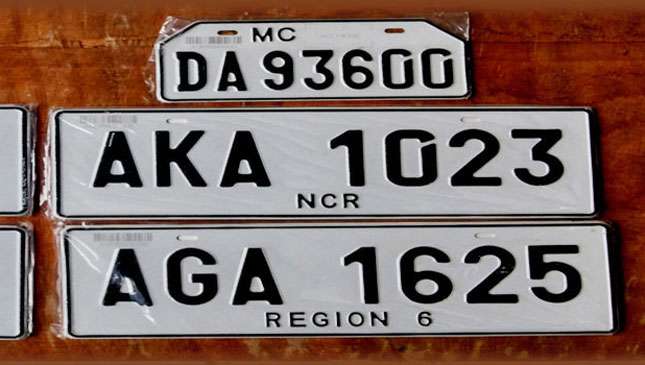 The distribution of locally-manufactured vehicle license plates by the Land Transportation Office (LTO) has begun last month, and car owners are now singing praises.
On the other hand, the fate of motorcycle license plates is still up in the air, and riders are still left in limbo as to when the waiting will end.
The main reason: LTO is still waiting if Congress will approve or disapprove a proposed measure seeking bigger license plates.
Members of the Upper Chamber approved in July last year Senate Bill 1397, otherwise known as the Motorcycle Crime Prevention Act of 2017 authored by Senator Dick Gordon, which concurs with the House proposal for bigger license plates.
However, the Senate version wants to require motorcycle owners to place license plates both at the front and rear, while the House measure is content with having just one license plate placed at the tail end of a motorbike. Instead of installing a second license plate in front, the House bill is eyeing a sticker bearing the license plate number to be placed on the front fender.
ADVERTISEMENT - CONTINUE READING BELOW ↓
Both measures were aimed at preventing motorcycles to be used as a tool for criminal activities. By requiring two-wheelers to use bigger license plates and having them both in front and at the rear, the legislators believe it will be easier for law enforcers to identify them.
Muntinlupa City Rep. Ruffy Biazon, a member of the House Committee on Transportation, questioned the move by the LTO to delay the production of motorcycle license plates, while waiting for the outcome of the result of the deliberations on the two versions.
"They (LTO) are mandated to produce the license plates and there should be no reason to delay it. Are they using the Congress as a scapegoat for their shortcomings?" Biazon told Moto Sapiens during a phone interview. Biazon, who occasionally rides a Vespa scooter, expressed concern over the growing backlog of new motorcycles without license plates.
According to the Motorcycle Development Program Participants Association (MDPPA), its five member-companies (Honda, Yamaha, Kawasaki, Suzuki and Kymco) sold more than 1.3 million motorcycles in 2017. This means an average of over 120,000 units sold every month. This does not include the annual sales figure of Chinese and European motorbikes that could easily reach 500,000.
With the worsening traffic problem and the skyrocketing prices of fuel products, many anticipate the motorcycle sales to increase further this 2018.
"What if the Congress doesn't come up with a decision within a year, would that mean LTO will still not manufacture license plates for motorcycles?" Biazon again asked.
He said he will discuss the issue with LTO chief Edgar Galvante in the coming days. Let's hope a positive outcome is reached regarding the matter soon.