Do you live in the southern part of Metro Manila and regularly ride a motorcycle with an engine displacement below 400cc to and from the city of Manila? Well, this news will probably spoil your day.
Newly posted traffic advisories say that motorcycles with sub-400cc engines will no longer be allowed to use the northbound lane of Osmeña Highway—from Sales Bridge in Pasay City to Quirino Avenue in Paco, Manila. According to the advisories, the ban takes effect two weeks from now.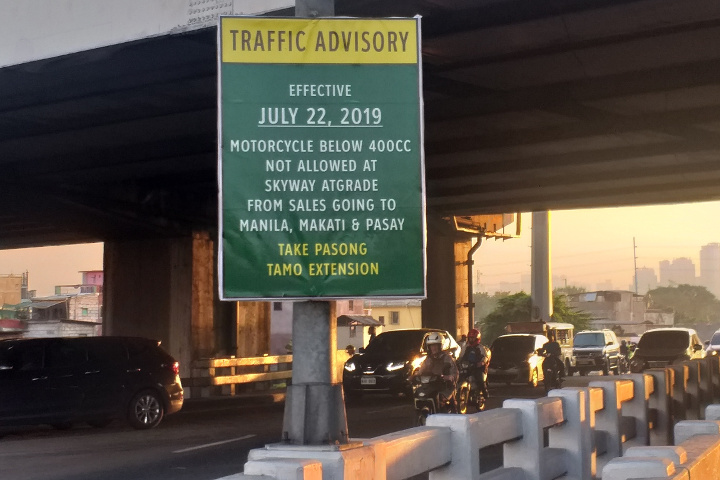 "Effective July 22, 2019: Motorcycle below 400cc not allowed at Skyway at grade from Sales (Interchange) going to Manila, Makati and Pasay. Take Pasong Tamo Extension," says the advisory posted at the Sales Interchange.
The stretch of Osmeña Highway covers the cities of Pasay, Makati, and Manila. Since a ban on small motorcycles on SLEX (at grade level) and Skyway (elevated) already exists prior to this, sub-400cc bikes coming from or going to southern Metro Manila (Las Piñas and Muntinlupa) use either the East or West Service Road to travel to Pasay-Makati-Manila. The small bikes gain access to the Osmeña Highway through a small road connector under Sales Bridge en route to Makati and Manila.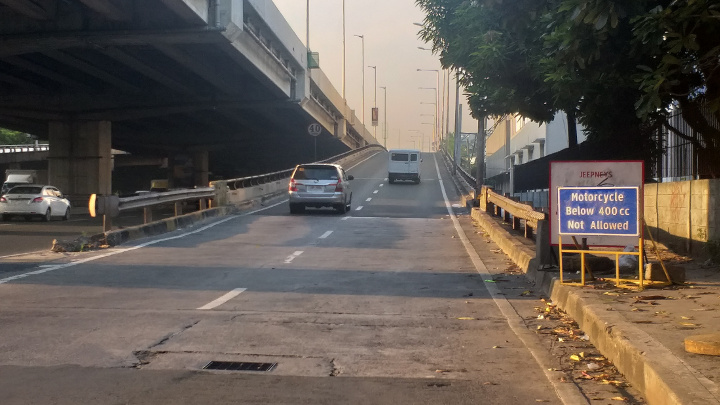 It seems the new motorcycle ban will be implemented only on the northbound lane of Osmeña Highway since no such advisories are posted on the whole stretch of the opposite lane—from Quirino Avenue to Sales Bridge. Moto Sapiens conducted a visual inspection. We also didn't find any of these advisories on Pasay Road, Buendia Avenue, and Vito Cruz Street, which all lead to the norththbound lane of Osmeña Highway.
In the recent years, there has been a phenomenal increase in the number of motorbikes passing through the East and West Service Roads because of the perennial traffic problem and the chronic shortage of public transport to shuttle commuters from southern Metro Manila. When the ban takes effect, small bikes will have to divert their route from Sales Bridge to Pasong Tamo Extension, which goes to Pasong Tamo and J.P. Rizal in Makati before reaching Quirino Avenue. Brace yourselves because these roads are congested with vehicles almost any time of the day.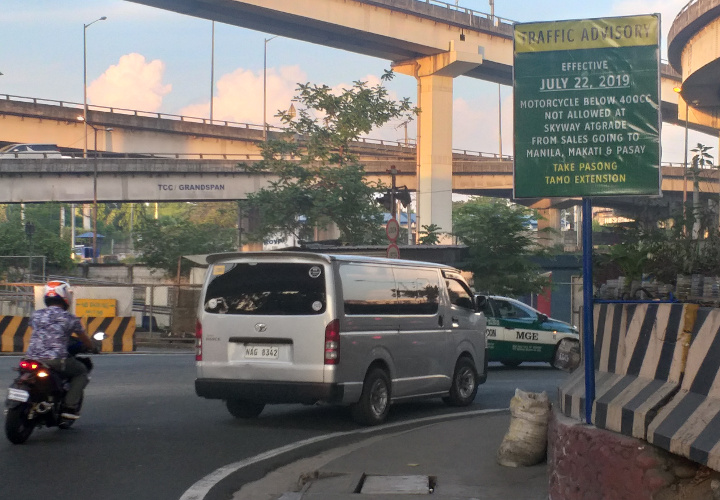 Moto Sapiens called up Toll Regulatory Board (TRB) spokesperson Bert Suansing for clarification and here's what he said: "Hindi sa SLEX o Skyway nanggaling yang directive na yan dahil wala silang jurisdiction sa Osmeña Highway. They only have jurisdiction over SLEX, Skyway, and the newly built Skyway 3 (not yet open to vehicular traffic). Yung sa at grade portion, wala silang control diyan," he explained. SLEX is jointly operated by San Miguel Corporation and the Philippine National Construction Company (PNCC) ,while Skyway and Skyway 3 are under Skyway O&M and Citra.
Because Osmeña Highway is a toll-free area, Suansing emphasized that SLEX and Skyway patrol personnel have no authority to apprehend traffic violators along the highway.
If this is so, it means the Metro Manila Development Authority (MMDA) has the authority to ban small motorbikes on Osmeña Highway. MMDA enforcers are in charge of manning traffic on Sales Bridge.
Could this move be related to the planned opening of the Section 1 of Skyway 3, a 4km stretch that starts from Buendia Avenue in Makati City to Quirino Avenue in Paco, Manila in the next two weeks? We hope to hear from the agency with regard to this issue soon.