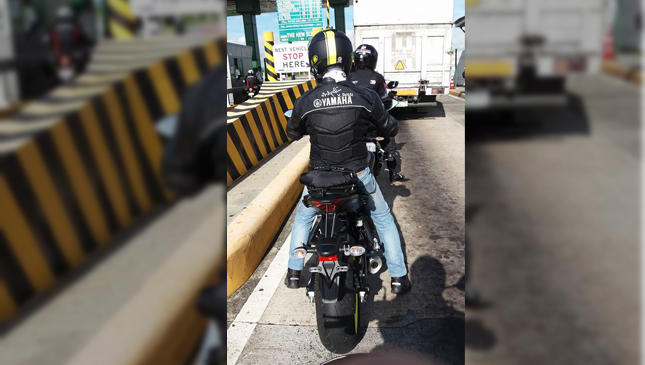 Officials of the Toll Regulatory Board (TRB) reiterated their warning against motorcycles with engine displacements below 400cc entering expressways.
Engr. Abraham P. Sales, TRB executive director, issued a directive to seven private operators of tollways in Luzon to strictly implement the ban against sub-400cc motorbikes sneaking their way inside the facilities.
Sales' letter dated August 10, 2018 cited Department Order No. 2007-38 issued by the Department of Transportation and Communications (now just DOTr) that says only motorcycles with engine displacement at least 400 cubic centimeters shall be allowed inside expressways.
"Stricter compliance with the said department order is enjoined," the letter added.
Continue reading below ↓
Recommended Videos
Sales' directive was addressed to the Skyway O&M Corporation, the Manila Toll Expressway System, the Star Tollway Corporation, the PEA Tollways Corporation, the NLEX Corporation, MCX Tollways, and the Ayala Corporation.
The TRB is bothered over the increasing number of small motorcycles being able to slip inside the tollways undetected. "We don't want the chaotic situation happening in the streets involving small motorbikes to happen inside the tollways," TRB spokesman Bert Suansing emphasized.
The former chief of the Land Transportation Office (LTO) advised tollway authorities to recognize the manufacturers' technical specification, instead of relying on their visual judgement in checking the displacement of the motorbike's engine. He also reminded them not to be deceived by the fake decals claiming the motorbike is powered by a big engine.
Suansing warned unscrupulous LTO employees who release motorcycle registration papers with misdeclared engine displacements of possible legal actions against them especially when they get involved in an accident inside the tollways.
He urged patrol units in expressways not to hesitate in checking the documents of motorcycles they suspect as sub-400cc bikes. "Everyone should follow the technical specification of the engine to determine if they can enter the expressway or not," he stressed, "398cc or 399cc bikes do not fall in the 400cc-and-above category. Therefore, they are prohibited from entering the tollways."
The TRB also warned tollway operators from allowing sub-400cc motorbikes to avail of the RFID system.
So riders of small bikes, don't push your luck!