The Mandaluyong City Regional Trial Court (RTC) has issued a 72-hour temporary restraining order (TRO) on the 10,000-rider cap in Metro Manila for riders from each of the three companies participating in motorcycle-taxi pilot run as imposed by a technical working group (TWG) of the Department of Transportation (DOTr).
Based on a class suit filed by riders of Angkas a few days ago, vice/acting executive judge Ofelia L. Calo of the Mandaluyong City RTC issued the TRO after the group posted a P300,000 bond in its bid to stop the implementation of the cap. Judge Calo cited the possible grave and irreparable loss of livelihood that the bikers are facing if the cap is enforced.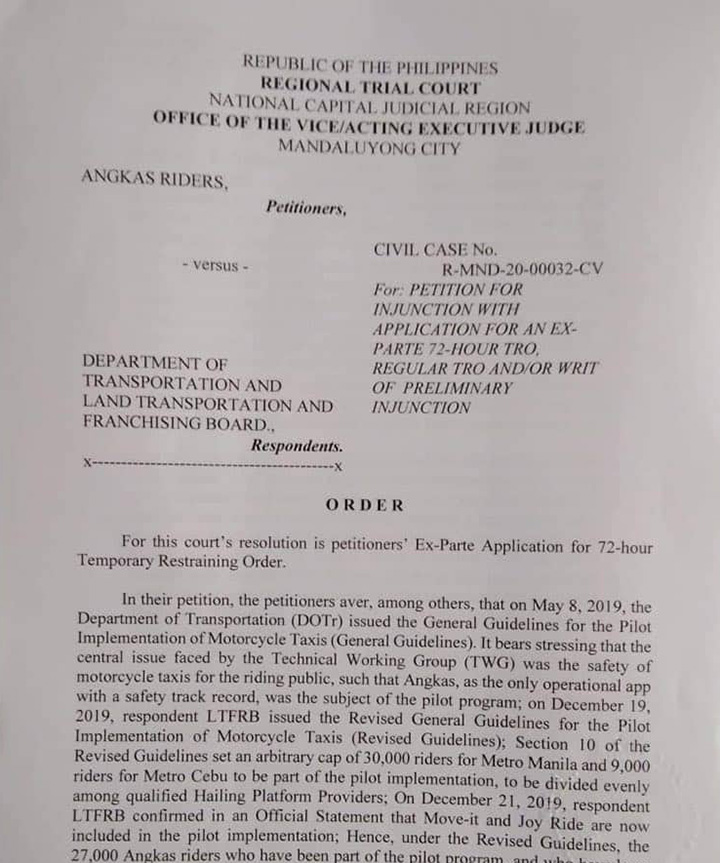 ADVERTISEMENT - CONTINUE READING BELOW ↓
"A 72-hour Temporary  Restraining Order is hereby issued upon posting of a bond in the amount of P300,000 enjoining the respondents and/or any other person/s acting for or on their behalf, from implementing the Revised General Guidelines for Pilot Implementation of Motorcycle Taxis insofar as it puts a cap on the number of bikers that Angkas is entitled to and from performing any act that limits and impairs their rights to deal with and continue with their contracts with Angkas," the order states.
The issue stems from a memorandum released by the DOTr-TWG, headed by P/Maj. Gen. Antonio Gardiola Jr., on December 19, 2019, which sets a ceiling on the number of Angkas riders participating in the extended pilot run: 10,000 in Metro Manila and 3,000 in Metro Cebu for each participating company. The memorandum also announced the inclusion of two new players, JoyRide and Move It. The DOTr-TWG explained that this cap would enable them to effectively monitor and evaluate the participants in the program, as well as prevent a monopoly from forming.
ADVERTISEMENT - CONTINUE READING BELOW ↓
Recommended Videos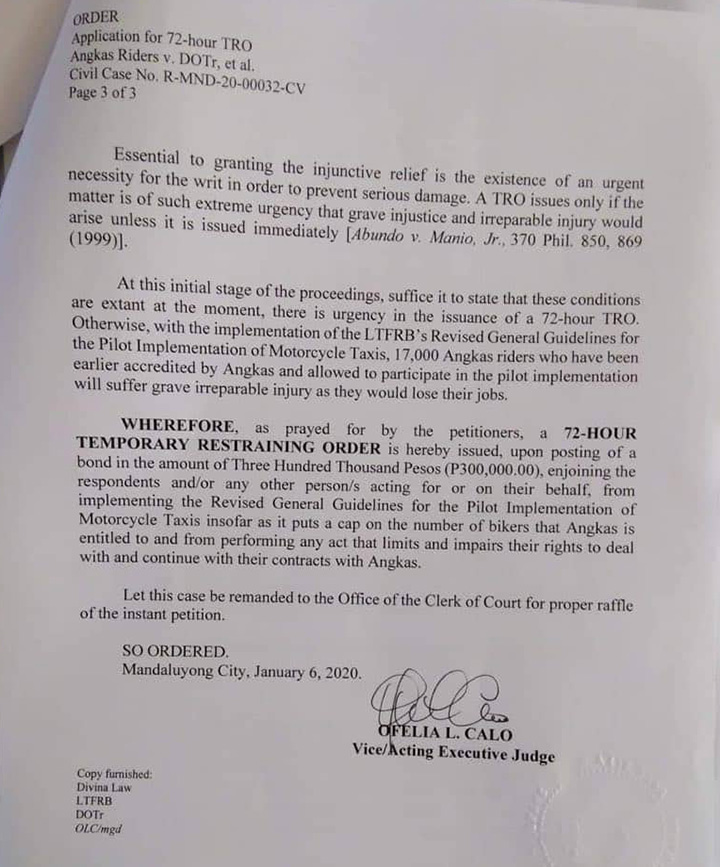 But the Angkas riders did not buy the DOTr's argument, and instead filed a Petition for Injunction with Application for an Ex-parte 72-Hour TRO, Regular TRO, and/or Writ of Preliminary Injunction.
"Under the Revised Guidelines, which is set to take effect on January 6, 2020, 17,000 Angkas riders are poised to lose their jobs.  Thus, the petitioners stand to suffer the consequences of LTFRB's arbitrary and unilaterally crafted guidelines," the court said.
ADVERTISEMENT - CONTINUE READING BELOW ↓
Meanwhile, the Angkas riders are singing hallelujah. "This proves that justice is on our side. We are only trying to make an honest living and helping commuters every day to get to their destinations fast and safe," according to Rommel Villanueva, one of the petitioners from Angkas. "Why should the government stop us? Why should our families go hungry? We are not doing anything wrong."
Guys, would you consider this a real victory for Angkas riders? Let us hear your comments.