We will again be seeing the Philippine flag flying in a very prestigious motorcycle race in Europe this month. Local talent Troy Jacob Alberto will see action at the 5th round of the 2018 Repsol CEV Moto3 Junior World Championship to be held at the Circuito de Jerez in Spain on September 30.
According to Gilbert Sison, group head for Honda Philippines, Inc.--motorsports section,  Troy will be competing under Team 3570 MTA Italia which, of course, is based in Italy.
"They (MTA Italia) worked for Troy to be included in the European Talent Cup as a 'wild card' in Jerez," Sison adds. Before he accepted the MTA Italia's invitation, Troy first sought permission from his principal sponsor, Honda Philippines, Inc. which was quickly approved.
"This is for him to experience Jerez circuit and increase his track time. The more track time, the better for Troy," Gilbert pointed out. Troy  Alberto is currently competing in the Idemitsu Asia Talent Cup as a lone Filipino entry. He landed 10th place in one of the past races, which apparently caught the attention of MTA Italia.
Here's another big difference between the two regional motorcycle racing events. At the ATC, Troy is battling against 21 other riders.  While at the CEV Moto3, there will be around 34 ace riders on the grid fighting for supremacy. In both races, however, competitors are mounted on a Honda NSF250R race bike.
Aside from the ATC, Troy is also racing at the Honda Thai Talent Cup where he bagged impressive 4th place finish in two races. Troy may no longer be interested  in the championship title at the CEV Moto3, but his race experience at the Jerez Circuit will further boost his riding confidence at the ATC.
ADVERTISEMENT - CONTINUE READING BELOW ↓
By the way, don't get confused. There are two Albertos now racing in Italy. Troy's older brother TJ is slugging it out with world's best at the prestigious European Stock 1000 on a Ducati Panigale race bike.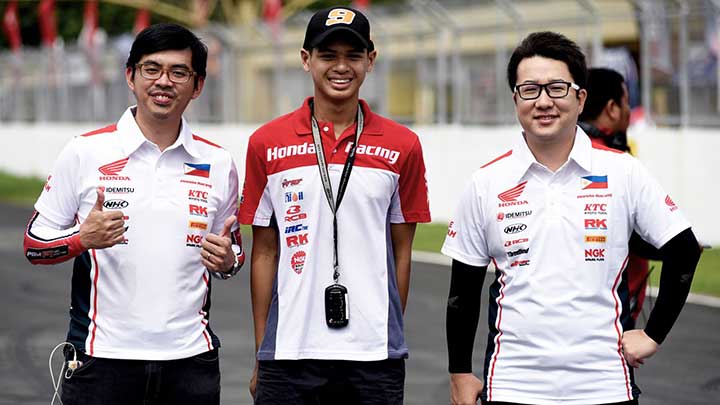 ADVERTISEMENT - CONTINUE READING BELOW ↓
Recommended Videos