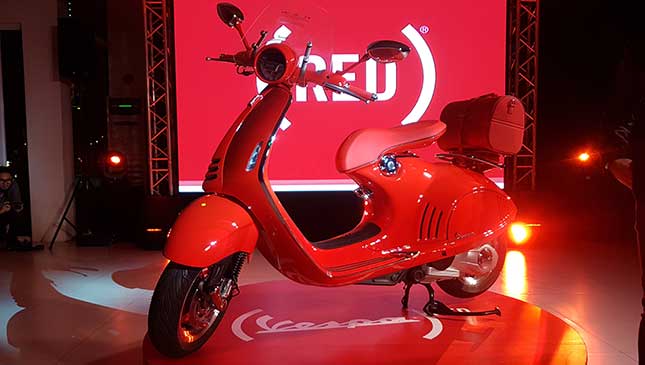 Does anyone remember the Vespa 946 Emporio Armani edition? Marked by an elegant design with input from Giorgio Armani himself, the Italian scooter caused jaws to drop and eyebrows to shoot up when it was unveiled to the global market in 2015—depending on one's appreciation of its aura or its technical details.
The creation of the 946 Emporio Armani edition highlighted the celebration of the Piaggio Group's 130th anniversary, and the 40th anniversary of the Giorgio Armani brand.
But having classy bodywork from a famous fashion designer does not automatically draw hallelujas, especially when it's only powered by a small engine akin to its siblings in the Vespa scooter lineup, with price tags not exceeding P200,000. That's because the Armani Vespas sold for P777,000 each. But that didn't stop six of these special editions from being snapped up by Filipino buyers last year.
Continue reading below ↓
Recommended Videos
Last Monday, Vespa Philippines boss Willy Tee Ten unveiled the new Vespa 946 RED edition with a similar P777k price tag—with no Armani badge this time. This is a collaboration between the Piaggio Group, maker of Vespa scooters, and Product Red. The latter's mission is to raise funds in fighting life-threatening illnesses such as AIDS, tuberculosis and malaria. For every purchase of a Vespa 946 RED edition, $150 (P7,800) is channeled toward RED's health programs.
Aside from its stunning body color, the Vespa 946 RED edition has retained almost all the features of the Armani edition, like its single-cylinder, four-stroke 125cc engine matched with a CVT for easy 'twist 'n go' city riding. On the safety aspect, its 220mm dual-disk brakes are paired with a two-channel ABS for stopping power. It also boasts of ASR electronic traction control, a full LCD multifunction instrument panel, and a stylish LED headlight and taillight.
More than these tech details, the Vespa 946 RED edition is about owning a beautiful mode of transportation, with the distinction of being the only motorcycle product chosen by RED for this noble undertaking.
The Vespa 946 RED edition has joined the ranks of other prestigious brands like Apple, Nike, American Express, Starbucks and Coca-Cola that have partnered with Product Red to help in the research and prevention of HIV/AIDS and other diseases.
Only six units of the Vespa 946 RED edition are available in the local market. Are you willing to shell out P777,000 to be part of the exclusive 946 circle?