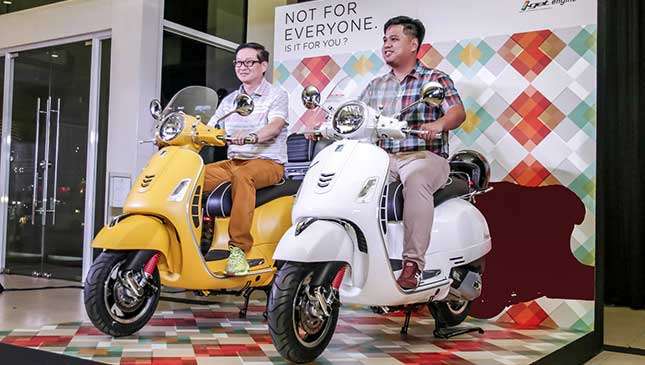 Clad in neatly pressed business attire and shiny leather shoes, many company executives now ride Vespa scooters on their way to the office. In the past we only see these scenes in European films. Now, they've become a fact of life and everyday fixtures in Metro Manila's commercial districts.
As the strong demand for this premium brand scooter continues, Vespa Philippines released the upgraded Vespa GTS Super 150 and Vespa GTS Super 300 during ceremonies attended by media and a big group of Vespistis at the Vespa PH showroom, Bonifacio Global City, over the weekend.
Being merely upgraded versions, there's very little to distinguish these new Vespa models from their predecessors if we judge them mainly on exterior styling.
The GTS Super 150 and GTS Super 300 are still endowed with the big, curvaceous body design that charmed many 'scooteristas.' They're not only big, they're made of solid steel, giving utmost protection and a solid ride to motorcylists.
Plus, riders of other scooter brands envy the modern Vespa's capacity to accommodate two jet helmets in its under-saddle compartment. Vespa-riding executives need not carry their bulky headgear to the boardroom.
The wives of these execs will also be glad to know that this Italian marque always gives importance to safety. The two latest models still roll on the same pair of 12in tires and smoothly damped double hydraulic shock absorbers with four-position preload-adjustable 220mm discs brakes for both front and rear wheels. The higher GTS Super 300 gets ABS and ASR (Assisted Slip Reduction, Vespa's version of traction control).
There are still LED front turn lights which serve as daytime running lights. The headlight, taillight and instrument panel design remain unchanged.
Another mainstay in the Vespas are the engines: A 278.3cc Quassar single-cylinder, liquid-cooled, four-stroke engine for the new Vespa GTS Super 300, and an i-Get 155.1cc, four-valve, four-stroke powerplant for the new Vespa GTS Super 150. The two new Vespas are fuel-injected are driven by CVTs.
So, what's new?
The new GTS Super 150 and GTS Super 300 now have standard remote control opening of the saddle. There's also a Bike Finder that makes the turn lights flash when the remote key is activated by the rider from a distance. This is useful for executives trying to find their Vespa in the office parking lot.
The GTS Super 150 does get something its bigger brother doesn't: A 'Start & Stop' feature for better fuel efficiency during traffic situations along with a tilting sensor. These features are exclusive only for this GTS variant.
Now let's sit down and talk about the biggest issue—price. Loosen your necktie and breathe deeply. Vespa PH pegged the price of the new GTS Super 150 at P240,000 while the GTS Super 300 goes for P345,000.
Are you still with us? Are you thinking of riding to the office as well?