If the world ends tomorrow, the Harley-Davidson Fat Bob 114 will likely be the last bike standing because of its tough, no-nonsense appearance.
Before the big lockdown of 2020, Harley-Davidson hosted the Triple S Media Ride in Spain to give motorcycle journalists from different parts of the world a chance to test the five models in its Softail lineup—the Heritage Classic (P1,350,000 to P 1,450,000, depending on the color scheme), the Street Bob (P1,100,000 to P1,120,000), the Sport Glide (P1,200,000 to P1,220,000), the Low Rider S (not locally available), and the Fat Bob 114 (P1,200,000 to P1,220,000). We also got the chance to take Harley's touring-oriented road brutes for a quick spin—the Street Glide and the Road Glide (both from P1,700,000 to P1,740,000).
But I was most intrigued by the Fat Bob 114. Its unorthodox design will likely cause a stir in HD Viber groups. The biggest question: Is it really as tough as it looks?
Styling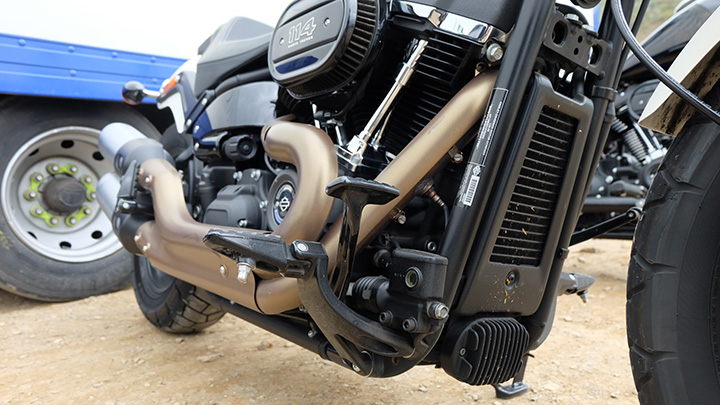 Continue reading below ↓
Recommended Videos
Introduced in 2018 as a completely revamped model, the current Fat Bob projects itself as a modern yet performance-focused motorbike compared to earlier iterations. Its radically designed horizontal LED headlight bar separates it from the rest of the traditional HD lineup. Meanwhile, the 2-1-2 exhaust with a striking bronze finish on the pipes gives it upswept styling on the tail end. Wait till you hear its hot-rod roar.
The straight handlebars, the big-bore engine, and the massive front tire (150/80, specially designed by Dunlop and with nicely etched 'Harley-Davidson' markings on the 16-inch magnesium wheel) enhance the bike's muscular appearance. The ducktail-style rear fenders and the blacked-out elements are a throwback the bobber era. Unlike with other Harleys, you can count on your fingers the Fat Bob's chrome-laced parts.
The saddle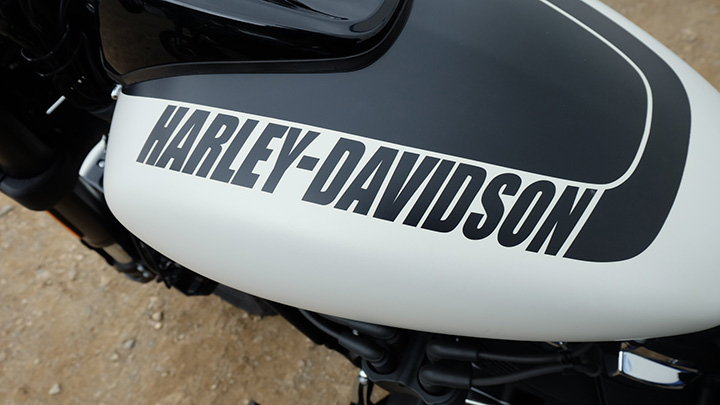 One really nice thing about the Fat Bob is its low seat height, which makes balancing this 307kg midsize cruiser never a problem for Asians of regular height like yours truly. The frame design of the current Fat Bob is a combination of the Softail and Dyna platforms, making it more rider-friendly. A large chunk of Harley bikes is now built on the Softail frame.
The well-padded, one-piece bucket seat kept my bum comfortable even during long hours of riding, although there's a provision for an extra rear cushion to accommodate a passenger. Being small, the seat also provides the rider with just a little wiggle room to allow leg-stretching moves. When you sink in, there's nothing else to do but to sit still.
The Fat Bob we rode is powered by the 114 version of the Milwaukee-Eight that puts out 93hp at 5,020rpm and 155Nm at 3,000rpm. When the model was first introduced in 2008, there was a 107 version, but this had to go extinct because of the Fat Bob's positioning as a performance-focused machine. The current 1,868cc liquid-cooled V-twin engine, mated here to a smooth-shifting six-speed gearbox, gives off less vibration compared with its siblings, although the good-old Harley-Davidson character remains intact.
Engine performance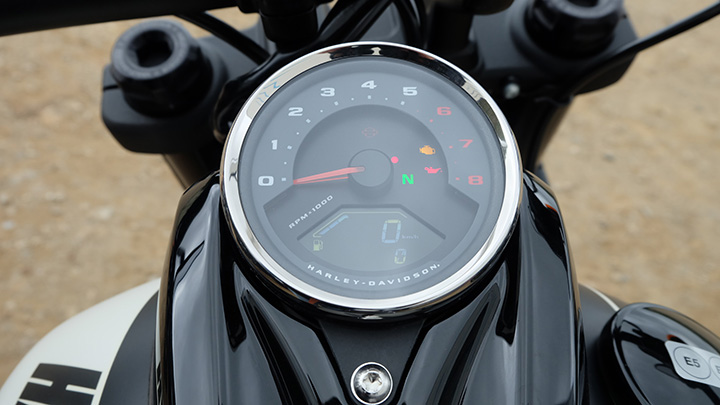 Thanks to its massive torque output, I rode the bike from one corner to the next with minimal gear changes. There's no need to push the needle to the redline because a little throttle input is more than enough to awaken this powerful road beast.
Although we rode in cool European temperatures ranging from 10 to 17 degrees, I already sensed engine heat when we were caught in slight traffic. I can imagine how menacing the engine heat would be in horrendous Metro Manila gridlock. Obviously, the Fat Bob's ultimate habitat is clear highways and winding mountain roads, not urban jungles.
This two-wheeler rides well thanks to its comfortable ergonomics. Despite the wide, flat, tracker-inspired handlebars and the slightly forward foot sets, I consider the riding position not as extreme compared with other Harleys. My 5'6" frame fit quite right in the rider's triangle, keeping my body in a neutral position and in turn ensuring less riding stress and fatigue.
Ride and handling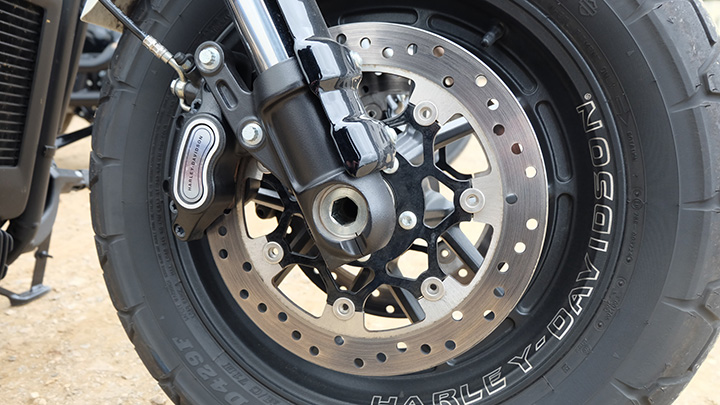 However, having a chunky tire in front requires a bit more effort when steering at low speeds and when parking. But when carving mountain roads, the Fat Bob is impressively stable and surprisingly easy to maneuver thanks to its maximum right and left lean angles of 31 and 32 degrees, respectively.
The underpinnings are made up of a 43mm upside-down fork with 5.1 inches of suspension travel and a single shock absorber (preload-adjustable) with 4.4 inches of travel. In case I want to take on a passenger, all I have to do is manually tweak the external preload adjuster. Dual disc brakes in front and a single disc in the rear stop the bike really well, and there's no likelihood of fading brakes during long travels. Thank heavens for ABS.
Extra features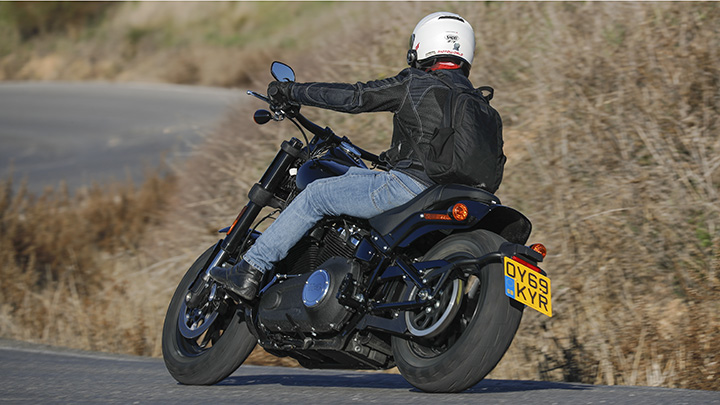 The 2020 Fat Bob 114 offers very little by way of extra features or electronic rider assistance. There's a lone USB port located underneath the steering hub that is only for recharging electronic gadgets like a smartphone or an action camera. We all know that traditional Harley-Davidson bikes want to retain their iconic bare-bones character.
The verdict
The Fat Bob is probably the most underrated Harley-Davidson offering due to its radical styling that is very new to cruiser fanatics. But more than its looks, this modern American iron is about engine power, impressive handling, and solid engineering where many muscle bikes of competing brands fall short. Or let's just wait until the end of days arrives and see which bike survives?
SPECS: 2020 Harley-Davidson Fat Bob 114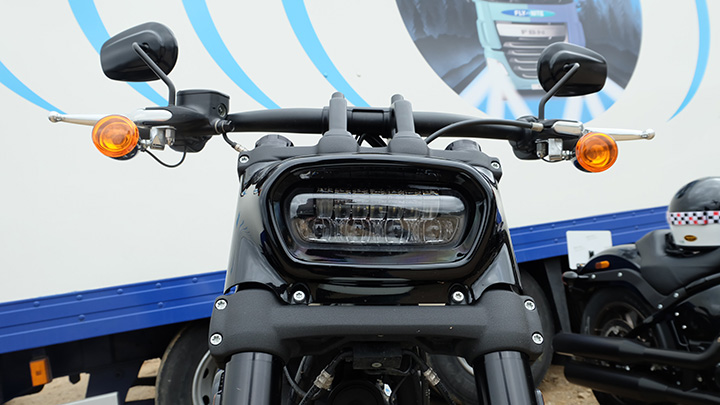 Price: P1,200,000
Engine: 1,868cc OHV V-twin
Power: 93hp @ 5,020rpm
Torque: 155Nm @ 3,000rpm
Transmission: 6-speed manual
Score: 15/20
NOTE: This article first appeared on TopBikes.ph. Minor edits have been made.