Italian manufacturer Moto Guzzi has always been known as a quirky niche brand in the motorcycling industry. The company, which has been producing bikes out of the same factory in Mandello del Lario in Italy for almost a hundred years, specializes in building motorcycles powered by a transverse-mounted 90-degree V-twin engine mated to a shaft drive and a dry clutch. This formula has won the brand a loyal following of riders who swear by its V-twin's rumbles and the distinctly Italian style and character of its two-wheelers.
Moto Guzzi's newest and possibly most unique offering yet uses these same principles, but takes them into the world of adventure. Meet the Moto Guzzi V85TT, a bike introduced at the 2017 EICMA show to a very warm response and lots of slack-jawed stares.
This 'classic enduro,' as the manufacturer calls it, is an amalgamation of adventure-bike performance, modern Italian charm, and '80s retro styling. Ever since spotting it on the Internet, I've been curious as to how good this Italian googly-eyed retro adventure bike could be. Luckily, our friends at Bikerbox were nice enough to lend me the V85TT for a few days. They were cool enough to let me borrow a matching helmet, too.
Continue reading below ↓
Recommended Videos
Is this marvelous machine from Mandello more than just a stylish art piece? Read on.
Styling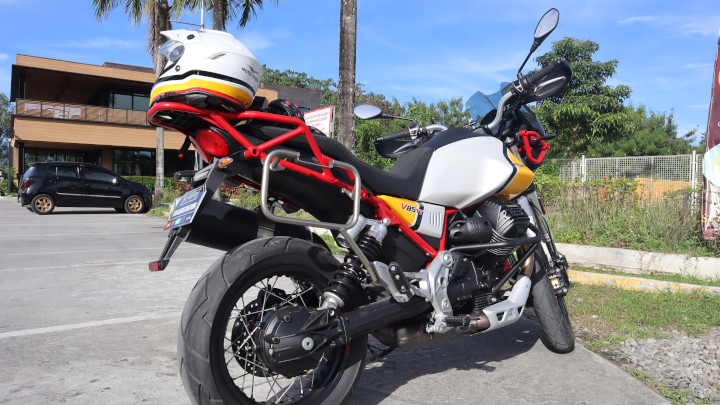 As with most things Italian, the V85TT is blessed with stellar looks. It's like it has been sculpted with enough artistic skill to earn it a spot in a museum. Every detail is of the highest quality: From the shiny eagle decals to the exposed red trellis frame to the pristine paintwork, Moto Guzzi has spared no expense to let observers know that they're looking at something premium.
One of the things that will catch your eye is the unique design, which features twin bug-eye headlights positioned between a beefy, indented gas tank and an adventure-appropriate front beak. More than providing a cool, retro-looking form of illumination, the headlights also incorporate Moto Guzzi's eagle logo as the daytime running light.
In this 'Giallo Sahara' or 'Sahara Yellow' paint job, the V85TT stood out no matter where I took it, and attracted stares, compliments, and questions from fellow riders, friends at school, and tollbooth operators.
The saddle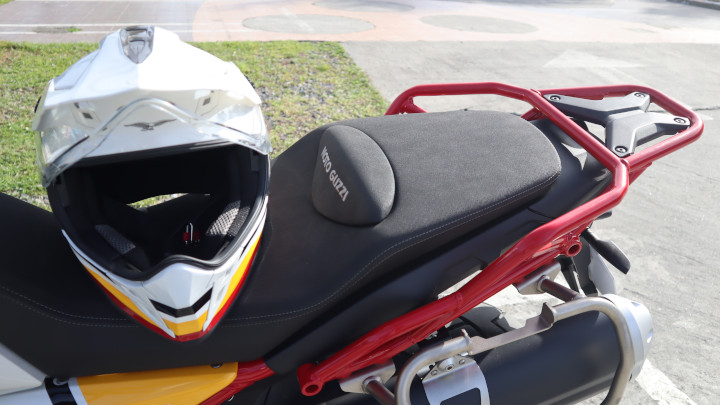 One of the unavoidable aspects of an adventure motorcycle is a high-mounted perch. The V85TT comes with a standard seat height of 32.67 inches, which isn't extremely tall, but given my average Filipino height of 5'7", it's more than high enough. Sitting on the bike was a bit intimidating to me at first, as it's both tall and a bit heavy at a standstill. Once rolling, however, it's as comfortable as I could want it to be: The seat is well-cushioned, and the bike's midsection is narrow enough to allow me to reach the ground with both feet on tiptoes, or with one foot flat on the ground.
Sitting astride the V85TT is a very premium experience, as you are immediately greeted by a full-color TFT display, a USB charging port, a well-positioned handlebar equipped with all the functions you could need, and lots of legroom for riders with longer legs.
Cruising down expressways is splendid: The riding position is comfortable enough to allow for long-distance cruising without any back or wrist pain, and the windshield eliminates a good bit of wind buffeting. And whether on the highway or on dirt/gravel paths, the V85TT is also a great bike to stand up on. The solidly mounted rubber-wrapped footpegs act as great footholds, and the handlebars are high enough to let you stand upright.
In traffic, however, this motorcycle feels a bit awkward for someone of my stature, though it's still usable. While its somewhat-compact nature does allow you to squeeze in between cars when needed, the V85TT isn't that easy to maneuver in really tight spaces. Making this trickier is the heat coming off the V-twin engine, whose cylinders jut out right in front of my shins. That said, the heat isn't as bad compared with what I've experienced riding other Italian motorcycles.
Engine performance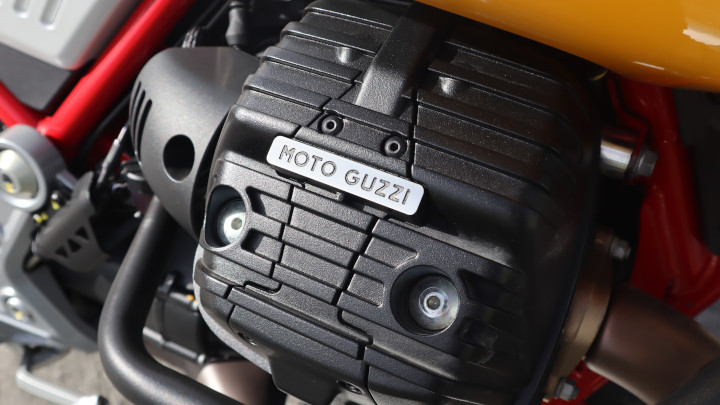 The 853cc transverse V-twin engine here is similar to the powerplant found in the V9 Bobber, but retuned and tweaked to better fit the V85TT's more adventurous character. Producing 80hp at 7,750rpm and 80Nm of torque at 5,000rpm, it provides adequate grunt for anything you'll want the bike to do.
While the engine sounds grumbly and looks menacing, it's actually quite friendly,with smooth and linear power delivery. Around town or on the open road, it's confidence-inspiring and a blast to use. At low speeds, the throttle gives a worry-free experience and the engine happily performs at low revs as you're puttering about in traffic. Nor does it have problems hitting triple-digit speeds on the highway, and even in higher gears, it gives sufficient oomph to overtake at the speed limit.
The six-speed transmission here is one of the nicest I've used, with each shift making a resounding 'clunk' that sounds cool and feels reassuring. Shifting on the V85TT is smooth and precise—and hassle-free, too, thanks to the gear-position indicator and the shift light. The clutch lever is a bit heavy, though, as I needed three fingers instead of the usual two to finesse it in heavy EDSA traffic (totally my fault for riding the bike in EDSA).
Ride and handling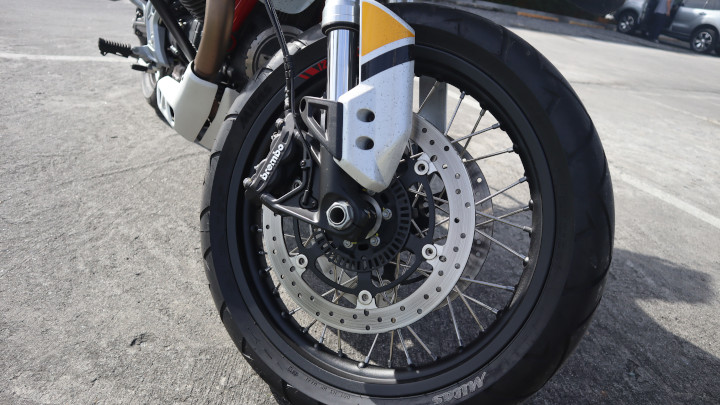 The frame and the suspension bits do more than just make the V85TT look pretty and premium—they also allow the bike to handle as well as it does. The exposed trellis frame feels solid and sturdy, and helps keep the bike stable while cornering.
The silver 41mm inverted front fork, which is preload- and rebound-adjustable, provides 170mm of travel. Working in tandem with the fork is the single side-mounted adjustable rear shock. Together, the underpinnings smooth out road imperfections and keep both wheels firmly planted on straights and around corners. Thanks to the long-travel suspension, uneven terrain was less of a concern for me than usual. I actually sought out road bumps and ruts to feel the suspension at work.
The V85TT comes equipped with three riding modes: Road, Off-Road, and Rain. All three let you use all 80 Italian horses, as well as the full 80Nm of torque. The difference between the three is their levels of adjustment for traction control, throttle response, engine braking, and ABS. It's only in Off-Road mode that ABS is disabled for the rear, allowing for sliding around on the dirt.
The bike I tested wasn't totally stock, however—fitted on the spoked wheels were Mitas sport-touring tires from Bikerbox. These are significantly more road-focused than the Michelin Anakee adventure tires from the factory.
Extra features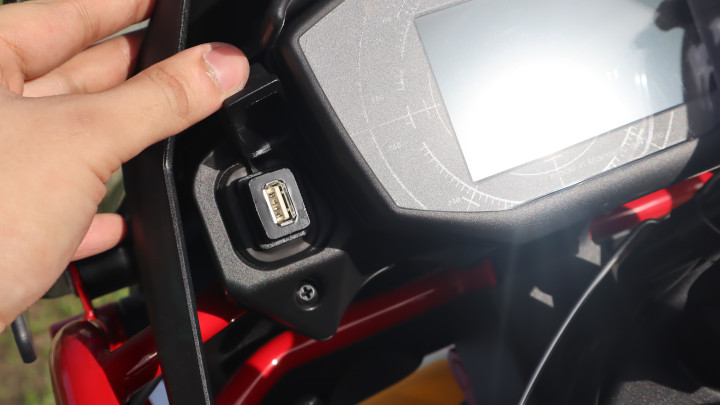 The V85TT is feature-rich. The TFT display alone is host to niceties like trip computers, a fuel-range indicator, readouts for average speed and average fuel consumption, a gear indicator and a shift light, a clock, a temperature gauge, and smartphone connectivity. On the handlebars, you'll find switchgear and buttons for cruise control, the riding mode selector, the headlight settings, the horn, the kill switch, and the turn signals (which isn't as convenient to use as I'd like).
There's a center stand in addition to a side stand, as befits an adventure bike, plus a rear mounting bracket incorporated into the trellis frame. The unit I used also came with mounting brackets for the optional side cases, which look right at home on the bike.
Verdict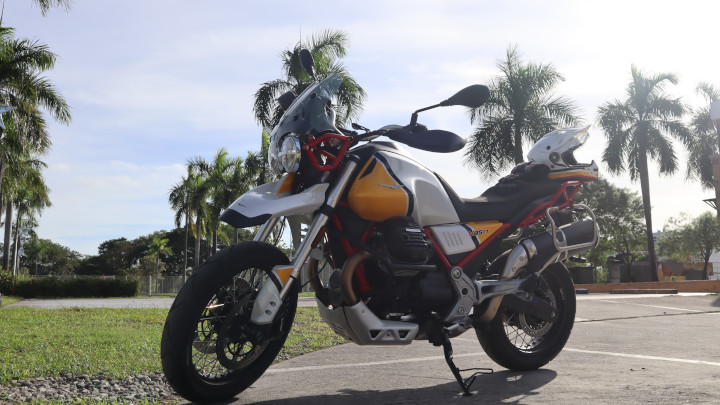 For such a specific motorcycle from a niche brand, the V85TT is stellar as a do-anything middleweight adventure bike. Whether I was going on solo rides, running errands, roaming the city at night, or just riding to school, the V85TT took anything I wanted to do in stride, and looked good doing it.
I thoroughly enjoyed the time I spent with this bike, and while I found it wasn't totally perfect (nothing ever is), it's the closest to an ideal jack-of-all-trades motorcycle out of everything I've tested. As I rode the V85TT one last time to return it to Bikerbox, I felt a twinge of regret that I couldn't spend more time with this bike. But at the same time, I was just happy to have had the chance to take this ride home for a while.
With a model this good, Moto Guzzi hopefully becomes a more recognized name in our market, especially among riders looking for a middleweight adventure motorcycle.
SPECS: 2020 Moto Guzzi V85TT
Price: P830,000
Engine: 853cc transverse V-twin
Power: 80hp @ 7,750rpm
Torque: 80Nm @ 5,000rpm
Transmission: 6-speed manual
Seat height: 32.67 inches
Score: 19/20