Form should always go hand in hand with function. So, when Yamaha first teased the XSR155 and the bike got praised for its handsome looks, I wondered whether the littlest XSR could fill the shoes of its athletic, sharply dressed 700cc and 900cc siblings.
Now that the XSR155 has been launched, we finally know details like price, specs, and available colors. All that remains is for us to take it out on the streets and see if it really is one of Yamaha's 'faster sons.' Can this timelessly styled street bike spice up these bleak times?  Read on to find out.
Styling
ADVERTISEMENT - CONTINUE READING BELOW ↓
Just take in all those neo-retro details. Need we say more? Not more than five minutes after I picked up the XSR155, a security guard was already asking me about it, which just confirms that this street bike is a guaranteed head-turner.
Prior to that, when I showed up at the Yamaha Motor Philippines (YMPH) warehouse and saw the test unit, I thought for a moment that the manufacturer had accidentally prepared an XSR900 for me. All the XSR styling cues are here: the round, stylized headlight, the large, tear-shaped fuel tank, the beautifully stitched seat, premium metal badging and decals, and the circular taillight that completes the circular motif.
Even the mechanical bits do their part to complement the styling. The exposed radiator and hoses give off an industrial, garage-built feel, the Deltabox frame cleanly cuts between the engine and the fuel tank, the muffler has a retro-inspired perforated heat shield, and the turn-signal mounting plates act as luxurious metal accents on either side of the headlight.
ADVERTISEMENT - CONTINUE READING BELOW ↓
Recommended Videos
The bike looks quite big, too—not just 'big for a 155cc street bike,' but wide and tall enough that someone unfamiliar with motorcycles would be hard pressed to tell that this is not, in fact, the larger XSR700 or XSR900. If we were to make a list of small-displacement bikes that look big enough to pass as expressway-legal, the XSR155 would be on it (not that we endorse such an activity).
I'd say one flaw in the near-faultless design would be the turn signals. Like those on the XSR700, the 155's generic, floppy indicators look out of place on such a good-looking motorcycle.
The saddle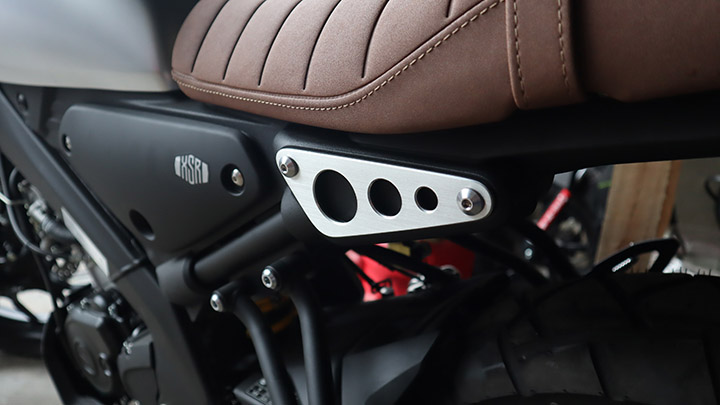 ADVERTISEMENT - CONTINUE READING BELOW ↓
Swing a leg over the beautifully stitched seat and the first thing you notice is just how big the 'little' XSR is. It feels nearly as tall and wide between the legs as the XSR700, and with a seat height of 31.8 inches, it's only about an inch lower than its 700cc brother.
Seat height is only half the story, though, as the seat surface is also quite wide, so here, my feet are about the same distance to the ground as they are when I'm on the XSR700. For reference, I'm a little bit over 5'7 with shoes on, and astride the XSR155, I can have either one foot almost completely flat on the ground or the balls of both feet on the ground. But with how light the bike is, not being able to flat-foot it on both sides isn't that big an issue. The seat is quite good for around-town use, though the sheer width and the lack of cushioning mean you'll have to find a way to stretch your hips every hour or so if you decide to take the XSR155 on long rides.
ADVERTISEMENT - CONTINUE READING BELOW ↓
As for passenger accommodations, there are a couple of sturdy footpegs, but essentially just a strap on the seat for a handle. Due to current backriding restrictions, I wasn't able to test how comfortable the bike would be for a passenger, but considering how thin the seat is and how high and rear-set the passenger pegs are, the pillion seat probably isn't a very comfortable place to be.
Engine performance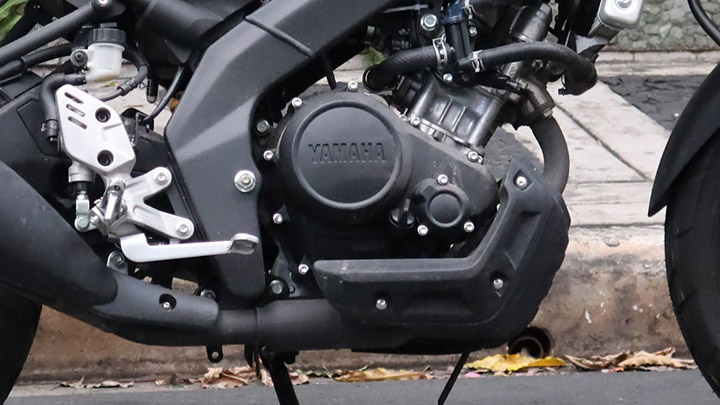 ADVERTISEMENT - CONTINUE READING BELOW ↓
I picked up this test unit when I had precisely zero kilometers on the odometer, and as such, I wasn't expecting peak performance right out of the box. But the 155.1cc single-cylinder engine gave me more than enough feistiness for the street immediately. With 19.3hp and 14.7Nm of torque, the XSR155 is just as ready to get into trouble as its MT-15 counterpart, with which it shares its engine.
On the street, the XSR155 is rowdy and ready to wheelie if you work the clutch and twist the throttle enough. If you'd rather take things slow, you can leave the bike in third gear and it will gladly cruise at a brisk but relaxed pace through town. Thanks to Yamaha's variable valve actuation (VVA) technology, the engine always has enough torque no matter where you are in the rev range. This readiness means the bike is always ready to take off, whether you want rocket out of a corner or just need to overtake a particularly slow car.
ADVERTISEMENT - CONTINUE READING BELOW ↓
The XSR155 gearbox is a pleasure to shift through. With the inclusion of an assist and slipper clutch, the clutch lever is almost unbelievably smooth and easy to operate. It's difficult to think of another motorcycle on which it's as easy to find neutral as here. As I've said, you can just leave the bike in third gear most of the time and you can cruise through most city situations quickly and easily, but when you do shift on the little XSR, it's stress-free and enjoyable. Jerky downshifts are almost totally eliminated, so beginners learning to modulate the clutch aren't discouraged when their movements aren't perfectly timed.
Ride and handling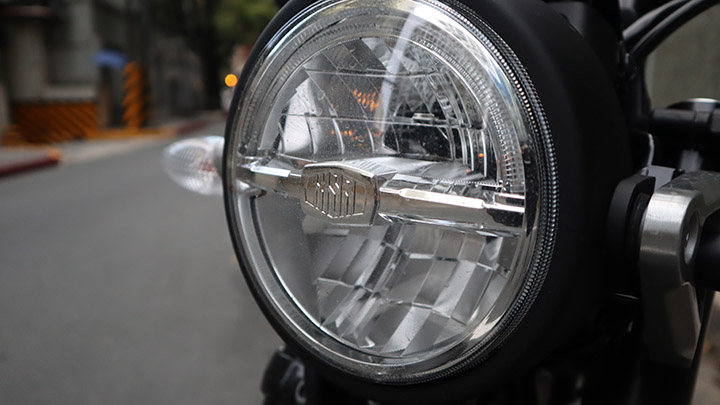 ADVERTISEMENT - CONTINUE READING BELOW ↓
The XSR155 handles as expected of any respectable member of the XSR family—sporty and aggressive, but street-appropriate. Like the MT-15, it responds sharply to whatever bar input you give it, so you get close to sport-bike handling on an everyday street bike. Around a corner or just to avoid a pothole, the XSR155 turns in quickly and sharply.
The riding position and the overall ergonomics are very fitting of an XSR—rear-set and sport-bike-like below the waist, and neutral and street-bike-ish everywhere else. The XSR155 isn't as back-breaking and straining to ride as a full-on sport bike, but it's leaned forward and sporty enough that it makes sure you feel like you're riding a machine built for enthusiasts. While my back feels entirely unthreatened while riding, my legs feel just bent enough to remind me that this machine allows for hooligan behavior.
Braking is taken care of by a single caliper and rotor up front and a single rotor and caliper combo at the rear. This setup might not sound like much, but it's enough to bring the lightweight bike to a stop in a reasonable fashion. What isn't so reasonable, however, is the lack of ABS on what is essentially a premium-priced small street bike. It's odd that the XSR155 offers premium features and style, but doesn't include ABS, which is almost considered a necessity for models of this caliber and price range.
ADVERTISEMENT - CONTINUE READING BELOW ↓
Extra features
One of the many things the XSR155 shares with its bigger siblings is its single circular digital display pod. While minimalist in appearance, its features and functions are anything but. The usual display items are present: speedometer, tachometer, odometer, fuel gauge, turn-signal indicators, and neutral indicator. Welcome additions include a gear-position indicator, a clock, two trip meters, average and current fuel consumption, and average speed. The numerous functions can be cycled through with a decently sized button on the side of the pod that's easy to find with a gloved hand. Another neat thing to find on the display is the VVA indicator, which lights up to let you know when the system is working at its best, helping you understand when you can efficiently wring the most torque out of the engine.
ADVERTISEMENT - CONTINUE READING BELOW ↓
On either side of the display, you'll find the usual handlebar functions. Buttons and switches feel nice and well-made, though the turn-signal switch does feel a bit soft. The big-bike-style ignition and kill-switch combo is nice to have as well.
The key situation isn't anything special, but Yamaha has included its usual ignition protection shutter—it's good for peace of mind if you're worried about people trying to mess with the ignition on your shiny new XSR. The mirrors are easy to adjust and don't vibrate too much despite the rev-happy single-cylinder engine. That said, they could be a little bit bigger as I still see my elbow in them no matter how they're positioned.
For the custom bike builders out there, the XSR155 is more than ready for parts to be taken off or bolted on. In fact, YMPH encourages customization and offers bolt-on packages, such as a cafe-racer package that includes a headlight cowl, a new seat, and clip-on handlebars, or a tracker pack that includes a smoked flyscreen, side number plates, and an aluminum bash plate. The manufacturer is so committed to supporting customizers that the warranty on a modified XSR155 will still be valid as long as the modifications don't affect the bike's electronics and engine.
ADVERTISEMENT - CONTINUE READING BELOW ↓
Verdict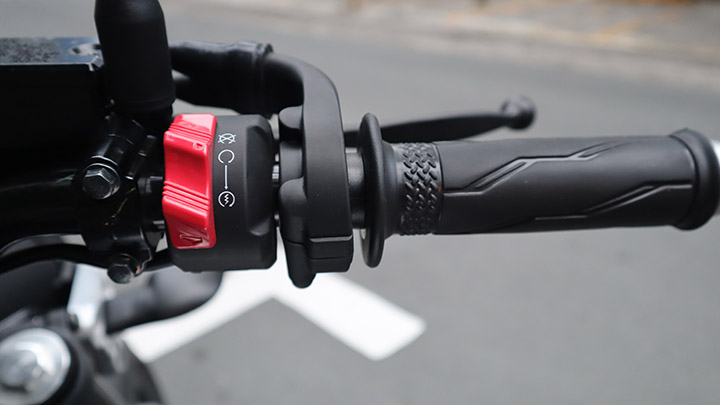 The XSR155 is obviously meant for small-displacement bike buyers who value style and performance, whether they're college students looking for a cool and fun way to beat the traffic, young professionals who want to make a style statement, or bike customizers in the market for a solid base bike that's easy to turn into their dream build. In that sense, the XSR155 is everything it's advertised to be—undeniably stylish, a blast to ride, and ripe for customization.
ADVERTISEMENT - CONTINUE READING BELOW ↓
If I were to start college all over again and had to pick a new bike to ride to school, the XSR155 would probably be it. While there are other motorcycles out there that make more financial sense for a college student's first bike, this is the kind of bike that has all the right ingredients for a great new-rider experience—cool-kid looks, sharp handling, a fun but forgiving engine, and overall reliability and practicality. Even if you aren't a new rider, the XSR155 is still a great option for a sporty daily commuter, especially if you're an enthusiast.
SPECS: 2020 Yamaha XSR155
Price: P162,000
Engine: 155.1cc SOHC, liquid-cooled single-cylinder
Power: 19.3hp @ 10,000rpm
Torque: 14.7Nm @ 8,500rpm
Seat height: 31.8 inches
Score: 19/20
NOTE: This article first appeared on TopBikes.ph. Minor edits have been made.