The term 'crotch rocket' has been synonymous with sport bikes for good reason: They're incredibly fast and powerful, and just about as uncomfortable and challenging as riding an actual rocket would be. But that hasn't stopped droves of riders from owning these two-wheelers. Sport-bike ergonomics may be punishing for the body, but isn't beauty worth discomfort?
If you're considering the KTM RC 390, you've probably answered 'yes' to that question numerous times. The models in KTM's RC series are unforgiving racing machines, devoid of any fluff that might get in the way of doing one thing very well: going fast.
Even though its engine displacement is considered small for a supersport, the RC 390 stays true to the brand's racing heritage. By the way, this bike is one of the four KTM models being assembled in the Ayala-owned facility at the Laguna Technopark.
How well does it hold up on Philippine roads? Keep reading and be the judge.
Styling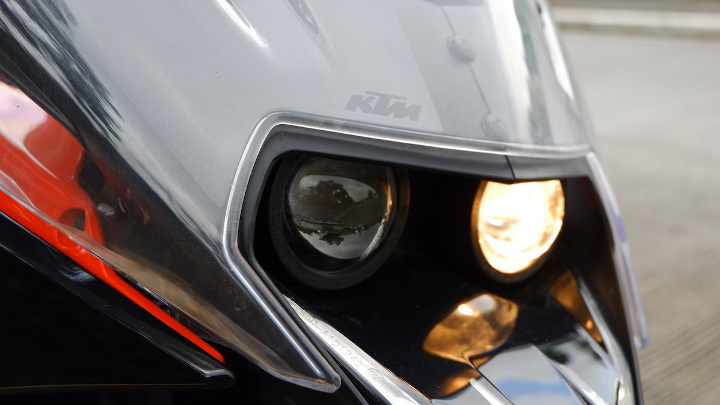 ADVERTISEMENT - CONTINUE READING BELOW ↓
No case of mistaken identity will ever happen when you're on the RC 390: It's a KTM and it's a race bike—from the Radioactive Orange color scheme and the signature diamond trellis frame, down to the aggressively beefy design and the large front fairings.
The bike boasts premium fit and finish, which is as expected coming from Europe's iconic motorcycle manufacturer. Quality is evident in the headlight, windscreen, grips, seat, and foot pegs (and that's a short list). Even the plastic fairings are finished with a high mirrorlike gloss.
If you're buying this bike for looks, you won't disappoint anybody. In the week we tested it, it's gotten long, admiring looks from fuel-station attendants, thumbs-up from fellow riders and curious pedestrians, as well as an out-of-the-blue but welcome cheer from a friendly van driver.
The saddle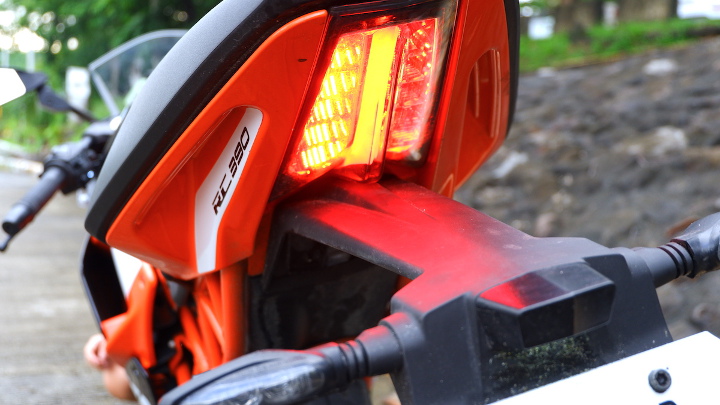 The RC 390 looks great, but its saddle is barely compromising. The 32.88-inch seat height is quite high for riders under 5'3", though having one foot down is possible thanks to the narrow seat. As a shorter rider, you have to scoot yourself right up against the tank when straddling the bike or kicking the side stand up. As with any height-related rider issue, it's less awkward with a vertical boost from your boots and a tweak of the rear preload.
The seat is comfortable but thin. It's also split, with the pillion seat designed to look like it's part of the rear (the integration is so seamless that someone did ask me if there was room for a passenger). However, seat padding is a secondary issue here, if you haven't ridden sport bikes before. The aggressive, leaned-over stance that the RC 390 demands punishes weak leg and core muscles. Staying fit is a must if you don't want constantly sore wrists and a painful lower back.
Engine performance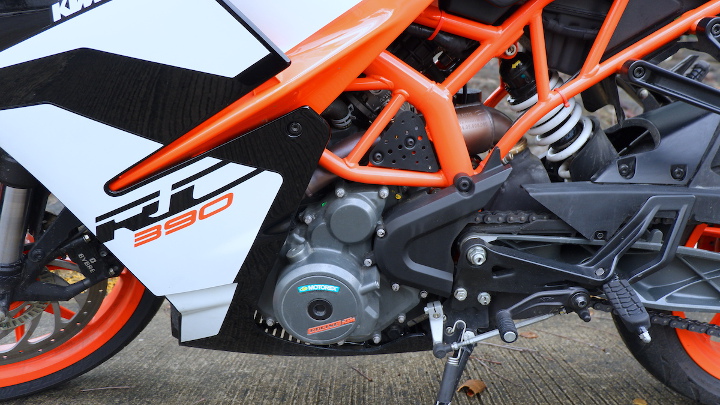 The greatest thing about the RC 390 is that it's expressway-legal. All right—technically, the 373.2cc engine is below the limit for expressways, but the Land Transportation Office (LTO) seems to have made some considerations, allowing the bike's displacement to be officially registered as 400cc.
With that FAQ out of the way, let's move on to why many riders rave about this tiny supersport: Its DOHC single-cylinder engine loves to rev high, thrilling exhaust notes included.  You can feel the power kick in and stay steady at around 5,000-6,000rpm, making it a speed demon.
ADVERTISEMENT - CONTINUE READING BELOW ↓
The downside to this rather peaky engine becomes noticeable in vehicle-clogged streets: It struggles in the lower rev ranges, tending to vibrate and lurch even with the clutch pulled in halfway. The bike also stalls more easily as a direct result of this reluctance to go slow.
Engine heat is also another concern. The RC 390 doesn't seem to like tropical weather. There's a fan on the bike to address this, and it works overtime, hardly shutting off even during a heavy downpour. Still, the fan does its job; the engine didn't overheat at all.
Ride and handling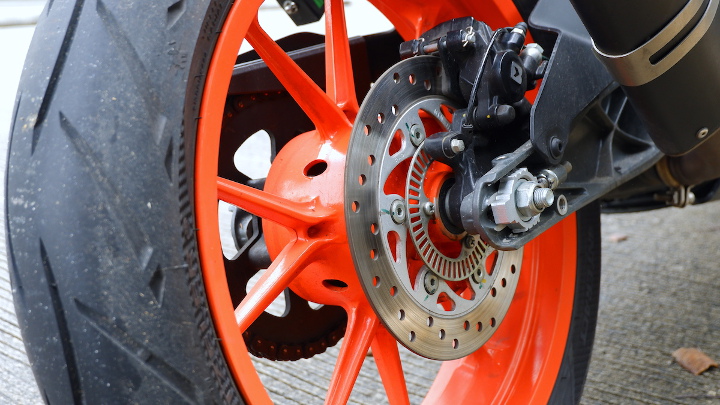 Sporty ergonomics and occasional vibrations aside, the KTM RC 390 is an exhilarating ride. It feels like it's always raring to go faster, really shining on smooth, straight toll roads and acquitting itself well even in pelting rain.
The sticky Metzeler tires keep the bike planted in all kinds of weather, and the low center of gravity makes the bike easy to lean and steer despite the curb weight of 165kg. Suspension setup is sporty-stiff, necessitating a mellow pace on rough roads. Lane filtering is still possible as long as you give enough clearance for the fixed side mirrors.
The powerful engine is back up by equally powerful brakes. Both wheels are fitted with Bybre disc brakes (320mm for the front and 230mm for the rear) that are linked together by dual-channel, disengageable Bosch ABS. The setup made adjusting speeds and stopping on a dime effortless on the bike.
Extra features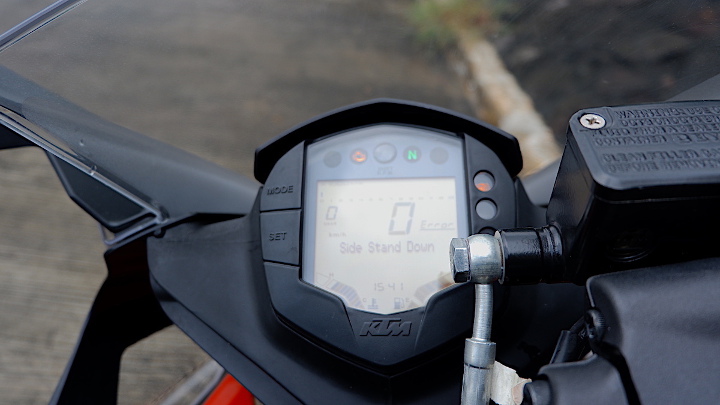 While still a barebones race bike, the RC 390 does have some features ready to spoil its owner. The instrument panel is digital, compact, and informative. Riders with smaller hands will also rejoice that adjustable clutch and brake levers come standard.
ADVERTISEMENT - CONTINUE READING BELOW ↓
And while not an extra feature, the side stand is easy to kick up or down, tucks right under the left foot peg, and shuts the engine off if the bike is still running and if any of the gears is engaged. More safety features found on this bike: a slipper clutch and a ride-by-wire throttle, both of which keep the engine predictable during harsh braking and acceleration.
If you ever feel bored with the stock setup of the RC 390, you can always approach KTM about setting you up with some PowerParts accessories.
The verdict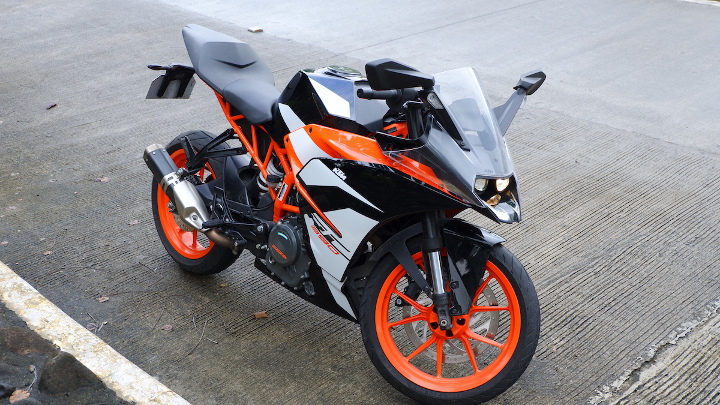 The KTM RC 390 is a very specific motorcycle. It's not particularly versatile or beginner-friendly, and it won't appreciate getting converted into a commuter. If you're planning on taking this bike to the track or you already have some experience with sport bikes, you'll be able to get your money's worth and push the RC 390 closer to the limit at the same time.
SPECS: 2018 KTM RC 390
Price: P300,000
Engine: 373.2cc DOHC four-valve, four-stroke single-cylinder
Power: 44hp @ 9,500rpm
Torque: 35Nm @ 7,250rpm
Transmission: 6-speed manual
Seat height: 32.28 inches
Score: 17/20