Waking up at 2am is not easy. Not even two cups of black coffee is enough to fire me up and get me going. But duty calls: I was invited to join the first Suzuki V-Strom Sagada Ride, jointly organized by Suzuki Philippines and Wheeltek.
Tourists normally become excited when they hear the word 'Sagada.' The place is known for its picturesque mountain ranges, traditional huts on stilts, hanging coffins, and century-old mummies. But for us riders lacking sleep on D-day, our primary objective was to survive the 400km route to this world-famous vacation spot.
That said, when Wheeltek Big Bikes Division general manager Bobby Orbe handed me the keys to a brand-new Suzuki V-Strom (odometer reading: zero), the sight of the bike was an energy booster. Let's see if it's strong enough to take a beating. Come, ride with us!
Styling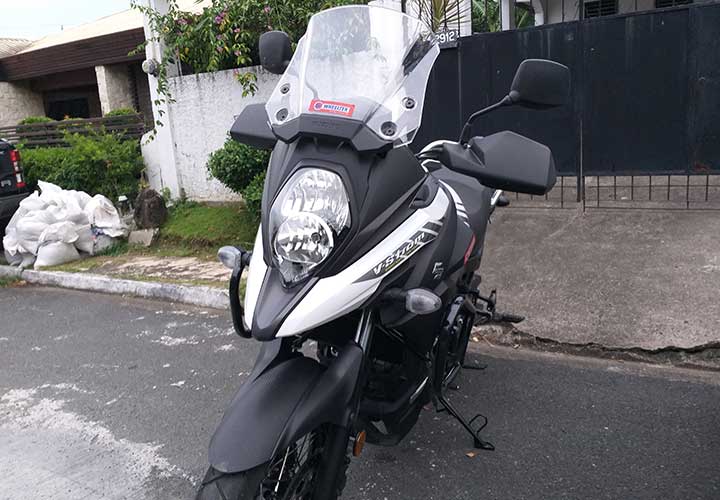 ADVERTISEMENT - CONTINUE READING BELOW ↓
Front beaks have become a standard fixture on adventure bikes. The Suzuki V-Strom 650 proudly wears one. An aggressive-looking nose combined with a clear, oval-shaped headlamp that depicts an eagle's eye makes it appear as if the V-Strom is always ready to take its prey. Walk around this Japanese-bred machine and you'll realize that almost everything was designed in a symmetrical fashion, save for the exhaust and the chain drive that occupy the right and left sides of the rear end, respectively.
Who would miss that stylish Suzuki sump guard made of composite plastic? We're just hoping it's strong enough to protect the engine, the exhaust system, and the oil filter against solid rocks. Also, what makes the V-Strom 650 appealing is the overall proportionality of its components—chassis, tires, fuel tank, and even the handlebars. Every part seems to be in harmony with the others, making it an exceptionally beautiful creation.
ADVERTISEMENT - CONTINUE READING BELOW ↓
Recommended Videos
The saddle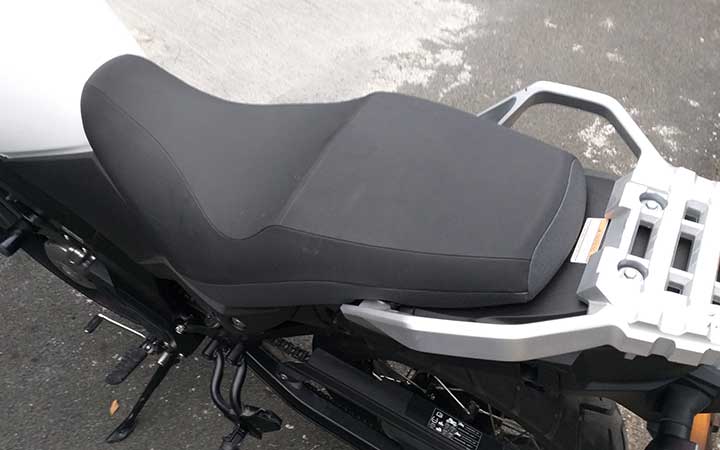 With several whistle-stops that included regroupings for photo sessions, meals, and refueling, it took us at least 12 hours to reach our destination. The well-cushioned seat pampered my lower back, which is still recuperating from a horrible motorbike accident from more than a year ago.
ADVERTISEMENT - CONTINUE READING BELOW ↓
The neutral positioning of the brake and gear pegs allowed me to stand on the bike when I saw a big road rut coming. It also allowed me to do quick leg stretches to avoid muscle cramps. Whenever I felt my bum aching, all I did was move a little forward or backward on the seat and the problem disappeared, even for just a while. The raised handlebars provided an upright riding position that kept me relaxed yet alert.
My only issue with the saddle is the seat height. I stand 5'6" and a pair of Lady Gaga shoes would have been helpful for me to ride this bike. Did someone tell me there's an available original Suzuki V-Strom low seat designed for Asian riders?
Engine performance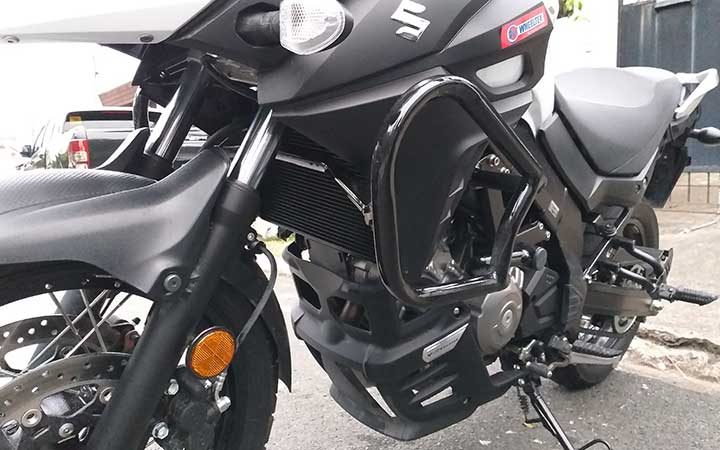 ADVERTISEMENT - CONTINUE READING BELOW ↓
Some of the riders who took part in the Sagada ride rode the mighty Suzuki V-Strom 1,000cc. Just because it's blessed with a more powerful engine was not reason enough for us 650cc riders to envy its riders, because we all traveled in a convoy, maintaining a safe and comfortable speed.  The middleweight version's powertrain adopts the 650cc, liquid-cooled V-twin that you can also find on the Suzuki V650 standard bike. No wild gallops—power delivery in both low and middle revs is consistent and smooth, allowing us to have full control of the throttle of this road warrior.
V-twin engines produce slight vibration felt on the handlebars. But once the tachometer needle comes alive, the riding feel becomes smooth as silk. Let's not forget to include the subdued sound of the stock exhaust. Combine these with rejuvenating music from Spotify, and nothing can be more therapeutic.
ADVERTISEMENT - CONTINUE READING BELOW ↓
Beginners who normally struggle when taking off on a tall adventure bike, please note: Doing all of these at the same time—balancing the bike, releasing the clutch lever, squeezing the throttle, engaging first gear, among others—may lead to confusion and engine stalling. Suzuki has come up with a solution: Its Low RPM Assist technology allows novice riders to get the bike going without stalling and with less effort. This feature is also helpful for seasoned riders who find themselves starting the bike on an inclined surface.
Ride and handling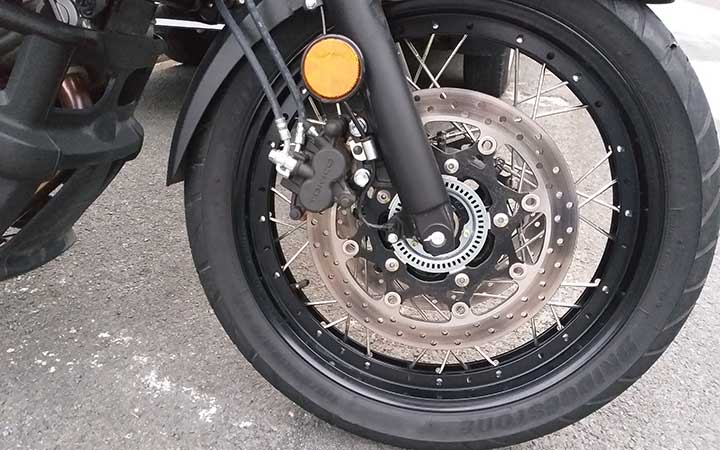 ADVERTISEMENT - CONTINUE READING BELOW ↓
There were times when we hit 140-150kph and the V-Strom remained remarkably stable as its front wheels stayed firmly on the ground. This is an exemplary trait for an adventure bike of a Japanese brand. On high-speed stretches and during cornering, the V-Strom behaved the way I wanted it to. It's perfectly balanced and allowed us to attack sweeping the corners of Halsema Highway without fear of understeer or oversteer.
During at least two occasions, I felt traction control intervene as I hit the brakes while the bike rolled over wet surfaces. I felt the rear end twitch slightly, but the bike immediately regained composure. The ABS was a big advantage when we passed the landslide-stricken Banawe-Bontoc-Sagada stretch, where water, loose soil, and even gravel littered the winding road. The not-too-big adjustable windscreen shielded us from the strong headwinds along the tollways.
Extra features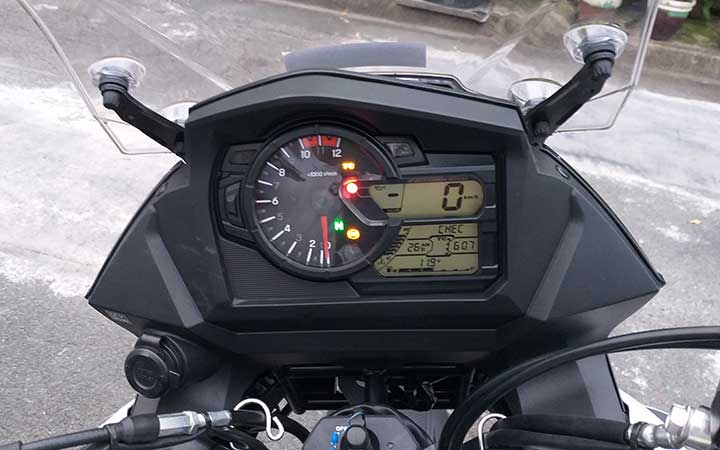 ADVERTISEMENT - CONTINUE READING BELOW ↓
The new V-Strom 650cc is packed with functional features, including the easy-to-read LCD combined with an analog tachometer. From this, the rider can monitor the odometer, trip meter, gear position, air and engine temperature, range-to-empty level, average fuel consumption, traction-control mode, fuel level, and clock.
The rear shock absorbers are manually adjustable, allowing the rider to choose his preferred damping level. Moreover, the bike rolls on a pair of 10-spoke wheels that are ideal for both on- and off-road conditions.
Verdict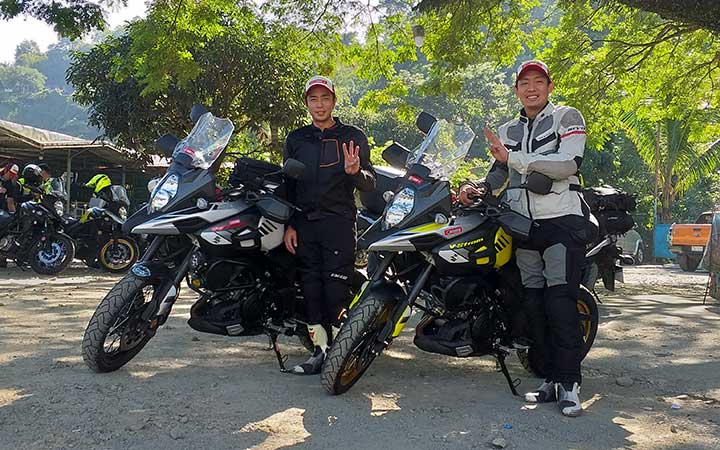 ADVERTISEMENT - CONTINUE READING BELOW ↓
Having been pampered to high heavens by the Suzuki V-Strom 650 on the first day, I was even more confident that we could ride straight back home the next morning, despite having an option for another overnight stay in Baguio City. Even on a Sunday, going back to Metro Manila meant heading back to the traffic jams.
The V-Strom 650, being a middleweight bike, emits less engine heat compared with the 1,000cc version. It's easier to balance and maneuver in tight spots, making it a well-rounded adventure machine that can thrive both in the city and rural areas.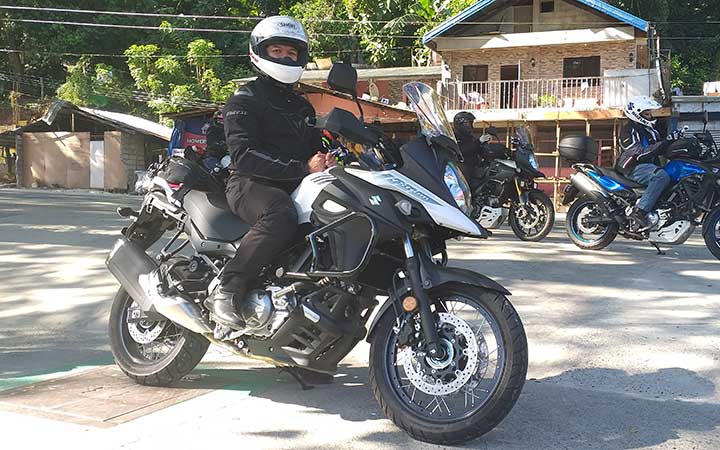 ADVERTISEMENT - CONTINUE READING BELOW ↓
SPECS: 2018 Suzuki V-Strom 650cc
Engine: 645cc 90-degree, 4-stroke, liquid-cooled, V-twin
Power: 69hp @ 8,000rpm
Torque: 69Nm @ 6,400rpm
Seat height: 32.7 inches
Fuel capacity: 20 liters
Price: P539,000