Royal Enfield has called the Himalayan the "only motorcycle you will ever need." This statement isn't actually too far from the truth. Take this 410cc lightweight, go-anywhere adventure bike that can probably pretty much anything. As the name suggests, the Himalayan was built for tackling rough Himalayan roads—a feat accomplished by Ryan Agoncillo, Royal Enfield Philippines president Jimmy Barinaga, and other Pinoy riders.
After helping the aforementioned team become the first group of Filipinos to conquer what CNN lists as 'one of the world's 10 most dangerous roads,' this bike doesn't have much left to prove as an off-road machine. On the street, however, is where two-wheelers like the Himalayan spend most of their time here in the Philippines, and Royal Enfield gave me the opportunity to do just that. While I didn't ride up a mountain range or through raging rivers, I put the bike through my own sort of adventuring, albeit urban.
Does this rugged, budget-friendly adventure motorcycle work as well as a daily bike as it does as a mountain-tackling machine? Read our full review to find out.
Styling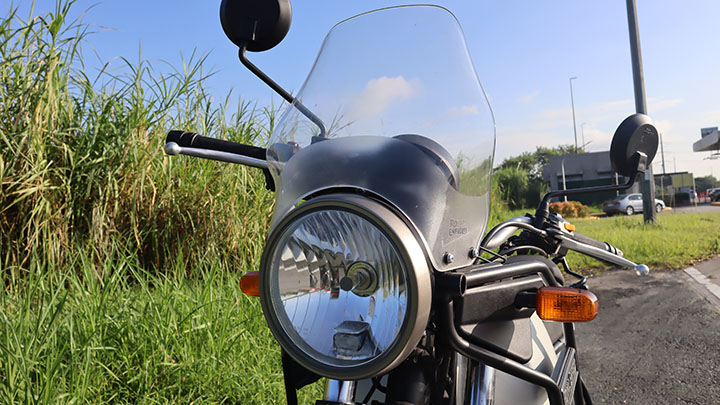 The Himalayan looks very much like a departure from what Royal Enfield typically puts out, as it isn't simply a classic bike with a higher exhaust, raised suspension, and knobby tires. It was designed from the ground up with adventure in mind. While still looking pretty, as Enfields typically do, the Himalayan incorporates lots of function into its form, such as the upper crash guard bars that protect the headlight and provide a more rugged feel.
In the 'Snow' color scheme of this test unit, the Himalayan stands out even more thanks to the contrast between the glacier white plastics and the black frame and mechanical bits. Another neat touch is the stripe decal that incorporates the model name in cool font.
On the street, the bike gives off very rugged "urban adventurer" vibes, and always seems to look like it can take you off the beaten path at any moment. The bike earned several second looks and even a "nice bike, dude!" comment from a girl passing by at school.
The saddle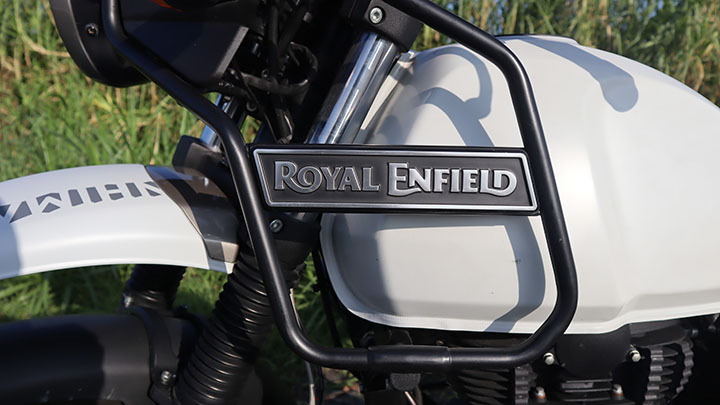 The Himalayan looks tall—such is unavoidable for an adventure bike. The windscreen looks tall, the suspension seems tall, so it would only make sense that the bike would feel tall between my average legs, right? Wrong—the Himalayan's stance is deceptively Filipino-friendly, as the suspension sags a little bit when you sit on it, and the bike itself is almost dirt-bike-narrow between the legs. The comfortably padded seat is also contoured in such a way as to allow for the rider's legs to reach the ground with relative ease.
The handlebars are much narrower than expected, too, and adds to the bike's already decent filtering abilities. The positioning is just right, as is the riding position and the overall proportions.
Engine and performance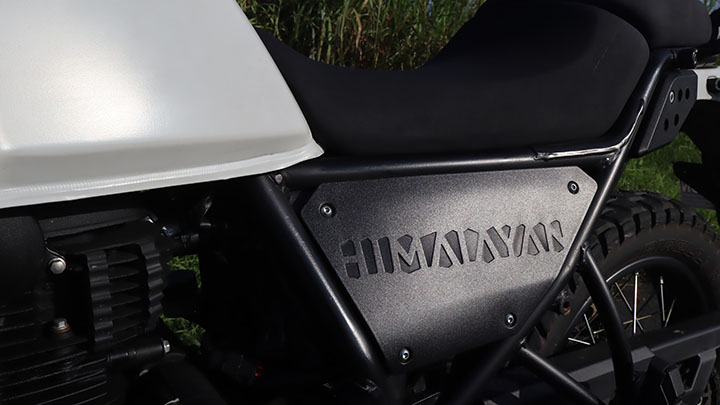 What some riders might be iffy about the Himalayan is its 410cc engine, which produces 24.5hp at 6,500rpm. That doesn't sound like a lot, considering that other bikes with lower engine displacements and the same single-cylinder configuration can make more grunt. What matters for the Himalayan, however, isn't the amount of power produced—it's how the power is generated smoothly and reliably, as the bike can cruise at expressway speeds all day long without stress or worry.
Acceleration is as adequate as can be on a bike with 24.5hp, which makes for a bike that's friendly for both beginners and those who appreciate long, chill rides. Shifting gears here isn't too fancy—the transmission is an uncomplicated five-speed manual that feels simple yet solidly built.
Ride and handling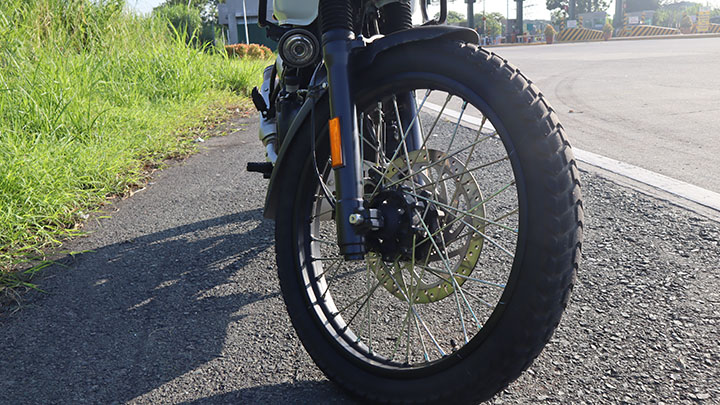 The Himalayan is a very light and narrow bike, and as such, its on-road handling is quite light as well. It's very easy to ride and responds to bar inputs quickly. It also feels stable and planted around corners, so long as you aren't in too much of a hurry. The suspension is a bit soft—as mentioned, the bike would sag a bit whenever I perched on the saddle. This might be a problem for heavier riders, or for those looking to take the bike on serious off-road adventures.
The Himalayan's braking ability is fine, but it requires quite a bit of lever effort to stop at speed. Dual-channel ABS, which comes standard and cannot be deactivated, works decently on the street, but it gets a bit intrusive off-road. Mashing either of the brakes off-road can lead to some concerning results, as I got a bit of wiggle from pressing down hard on the rear brake while traveling down a dirt path.
Extra features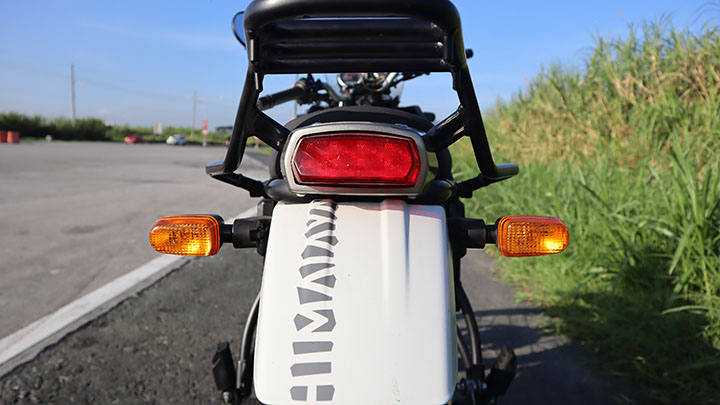 This being a simple motorcycle, you wouldn't expect many additional features aside from Royal Enfield's robust construction and bulletproof engine design. The Himalayan does have a couple tricks up its sleeve, however, like the digital compass built into the gauge cluster—perhaps the most 'adventure-appropriate' feature I've seen on a bike's dash display so far. I imagine this would be a godsend for riders lost on an adventure somewhere without cell reception. Being the city boy that I am, I didn't use the compass for much other than finding out that my condominium building faces south, and going in that direction will eventually lead me to school.
Also on the Himalayan is a rear luggage rack from the factory that will likely prove very useful and convenient for riders looking to pack stuff on the bike. It also doubles as a handhold for your pillion passenger.
Verdict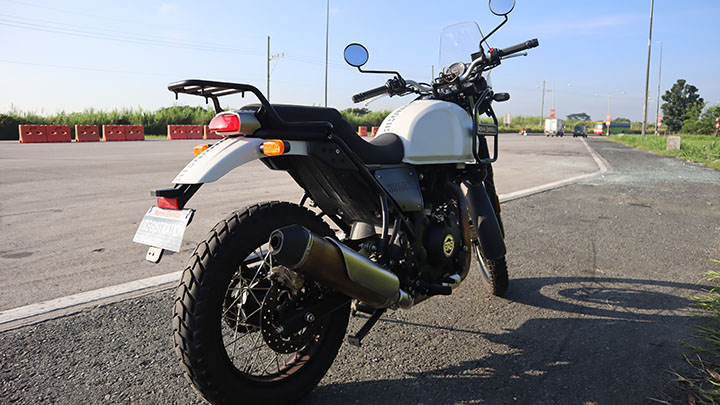 The Himalayan is just what Royal Enfield says it is—a rugged go-anywhere bike that's down to do nearly anything. It performs great as a daily commuter thanks to its friendly and fuel-efficient engine, with its slim body coming in handy when filtering through traffic. The Himalayan will do well come the rainy season, too, as the bike's high 220mm ground clearance will likely come in handy when you have to brave flooded roads. Off-road, the Himalayan also does decently well with its ride height and stock bash plate, and it would do even better with more off-road-ready tires and aftermarket suspension.
If I were to choose a motorcycle to do the Philippine Loop with, there's a good chance it would be the Himalayan, since it's efficient, light, comfortable, reliable, simple enough to be worked on by roadside mechanic shops, and capable of taking on the tollways. Like other Enfields, the Himalayan is "built like a gun," and is more than tough enough to have earned its namesake.
SPECS: Royal Enfield Himalayan
Price: P299,000
Engine: 410cc air-cooled single-cylinder
Power: 24.5hp @ 6,500rpm
Torque: 32Nm @ 4,250rpm
Transmission: 5-speed manual
Seat height: 31.4 inches
Price: P299,000
Score: 17/20