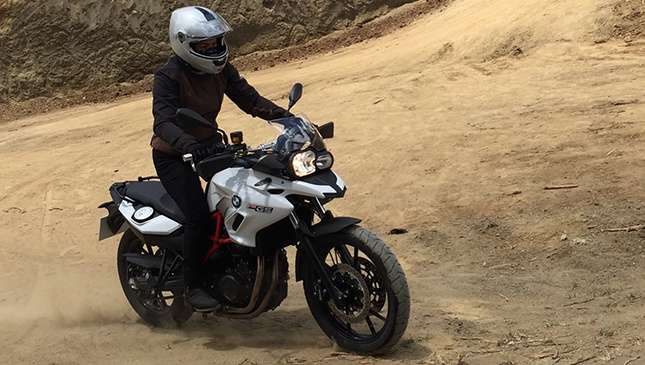 For several years I've been content as a mere passenger of my husband on his big, tall adventure bike. Back then, I never craved to ride alone. Owning a motorbike was not on my bucket list, too. But with the ceaseless prodding of my husband and his rider friends, I suddenly found myself riding solo. It started in December last year when I was gifted a motorbike of a European make.
And just last week, my riding exploits were stretched further. Out of the blue, I was given an opportunity to test-ride a new 2017 BMW F700 GS, which is now raking positive reviews from the ranks of the premium middleweight class.
BMW Motorrad Philippines imported only 10 units of this low suspension, low seat variant. Mesmerized by this motorbike, I took it on long rides during the Holy Week break, traversing varied road conditions like expressways, tight city traffic, and some dirt roads in remote areas of Laguna and Batangas.
Here's how the F700 GS fared.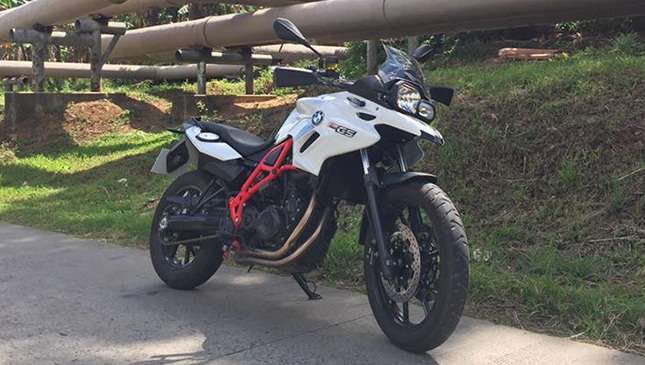 Styling
The sleek, classy lines of this bike make it look good from any angle. And even if the low seat edition stands a few inches shorter at 30.1 inches (two inches lower than the standard model), this F700 GS didn't lose its majestic adventure bike appeal. The asymmetrical twin headlamp design, combined with the signature BMW GS front 'beak' and compact clear windscreen, highlights the European styling cues.
I always see adventure motorcycles possessing a certain commanding aura that makes them a standout among the rest. The F700 GS is certainly one of them. Also, the simple paint work and styling details give it an undated look.
Combined with its flawless white body finish, the red trellis frame exposes the inner strength of the F700 like a hunk proud of his six-pack abs. From the looks alone, it's convincingly solid and can survive any form of rider abuse.
The Saddle
With my 5'2" height and with an inseam of 29in, I began hallucinating that the F700 GS was made exclusively for me. Any rider would feel more comfortable with both feet firmly planted on the ground while this bike is stationary. This is a stark contrast with other adventure bikes, because I can hardly see the ground when I'm mounted on them.
When BMW came out with the low seat version, this German motorcycle maker clearly understood the needs of lady riders, especially those coming from this part of the globe. What I find difficult to digest is why buyers need to shell out P15,000 more from the standard variant's tag of P780,000 to get hold of this particular model, even though they slashed a few inches to lower its seat height and suspension settings.
Maybe the law of supply and demand prompted the BMW to limit the production of the F700 GS 'low suspension' variant, in order to satisfy the small yet fast growing market of female and the not-so-tall male riders from Asia Pacific.
I also discovered the F700, being bottom-heavy, was more than accommodating to my small frame. The height and width of the handlebars equate to a relaxed arm position. These spared me from possisble muscle pain from the hour and a half ride.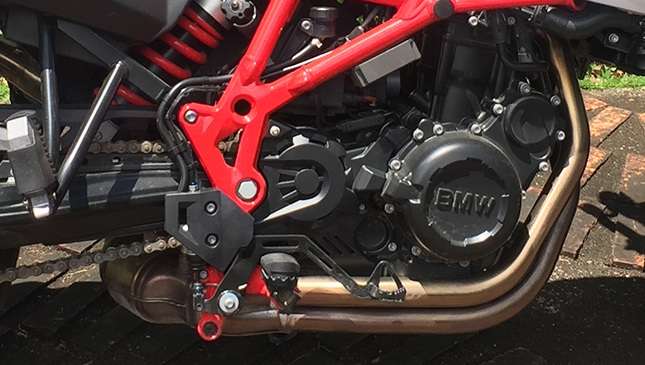 Engine Performance
Its 798cc, parallel twin, liquid-cooled engine gives the bike just the right amount of power needed by a newbie rider like myself. But if you want more power, the F700 GS has more than enough to give. It speeds through straight stretches of highway easily. With its impressive stability at high speeds, you probably won't even realize that the needle already hit 130kph unless you take a glance on the speedometer.
How I wish I could gather more nerves to push the F700 to its claimed top speed of 200+kph. But I read the facial expression of my husband Pat, telling me: "Easy! Easy!"
I also noticed that it's got a lot of torque even at low speeds. Compared with the other GS bikes with bigger engines, there's less heat emanating from its power plant as it crawled in heavy traffic. Gear shifting is also seamless. With a gearshift indicator on the instrument panel, riding the F700 is easier and safer.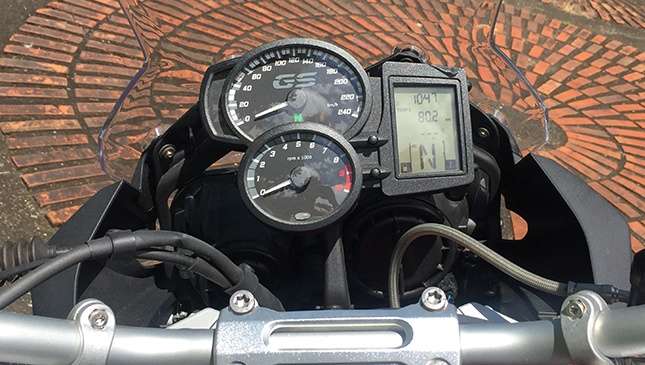 Ride and Handling
I took the F700 GS on different types of terrain, inclines and road conditions. From the well-paved surface of the expressway, to dry and loose dirt roads on rural areas, the handling of this machine amazed me. I made sharp U-turns with ease. On the twisties, the bike hugged every curve solidly.
The bumpy roads practically felt non-existent because the F700 floats on a standard 41mm fork front suspension and a swingarm with preload and rebound damping at the rear. It made me feel like a seasoned rider already with the way I was able to push it to higher speeds.
Taking a cue from veteran adventure riders, I rode through the rough roads standing on the F700's foot pegs most of the time to have a clear view of the road up ahead. Even without the more complicated electronic rider aids, the F700 also showed that adventure rides need not make you suffer as the road becomes more challenging.
Braking system
Off-roading on two wheels needs special skills, especially in abrupt braking. With the F700 GS, this is no issue since it is equipped with ABS for both front and rear. I found the braking modulation good for both well-paved roads and dirt-filled stretches. Same as the clutch lever, the brake lever is light to operate. These are simple things yet a big deal for lady riders.
Give me a little more time and I'm sure I'll not only be riding sideways on sand-filled turns, but also jumping on tall mounds with the F700. More test ride opportunities, please!
Verdict
Riding should be more fun with the F700 GS. It not only guarantees a good time, but it lets you ride with a great combination of comfort, style, and power. The low seat model is perfect for a beginner and a lady rider like myself. I have never tried off-roading before. Doing it for the first time with this bike really boosted my confidence level. The F700 GS made me realize why adventure riders like to play more on dirt roads rather than on pavements.
If you're a newbie rider with enough budget for investing on a first bike, you may want to consider the BMW F700 GS. I'm actually contemplating on saving up and getting one myself.
Specs: BMW F700 GS 'low suspension'
Price: P 795,000
Engine: 798cc, DOHC, parallel twin, liquid-cooled
Power: 75hp @ 7,000rpm
Torque: 77Nm @ 5,500rpm
Transmission: 6-speed manual
Score: 20/20