"Adventure is out there!" as a popular quote from a certain Pixar film goes. But in my case, at least for a few days, adventure could be found parked just downstairs.
My shakedown of the Honda CB500X was an adventure from start to finish. From the time I rode the test unit home from my boss's house, right until I had to give it back before heading to class around a week later, Honda's entry-level adventure bike proved to be an adventurer's worthy companion.
Just how well did Honda's 500cc-twin formula translate into ADV format? Find out in our review below.

Styling
I'm not done making Up references just yet, as Honda's weirdly bird-faced ADV bike bears a resemblance to an exotic avian character named Kevin from the movie. You might expect the bike to start pecking and cawing, but its beak does fit right in with the overall design. The bike's curves and lines meld well with the pointed beak and the tall windscreen, giving the CB500X a swoopy, weight-forward aesthetic.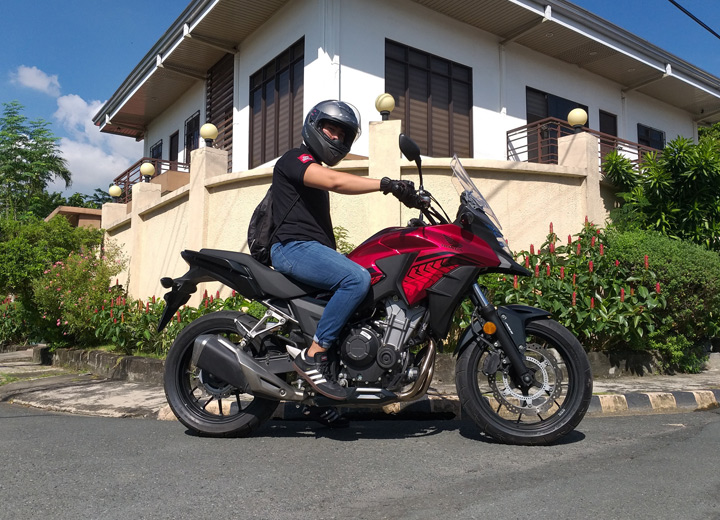 It's an aesthetic that's very hard to miss, apparently, because of all the bikes I've reviewed thus far, this Honda was the one that has drawn the most stares and questions. Random dudes at the gas station asked me how much the CB500X costs, fellow students rolled down their windows to compliment my ride, and of course, other riders askedd me the obligatory question: "Boss, ilang cc yan?"
For our market, the CB500X comes only in one color—Candy Chromosphere Red. It will certainly catch eyes if the fancy bodywork doesn't.
The saddle
Tall bikes intimidate me—pretty much all ADV bikes aren't exactly tailored to make life easy for 5'8" riders like me. After a day of getting to know the CB500X, however, I found myself totally at ease astride my candy-red steed.
The seat is about as comfy as comfy gets, but it's purposefully designed, too. The front portion is narrow to facilitate standing up and balancing, and the rear section is wide, plush, and contoured—a godsend when you're racking up miles like Ewan McGregor in Long Way Round. Your passenger won't be left wanting, either, because there's a good amount of available space as well as sturdy grab handles.
The windscreen does its job, as evidenced by the bug carcasses I had to scrape off of it after a ride down SLEX. Taller riders will appreciate the windscreen's adjustability, but the unit I reviewed had an issue with the fastening system, so I couldn't really fiddle with it.
The buttons on the handlebars are easy to locate and get used to, and the black-on-orange gauge is easy to read. What I found to be not so convenient, however, was the height of the handlebar-mounted side mirrors, which just so happen to be perched at the same height as the side mirrors on most SUVs and minivans in our country, making the art of "making singit" a bit more complicated.
Engine performance
The CB500X gets the same powerplant as its brethren, the CBR500R and the Rebel 500, but with some tuning adjustments. Just like in the CBR, the engine provides reassuringly smooth power delivery, with a decent amount of grunt on tap for daily and highway use.
In ADV guise, Honda's 471cc twin delivers 43Nm of torque, giving the bike a satisfying amount of pull every time you twist the throttle. Top speed might not be anything special, as a couple of highway runs proved, but with an adventure bike, top speed really isn't the point.
I have no complaints about the transmission—the shifter is derived from the unit found on the CBR600RR sport bike. That said, I ran into more than a couple false neutrals by clutch-less upshifting.
The engine's compact size certainly helps the CB500X feel slimmer between the legs, and its low mounting helps lower the bike's center of gravity. Engine heat is much more bearable compared to when I rode the CBR, but the way the fan directs heat straight onto my right ankle made me feel like the bike was chastising me for wearing low-cut sneakers on my ride to class.
Ride and handling
Handling initially felt like that of an especially beefy dual sport, but my apprehensions about the CB500X's height and weight disappeared once I got used to the bike, as much of the heft seems to disappear once you get rolling. This Honda handles sportily enough through curves, and while you might not be getting a knee down, the street-biased Dunlop Trailmax tires give enough grip to allow some confidence when you're leaned over and gunning for a turn's apex.
The suspension is nothing fancy, with no adjustment available other than preload, but it does a splendid job of glossing over minor road imperfections. On less-than-ideal road surfaces, the CB500X feels right at home, as I discovered while frolicking on gravel stretches and unpaved side roads. Switching to more aggressive off-road tires will open doors to even less-beaten paths; the bike's ergonomics make it easy and comfortable to ride standing up like the off-roading pros do.
Extra features
A feature I found especially neat is the fuel-economy meter. With my not-so-economical riding, I managed to get 23km/L, which isn't a bad figure for a highway-capable bike. I'm sure savvier penny-pinchers out there can do better than I did, though.
ABS is standard, giving fresh-faced riders like me more confidence. The system is pleasantly unobtrusive and stops the bike in a progressive and unsurprising manner. Finally, Honda Ignition Safety System (HISS) comes standard as well and prevents unsavory individuals from making off with your hard-earned Honda.
The verdict
The last time I rode a motorcycle this tall, I ended up tipping over and hurting myself pretty bad. Sitting on the CB500X for the first time triggered flashbacks of sprained wrists and shattered mirrors, but I soon found the bike to be comfortable and friendly despite its height, helping me get over my fear of tall motorcycles.
I see this bike as a great option for big-bike newbies wanting to get a piece of the ADV action, though the lack of a gear indicator detracts from its beginner-friendliness.
The CB500X isn't the perfect big bike for daily use—there's practically no storage, filtering between cars and waiting at stoplights take a bit more effort, and fitting the bike into a tight parking space is a hassle. But the smile that the CB500X puts on your face while you ride off to your next adventure makes its little niggles a bit more bearable.
SPECS: HONDA CB500X
Engine: 471cc four-stroke parallel-twin
Transmission: 6-speed manual
Power: 47hp
Torque: 43Nm
Seat Height: 31.8 inches
Wet Weight: 196kg
Price: P379,000
Score: 17/20