I'm just a simple, ordinary guy. When I'm offered the chance to try out an interesting bike, I take it. So, when my boss messaged me about reviewing the Honda CBR500R, I sent back a confirmation faster than I thought could be humanly possible.
In the time leading up to my first date with Honda's "entry-level" middleweight sport bike, I did a bit of research. It turns out the CBR shares its 471cc parallel-twin engine with some other bikes in Honda's lineup, like the adventure-ish CB500X and the hot-selling Rebel 500 cruiser, though in varying states of tune. Amusing as it might be to have a sport bike with the same engine as a cruiser, I'd expect Honda, of all manufacturers, to make it work.
Did Honda successfully pull off this engine-sharing strategy once again? Or is the CBR500R just sheep in wolf's clothing?
STYLING

Honda really hit the nail on the head with the styling: The CBR500R looks every bit a super sport bike. The menacing LED headlights, aggressive body lines, and racy decals make the Honda CBR look blisteringly fast even when it's sitting in a parking lot.
To the untrained eye, the CBR looks like it has enough oomph to put many sports cars to shame. If you know what you're looking at, however, you can tell the bike has much more modest intentions in mind. Details like the single brake rotor up front, high handlebars, reasonably sized rear tire, and usable foot-peg placement indicate the CBR's beginner-friendly nature.
The bike tends to feed your ego a bit as you'll inevitably find a grin crawling across your face whenever a kid looks your way and shows excitement at the racy red crotch-rocket you've got between your legs.
SADDLE

Despite its decidedly sporty appearance, the CBR500R is surprisingly comfortable to ride. Your wrists will thank you for the raised handlebars instead of the usual low, painful clip-ons you'll encounter on much sportier machines. In typical Honda fashion, the seat is accommodating, and is angled in a way that doesn't have you slamming your sensitive bits against the gas tank every time you so much as think of braking hard.
On the street, the bike does well as an urban commuter. Thanks to the position of the bars and the bike's slim frame, filtering is manageable on the CBR. Sitting in gridlock is a different story, though: The auxiliary fan blew heat straight onto my right leg, threatening to roast it through my pants.
The control surfaces and gauges show good build quality, but I would've liked this better if there were a gear indicator, too.

ENGINE PERFORMANCE

In CBR trim, Honda's 471cc twin puts out a practical 47hp. Power starts to make itself known after 4,000rpm and peaks at 8,500rpm, with power delivery staying smooth and linear all the while. Just by looking at it, you'd expect the CBR to be face-meltingly fast. But while this Honda is responsive and enjoyable to ride, you'll never feel like it's holding anything back, unlike with bigger, more powerful machines.
The gearbox is solid and satisfying to row through—as it should be since you'll find yourself shifting quite a bit if you intend to get anywhere fast. The bike does have enough overtaking power for highway riding, but it would be best to first build up some revs before attempting to overtake at speed.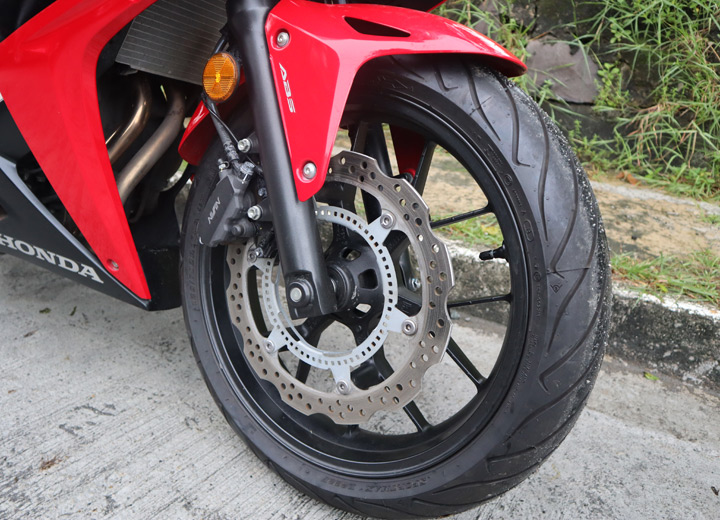 RIDE AND HANDLING

Riding the CBR500R feels less like being on a proper sport bike and more like being on a practical commuter machine. The neutral riding position makes daily riding a cinch, and the soft suspension feels a better optimized for city riding than for attacking corners, which sort of betrays the bike's supersport aesthetics.
The CBR does handle corners pretty well, however, thanks in part to its Dunlop Sportmax rubber. The grippy tires work in tandem with the ABS-equipped Nissin brake calipers to provide more than enough braking force to rein in the bike's modest engine power.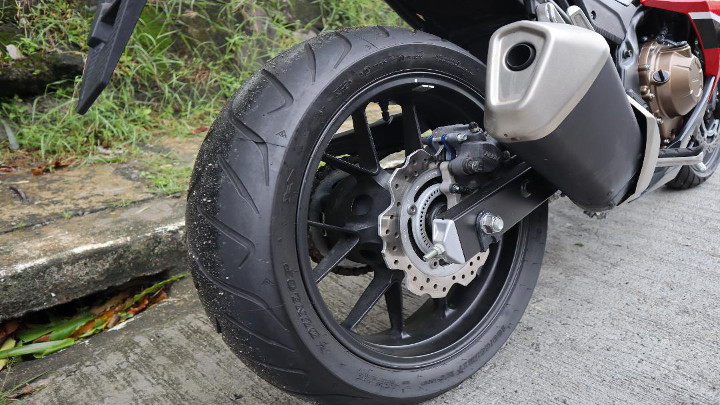 EXTRA FEATURES

ABS comes standard, qualifying the CBR as a 'safe, transition' bike before you move up to proper sport bikes. If the significant other still isn't convinced, show how roomy and usable the pillion seat is—but don't mention anything about the integrated grab handles, just so you have an excuse to tell your passenger to hold on tight.
The Honda Ignition Security System (HISS) is another neat feature: It ensures the engine can be started with the original ignition keys—which means you can safely leave your new baby at a fuel-station carpark while you take a quick restroom break.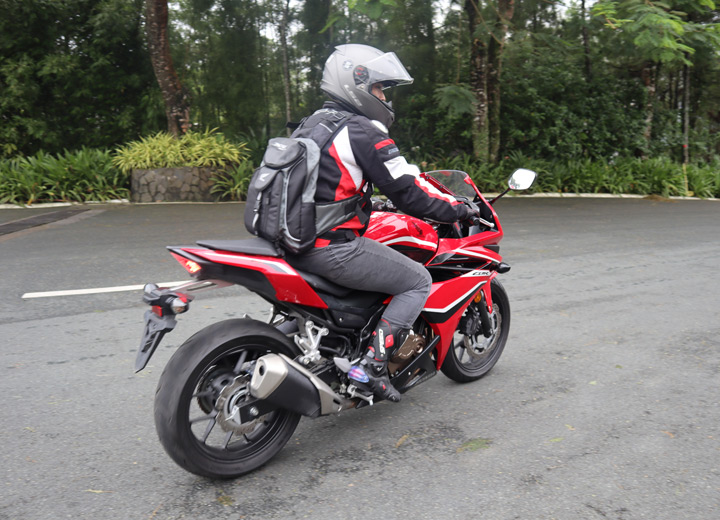 THE VERDICT

A bike that'll turn onlookers' heads but keep your wrists and back intact, the Honda CBR500R does seem to deserve the two R's in its name. Unlike with some other "entry-level" middleweight bikes, there are no issues with the CBR500R's expressway legality and capability. And while it isn't as sporty as its looks might lead you to believe, it's still a solid choice before you transition to a bigger sport bike.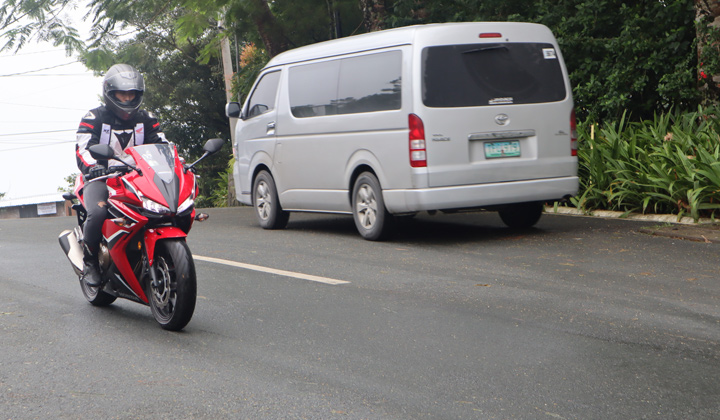 SPECS: HONDA CBR500R
Price: P379,000
Engine: 471cc DOHC parallel-twin
Power: 47hp @ 8,500rpm
Torque: 43Nm @ 7,000rpm
Transmission:6-Speed manual
Score: 17/20