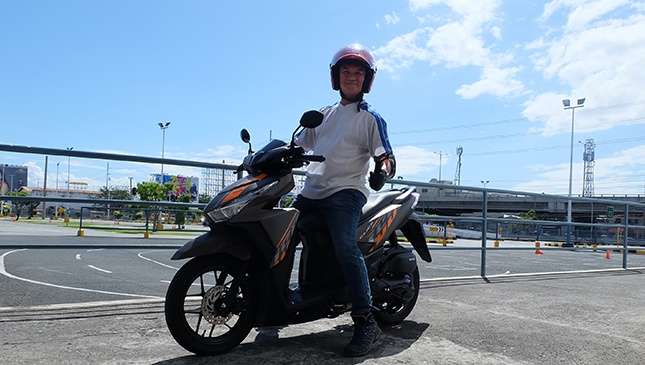 Scooter or underbone? Manual or automatic? Choosing from the wide array of small motorcycles now available locally can drive you crazy. Just imagine 1.1 million new registered scooters and underbones adding up to the already crowded streets in 2016. Nowadays, Pinoys buy motorbikes as if they're buying toothpaste.
Take my advice: Choose your new motorbike wisely, take your time in selecting, as if you're buying a pair of shoes. Or else, you might just end up regretting buying one. Or worse—you might end up six feet below the ground.
A perfect shoe fit does not only depend on the size of your feet, but you must also consider your lifestyle, physique and, of course, budget. The same applies to motorcycles, particularly small bikes.
Speedy scooter
Firstly, stop thinking that small bikes equals small fun.
The all-new Honda Click 150i is now here to prove skeptics wrong on their impressions about scooters. Propelled by a more powerful four-stroke, single overhead cam, 150cc engine, the new Honda Click can zoom up to its top speed of around 110kph in one full throttle squeeze.
During an afternoon test ride at the Honda Safety Driving Center in Sucat, Paranaque, Honda Philippines handed out the keys of four Click units to a select group of motorcycle journalists that includes lucky old me.
Under the watchful eyes of riding instructors, we were given the freedom to test the Honda Click around the training facility. There are no formalities, no time limit. It's like a 'ride 'til you drop' event.
Awesome design package
More than the possibility of crashing the scooters, I felt that the instructors were there to make sure that none of us will ride those lovable Clicks beyond the gates of the training compound.
Before I fired up the engine, I was already awed by the new Honda Click's aggressive body design. Its sharp body contour, sleek dual-LED headlamp, awesome semi-digital meter panel, and the ingenuous clustering of the ignition key and seat eject button locked my eyesight on Honda's new little wonder.
The matte finish and sporty stripes were more than enough to turn me on. Another strong selling point is its U-Box compartment which has an 18L capacity that swallows a full-face helmet.
Nimble, quick riding characteristics
But the proof of the pudding is in the eating. With the scorching heat already penetrating our skin, we wasted no time in subjecting the Click to actual riding evaluation.
On the main straight, the Honda Click's linear yet powerful acceleration proved to be addicting. Even just within a distance of around 300m, I was able to swing the needle from zero to 70kph. If not for Combi Brake System that provided the Click with impressive stopping power, I could have ended up on a hospital bed while executing this sprint-brake exercise repeatedly, although there's a concrete wall waiting at the end of the strip. The Combi Brake System is activated by pressing the left lever alone, allowing proportional distribution of brake force to the front and rear.
On chicanes, the Click's short wheelbase makes this scooter agile to maneuver. It's so fun to execute that I can play the 'figure 8' the whole day using only throttle control to maintain speed and balance.
For an average-sized Pinoy rider like me who stands at 5'6", the Click 150i is not really that small as I earlier theorized. I find the Click's 29.8-inch seat height just right for me because it provides an upright position that translates to a comfortable ride.
High-tech braking system
Simulating a full stop at an intersection automatically activates the Idling Stop System to save fuel. However, even if this system is deactivated, the throttle response of the Click does not fade because its liquid-cooling system positioned under the left portion of the footrest calms down the engine when standing still. I hardly felt any jolting from the intermittent on-and-off switching of the engine.
Beat this: The Click gulps only one liter for an average of 52km of road traveled. 
Despite being small, the new Honda Click 150i seemed not to have any insecurity. It doesn't need a loud exhaust system just to catch attention. It has a quiet and smooth-running engine that gives the rider relief from stress and tension brought about by the anarchy on the streets.
If you easily get paranoid against bike thieves, the Click's Answer Back System will notify its owner through a beeping sound that the scooter is still parked within the 50m radius. That's the same as the length of an Olympic-sized swimming pool.
And to complete the menu for perfect city riding, add the convenience of automatic transmission. All you need is to just twist the throttle and the Click 150i sprints like a hyper-energetic kid. Spare yourself from muscle fatigue brought about by endless clutching and gear-pedal movements. 
For a price of P89,900, are you ready to ride home a brand-new Honda Click 150i?
If you're not convinced, just think about the traffic, parking, fuel cost, public transpo, etc!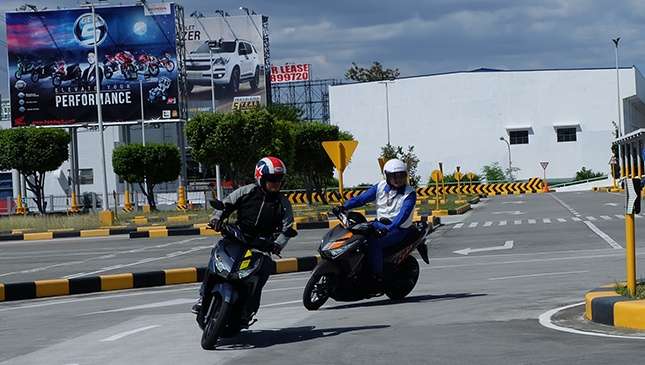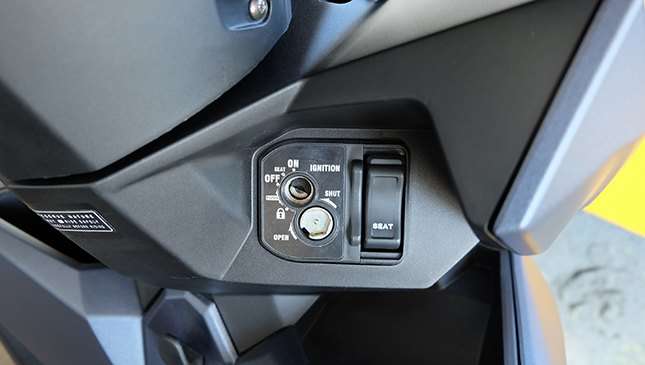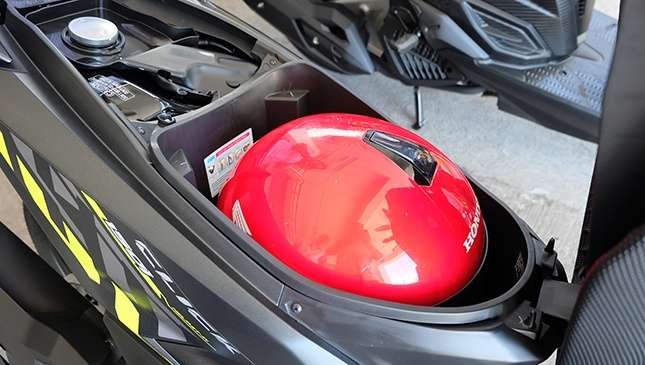 UPDATE as of June 11, 2018: The 45th Tokyo Motorcycle Show in Odaiba was held from March 23 to 25 this year. The photos and videos shared by their visitors might have caused confusion among netizens since they have almost the same group of motorcycle companies showing off their latest hardware and technology. Moto Sapiens attended the Tokyo Motorcycle Show. This year, 135 companies with 882 exhibit booths showed off their latest two- and three-wheelers, modern electric bikes, accessories, and even riding paraphernalia. There were launch events of new motorcycles, relaunching of face-lifted units, and even revivals of classics by Japanese, European, American, and—wait—two Taiwanese brands.