What makes a cruiser?
People normally think of it as a big, heavy bike with a loud, thundering V-twin engine and shiny chrome bits, and also associate it with the reckless, edgy lifestyle that comes with owning such a machine. American brand Harley-Davidson dominates the cruiser market, and the Harley image is inseparable from cruiser culture at this point.
Given that big American steeds own the cruiser scene, what right does Honda have to enter the modern cruiser market with the Rebel 500, which doesn't even have a V-twin engine?
"Don't knock it 'till you try it," the old saying goes, so we gave Honda's aptly named Rebel a shot. Is the Rebel 500 a real cruiser that stands a chance at upturning the American-ruled scene? Or is it just a style piece that's all bark and no bite? Find out in our review below.
Styling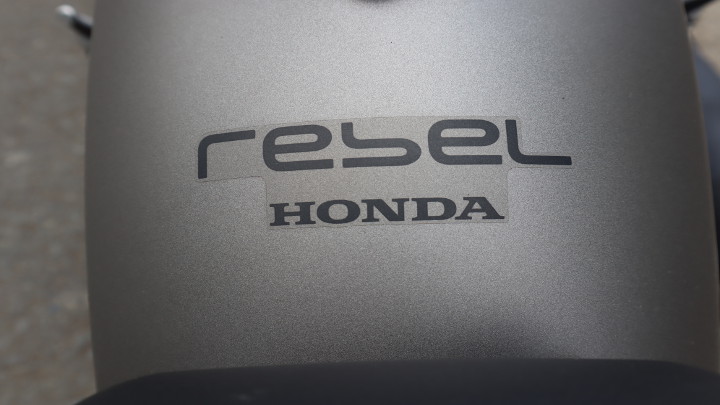 ADVERTISEMENT - CONTINUE READING BELOW ↓
The Rebel 500 is a stunner, no ifs or buts. Its peanut-shaped gas tank, fat tires, retro styling, and simple round headlight are all hallmarks of cruiser style, with not a piece out of place, save for the square taillight that would've been better off being round. Stares and questions follow wherever you ride the Rebel—its very presence commands attention. Any James Dean wannabe—even one who's not very good-looking—will look the part astride this timelessly styled cruiser.
Honda took a classic, minimalist approach in styling the Rebel, both to keep things clean and to allow customizers' imaginations to run wild with all the possible modifications. The bike looks amazing from any angle, and will likely star in several young owners' Facebook profile pictures and Instagram feeds. It appears that Honda was aiming right at this market as it was coming up with the Rebel 500's design, and it hit the nail on the head when it comes to balancing retro appeal and modern styling cues.
ADVERTISEMENT - CONTINUE READING BELOW ↓
Recommended Videos
The saddle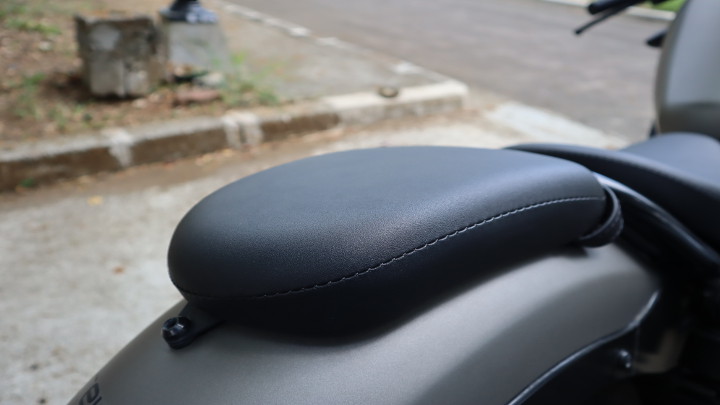 I personally spent well over 400km on the Rebel 500, and I can say with confidence that it's the most comfortable big bike I've ever had the pleasure of riding home so far. The invitingly low 27.2-inch seat height is ideal for Filipino riders; this combined with the non-aggressive foot-peg placement makes for a very beginner-friendly saddle.
ADVERTISEMENT - CONTINUE READING BELOW ↓
The seat isn't all too fancy and could use a little more cushioning, but it's comfy enough to let the rider go a fair distance without worrying about riding fatigue. The handlebars are neither too high nor too low; the riding position on the Rebel 500 approaches Goldilocks levels of 'just right.'
My only complaint is the overly simple digital gauge. The single circular unit might look very cool and minimalist, but it's lacking a tachometer and a gear indicator. I find this strange for a modern motorcycle, leading me to think Honda might've gone a bit overboard with the minimalist feel in some areas.
Engine performance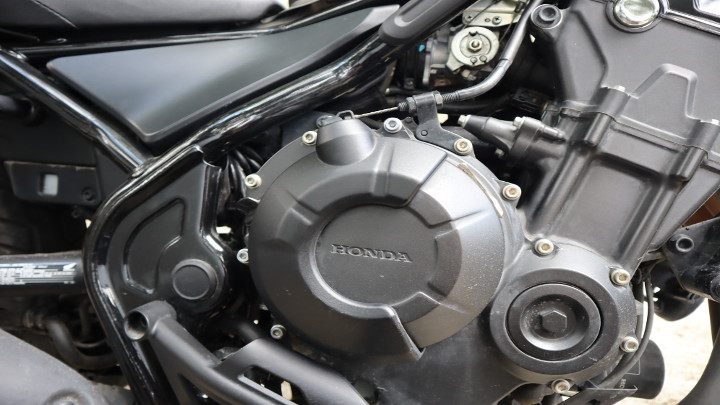 ADVERTISEMENT - CONTINUE READING BELOW ↓
The Rebel 500 is powered by a 471cc parallel-twin engine, eliminating any tollway legality issues. The mill might not be a V-twin like real cruisers do, but it provides enough pull to get the job done. Speed isn't the Rebel's game; instead, comfortable cruising and daily riding seem to be the bike's forte. Not to say you can't have fun with it, however, as the sheer smoothness of the engine is perfect for plying expressways on a warm, sunny day.
Having the Rebel share an engine platform with the CBR500R and the CB500X might seem like a convenient cost-cutting measure for Honda, but the parallel-twin works very well on this cruiser, giving it big-bike capability, but not too much power that newbies get intimidated. Shifting is a breeze, too, thanks to the solid six-speed manual transmission that doesn't make finding neutral a difficult affair.
The Rebel 500 might not have the signature cruiser bark, but it does sound pretty good if you give it some revs. An aftermarket pipe will probably liven up the exhaust note and help invigorate the bike's character.
ADVERTISEMENT - CONTINUE READING BELOW ↓
Ride and handling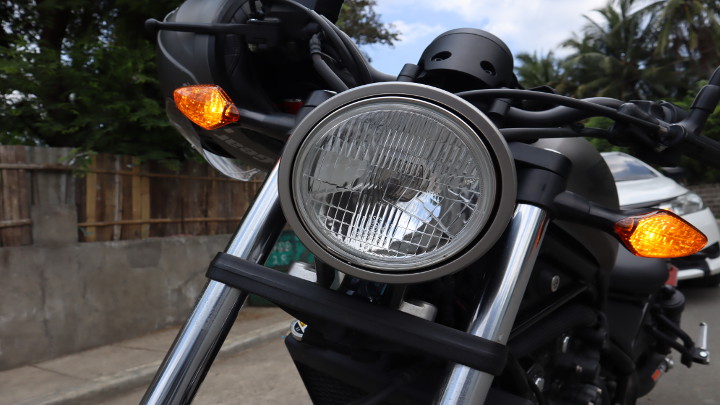 You'd expect a cruiser like the Rebel 500 to only be any good on long, straight patches of road, but hustling this Honda up and down the twisties of the Ternate–Nasugbu highway proved to be an exhilarating experience, even in the rain.
ADVERTISEMENT - CONTINUE READING BELOW ↓
The Dunlop tires provide good stability on the highway, and enough grip to allow for some fun in the corners. Even light off-road sections like dirt and gravel roads were a lot of fun on the Rebel. Decent stopping power, meanwhile, is provided by the single front and rear disc brakes, and the standard ABS comes in handy in heavy rain and hard braking situations.
Honda has equipped the Rebel 500 with a passenger seat for our market. It might just be a simgle rectangular piece, but it's cushioned sufficiently to get even my mom to admit that it's comfortable.
Extra features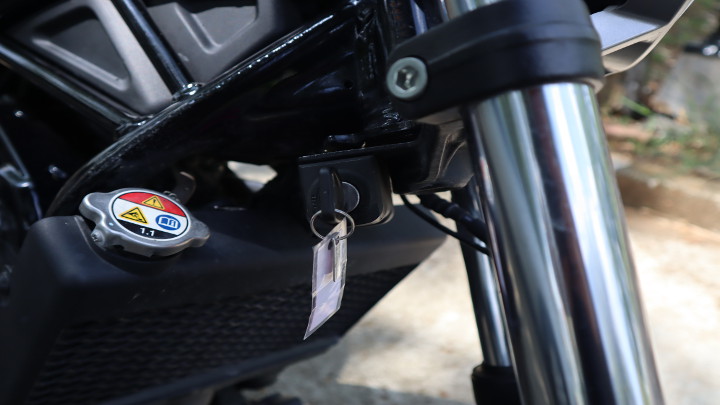 ADVERTISEMENT - CONTINUE READING BELOW ↓
The Rebel 500 delivers a very bare-bones kind of experience, meaning there aren't many extra features to speak of. The digital gauge boasts two trip meters, a fuel gauge, a neutral indicator, a clock, and a speedometer—all basic features found on most, if not all, modern bikes. Safety features include the aforementioned ABS and a side-stand-integrated kill switch.
Another interesting point on the Rebel 500 is the ignition, mounted on the left side of the bike like on other old-school cruisers. On the right side of the bike is the steering lock, which, unlike on the the CBR500R and the CB500X, isn't integrated into the ignition.
There is an apparent lack of storage here as well, so you'd better get old-school leather saddlebags or at least carry your own a backpack. The bike's simplicity is a feature in and of itself, making it a blank canvas ready to accept any mods and custom bits you might want.
ADVERTISEMENT - CONTINUE READING BELOW ↓
The verdict
Honda's Rebel 500 is a real cruiser, as the only people that still judge cruisers based on their loudness or flashiness are stuck in the past. This model is the cruiser's bad-boy image and aesthetic condensed by Honda into a more practical, easier-to-handle package that will welcome both new and experienced riders alike with open arms.
ADVERTISEMENT - CONTINUE READING BELOW ↓
This being a Honda, reliability and parts availability won't cause any problems, making the Rebel a good fit for a big bike you can ride both to school or the office on weekdays and down the expressways into the distance on the weekends.
The Honda Rebel 500 is the real deal—a cruiser that oozes enough appeal that it's got a sport-bike guy like me wondering where I'll find P375,000.
SPECS: Honda Rebel 500
Price: P375,000
Engine: 471cc DOHC liquid-cooled parallel-twin
Power: 46hp @ 8,500rpm
Torque: 43.2Nm @ 5,000rpm
Transmission: 6-speed manual
Score: 19/20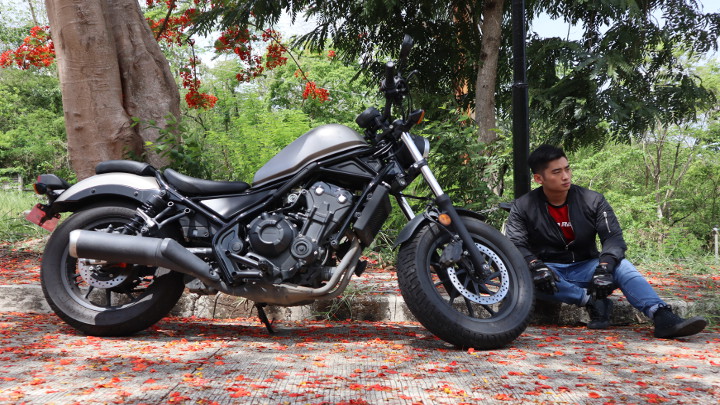 ADVERTISEMENT - CONTINUE READING BELOW ↓