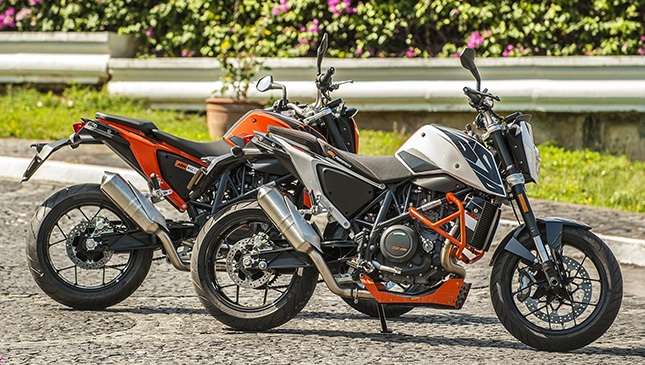 Some motorbikes cement their reputations by sheer character, and the KTM Duke is one such motorcycle. The Duke first found its name emblazoned on the side of a KTM in 1994. It was KTM's first street bike, and it was also the Austrian manufacturer's first jab at a supermoto.
ADVERTISEMENT - CONTINUE READING BELOW ↓
The riding public was shocked. Nobody expected a company that specializes in (and has exclusively made) motocross and adventure bikes to make such a capable on-road machine. What worked wonders off-road was translated expertly to the tarmac, as the higher-than-normal riding position and amazing thumper of an engine made pulling wheelies and carving corners with your foot down a daily experience. It became the quintessential 'hooligan's choice.'
Locally, KTM Philippines has just introduced the middleweight KTM 690 Duke, and amidst the picturesque beauty and scrumptious food served by the Orchard Golf and Country Club, we had a go behind the bars to experience first-hand just how special this street naked is.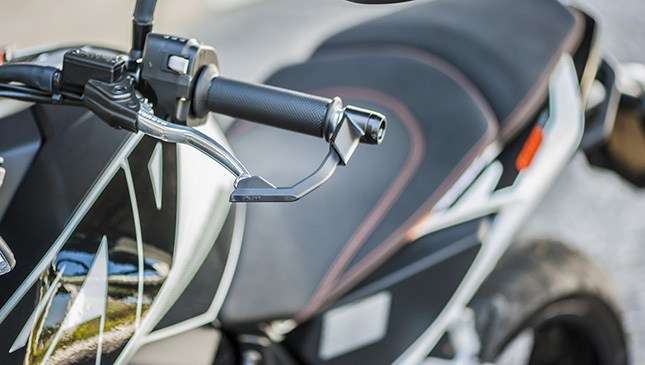 ADVERTISEMENT - CONTINUE READING BELOW ↓
Recommended Videos
STYLING
Walking toward the bike with helmet in hand, the first thing that strikes you—other than KTM's signature orange color scheme—is the extreme angularity of the body work. There's nary a curve on the bike, as if the designers went mental and had used a ruler, and only a ruler, to give each bit of the bike a razor's edge.
The result is aggressive and mean, with the powder-coated chromium molybdenum steel trellis frame peeking from beneath the few pieces of bodywork. The 690 Duke snaps necks wherever it goes, and for a naked bike, it exudes a premium look that other more expensive bikes can't hold a candle to.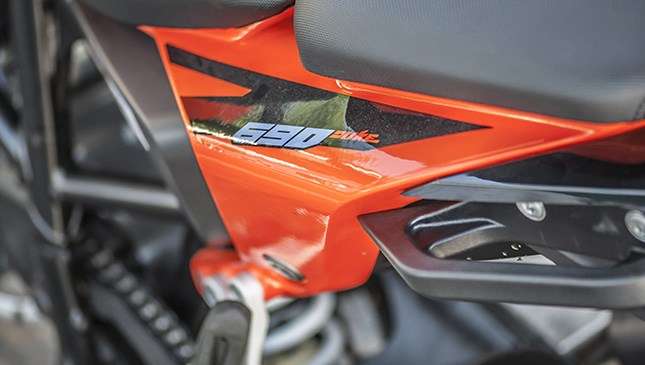 ADVERTISEMENT - CONTINUE READING BELOW ↓
THE SADDLE
Mounted on the bike, it is immediately apparent that KTM is a wizard when it comes to lightness. The bike feels exceedingly solidly built, but take it off its side stand and if you haven't put your helmet on yet, the weight (or lack thereof) will cause your jaw to drop. At 148.3kg, it blows your mind to realize that it is 37.6kg lighter than the 2017 Kawasaki Ninja 650R sport bike.
The riding position is nigh-on perfect. It is upright, like any proper naked bike should be. But the wide bars give it an aggressive feel and make it terribly simple to pull off even the tightest U-turns.
The Duke is equipped with a full-color dashboard TFT screen. It looks slick and has perfect visibility even under the midday sun.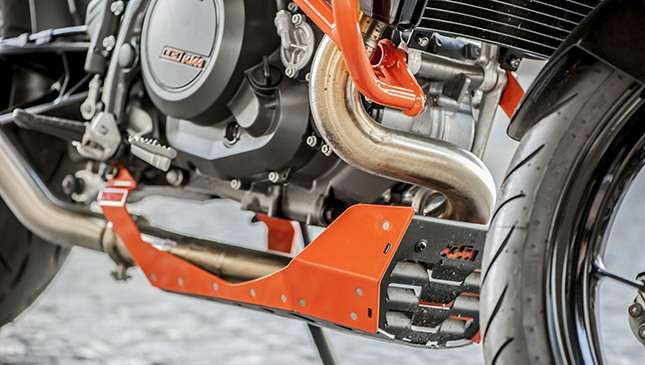 ADVERTISEMENT - CONTINUE READING BELOW ↓
ENGINE PERFORMANCE
Thumb the starter and the legendary single-cylinder LC4 thrums to life with a bark and a purr. KTM has had many generations of thumper experience and it shows. Singles are notorious for vibrations at speed, but try as I might, I could not feel any. This is thanks to the new second balancer shaft that somehow turned this powerplant into one of the smoothest single-cylinder engines available in the market today.
Twin ignition and controllable valve timing give the 73hp thumper an expanded power band, which makes the bike pull strongly at any speed, in any gear. Its friendly power is mated to a six-speed transmission with a slipper clutch that makes hard downshifts par for the course for such a fun machine.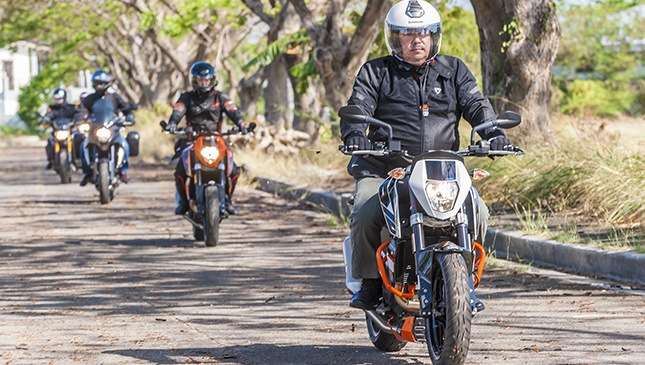 ADVERTISEMENT - CONTINUE READING BELOW ↓
RIDE AND HANDLING
Handling is just another way this bike excels. The WP suspension gives the bike a compliant ride that carves corners with aplomb, while ABS-equipped Brembo brakes stop the bike with authority.
The 690 Duke is perfect for city rides. This Duke has a slim profile that allows it to lane-split when caught in traffic.
THE VERDICT
There's just so little room for doubt. The KTM 690 Duke is one of the best middleweight standard motorcycles in the market today. It is lighter than most of its competitors, it has the most refined single-cylinder engine we've ever tried, and it has the all-important European look and feel that give it an edge in such a competitive environment.
Let's make this simple: Are you in the market for a naked street bike? Then the Duke deserves your consideration. It can be both your daily commuter on weekdays and a canyon carver for weekends. More important, it never fails to plaster a grin on your face and is the kind of bike that will make you fall in love with riding again.
ADVERTISEMENT - CONTINUE READING BELOW ↓
SPECS: KTM 690 Duke
Engine: 690cc liquid-cooled, single cylinder, 4-stroke engine
Transmission: 6-speed
Clutch: hydraulically actuated slipper clutch
Drive: chain drive
Power: 73hp @ 8,000rpm
Torque: 74Nm @ 6,500rpm
Seat height: 32.9in
Dry weight: 148.3kg
Price: P635,000
Score: 19/20