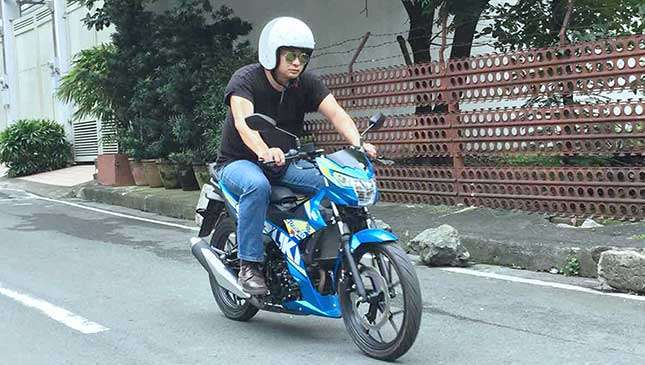 The Suzuki Raider R150 is among the more popular underbone rides around these parts. Look around and you'll see lots of these babies zooming here and there. Of course, this is with good reason. Not only is the Suzuki Raider R150 affordable, it is also reliable, efficient and fast.
Indeed, with more than 130,000 units sold since its introduction, the Raider's market dominance is already without question. But can something already so good be improved on?
Ignoring the 'don't fix it if it ain't broke' adage, Suzuki Philippines has introduced the Suzuki Raider R150 FI. It's now equipped with an advanced fuel injection system, which is touted as the next best thing to riding a true Suzuki GSX-R.
Continue reading below ↓
Recommended Videos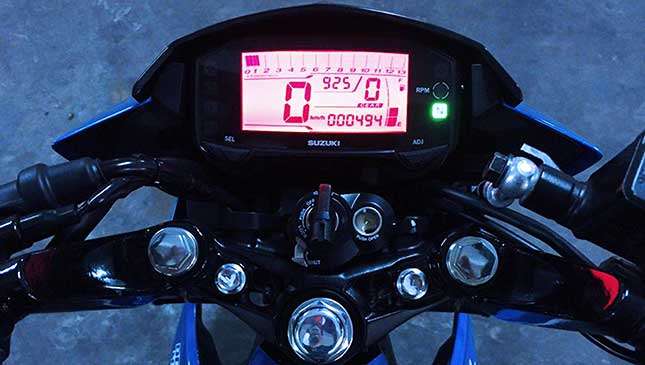 STYLING
The Suzuki Raider R150 FI is quite stylish. Yes, the chassis still looks very much the same as its predecessors, but the devil is in the details. Personally, we love the MotoGP blue color. It's enhanced by some flashy decals, giving the bike a very distinct sporty appearance.
We also like its new headlight design, which allows for a meaner, tougher mien. Other enhancements that catch our eye include the improved seat design, the much more aggressive-looking muffler, and the unique wavy disc brake. Then again, as most owners know, the Raider R150 can easily be modified to whatever their hearts desire, and the same goes with the Suzuki Raider R150 FI.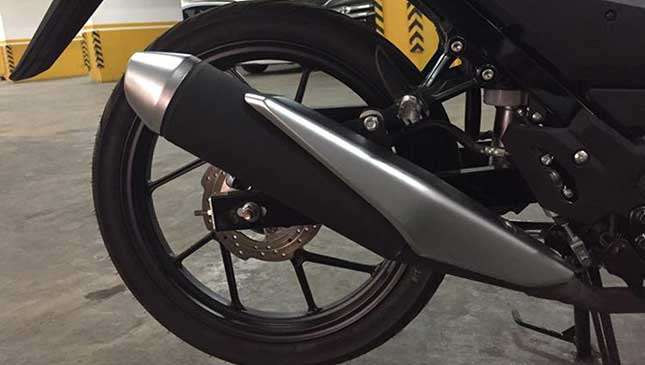 THE SADDLE
The Suzuki R150 FI offers a wide, long, well-cushioned seat that guarantees comfort for its rider. You simply move your ass a bit to the back for a more dynamic stance, or you slide to the front for a more balanced upright position or when accommodating a passenger.
We weren't able to ride it with a passenger but it looks like it could handle the demand—whether for short stops or long rides. That said, it seems the seat was mounted too high at 30.11 inches, which allows for much tiptoeing at stops.
We also find the rear mono-shock suspension quite merciless, in that seemingly shallow potholes suddenly feel like big ass craters. Thankfully, the telescopic front suspension works quite well, with our hands resting comfortably on the handlebars through whatever dips and cracks we encounter on the road. Then again, the (very) low handlebar position also put a bit of strain on our wrists.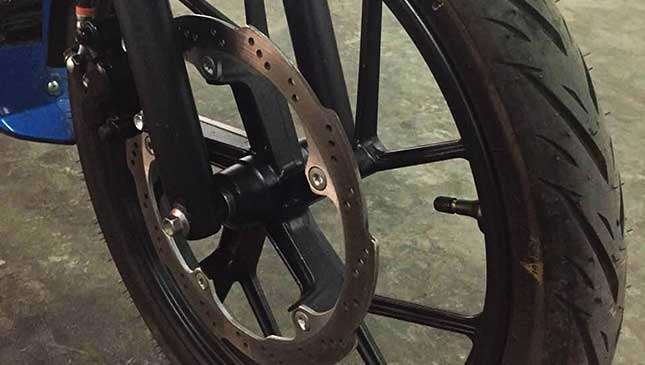 ENGINE PERFORMANCE
This is where the Suzuki Raider R150 FI is at its best. One can say it's quite savage in this department, really. Powered by a four-stroke, twin-cam (DOHC), four-valve, fuel injected 147.3cc engine, the Suzuki Raider R150 FI is very responsive and lightning-fast. In fact, it's always tempting to rev it up to maximum.
Now equipped with advanced fuel injection, the acceleration of the Raider is more linear and powerful. But of course, given the kind of traffic we have to deal with around these parts, we didn't dare. A shame, really.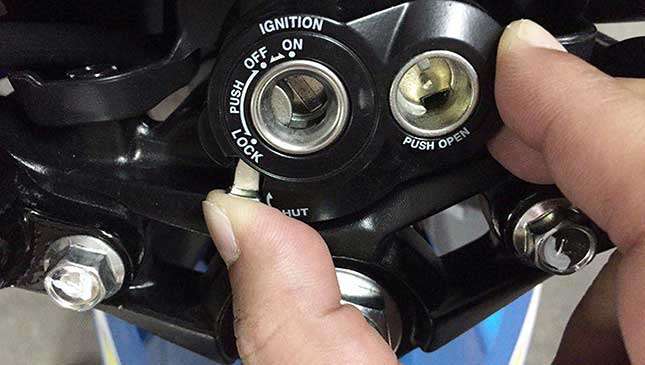 RIDE AND HANDLING
Not surprisingly, the Suzuki Raider R150 FI handles short, uphill climbs superbly. The R150's slim body holds its highly powerful engine very well, allowing for a breezy yet assertive ride, like a real sports bike should.
Also, having a short wheelbase of 1,280mm makes it all too easy to maneuver in tight spots. We also like that the bike is so light at 109kg that pushing it toward a tight parking space proves effortless. What we don't appreciate is that the brakes were set up in a manner where short squeezes equal abrupt stops. The first time we did so we were almost thrown off the bike—it was that tight.
The Suzuki R150 FI comes with a new, fully digital instrument panel, which could be switched to Eco or Power Mode. It also comes with a bright Shift Timing Light Indicator for easier shift timing. The enhanced tachometer (which can be set for a high and low rpm setting) backlight improves tachometer visibility as well.
A plus for those worrying about ever-present motorcycle thieves, the Suzuki R150 FI's keyhole has a new shutter that is as effective as it is discreet. One could close it with a flick of a finger, but to open it you need to use the other end of your key. There is also a little glovebox for keeping important stuff.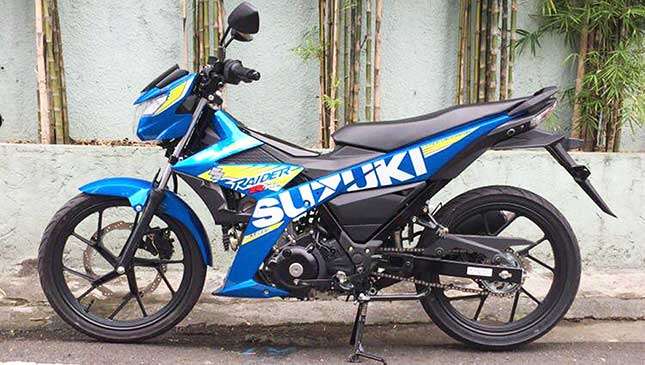 VERDICT
The Suzuki R150 FI is practicality on wheels. It is perfect for urban riders looking for a fun and dependable daily ride that is also agile as it is nimble. That it looks so good straight from the dealership is a big plus.
With the new fuel-injection system, the Raider R150 is Euro 3 compliant with the new government regulations on motorcycle emissions.
SPECS: Suzuki Raider R150 FI
Engine: 147.4cc, DOHC, liquid-cooled, single-cylinder
Power: 18.23hp @ 10,000rpm
Torque: 18.8Nm @ 8,500rpm
Transmission: 6-speed
Price: P109,000
Score: 18/20
UPDATE as of June 11, 2018: The 45th Tokyo Motorcycle Show in Odaiba was held from March 23 to 25 this year. The photos and videos shared by their visitors might have caused confusion among netizens since they have almost the same group of motorcycle companies showing off their latest hardware and technology. Moto Sapiens attended the Tokyo Motorcycle Show. This year, 135 companies with 882 exhibit booths showed off their latest two- and three-wheelers, modern electric bikes, accessories, and even riding paraphernalia. There were launch events of new motorcycles, relaunching of face-lifted units, and even revivals of classics by Japanese, European, American, and—wait—two Taiwanese brands.