If you've been riding motorcycles for a while, chances are you've inherited the passion for two-wheeled machines from an older relative. Maybe your dad taught you to ride and work on motorcycles since you were old enough to hold a wrench, or perhaps you had a cool tito who let you sit on his beloved bike, or maybe even your mom took you on rides in the province.
This concept of inheritance is what Yamaha seeks to convey with its 'Faster Sons' philosophy, which has given rise to the XSR700.
Before we talk any more about the XSR700, let me explain the name. The 700 refers to the engine's displacement, XS comes from the XS-1, the XSR's spiritual grandfather and Yamaha's first-ever four-stroke production bike built in 1970, and R represents the Japanese manufacturer's modern sport-derived technology, completing the 'Sport Heritage' concept.
A new entry to our market that appeared just in time for the retro-modern renaissance, the XSR line is Yamaha's vision of the perfect marriage between today's performance and yesterday's looks. Does the XSR700 manage to strike the perfect balance between timeless style and modern performance? Or is it just an MT-07 dressed up for a '70s party? Read on to find out:
ADVERTISEMENT - CONTINUE READING BELOW ↓
Styling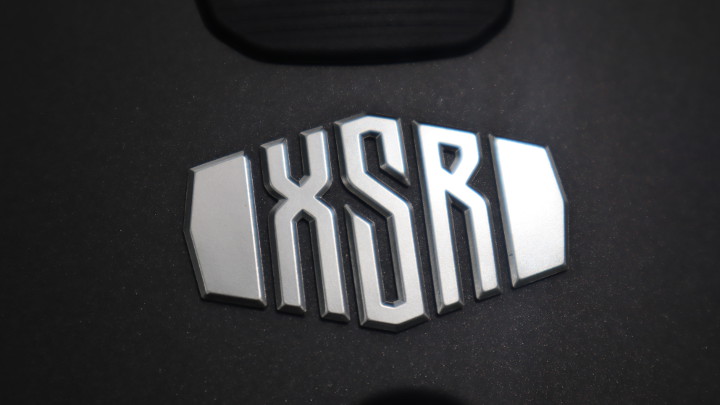 The most glaring difference between the XSR700 and the MT-07 is the styling. It comes courtesy of legendary Japanese bike builder Shinya Kimura, who designed the XSR700 with the theme of 'timeless beauty' in mind. Using the word 'timeless' over terms like 'retro' or 'vintage' feels more apt when describing a bike like the this, whose aesthetics have been meticulously worked over by Kimura to give respect to the model's forefathers without compromising modern ride quality, and to ensure that the styling will be appreciated for decades to come.
ADVERTISEMENT - CONTINUE READING BELOW ↓
Recommended Videos
The XSR700 heavily features circles and curves in its design language: round headlight up front, single circular digital display, curvy muscular tank, circular hole accents in the side panels, and a perfectly circular taillight. Yamaha isn't just obsessed with circles, however, as using consistent shapes and edges helps make the bike look more consistent and fluid. As a little tribute to bike builders from back in the day, the circular hole accents call back to when large holes were drilled into a bike's panels to reduce weight and add style.
You know a bike is gorgeous when you look back at it as you walk away from the parking lot. This is coming from personal experience: I found myself constantly turning my head to check out the XSR700, and looking for strategic places to park the bike so I could stare at it while I drank my coffee.
ADVERTISEMENT - CONTINUE READING BELOW ↓
As much as I praise the XSR700's styling, I believe Yamaha could have done a better job with the turn-signal indicators that appear to be shared among several of its models, and frankly don't look like they fit on an otherwise thematically consistent bike.
The saddle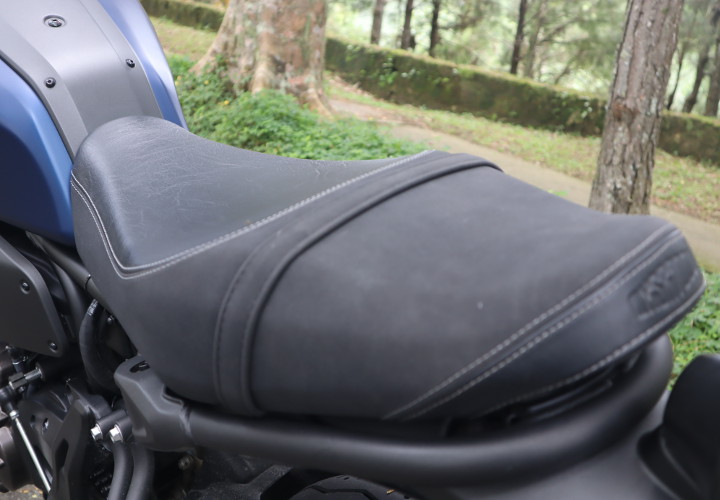 ADVERTISEMENT - CONTINUE READING BELOW ↓
Strangely enough, the XSR700 has a higher seat height than the XSR900: 32.9 inches for the former and 32.3 inches for the latter. That said, at 5'7", I didn't find sitting astride the bike to be a big challenge, and I could comfortably reach the ground with either one foot fully flat, or on tiptoes with both feet.
The stitched two-level leather seat is decently comfortable and has a premium look and feel, but it doesn't do a very good job of holding your bum in place under hard acceleration. It's a good thing the bike is designed with cutouts in the tank for your legs to grip. As far as riding position is concerned, the XSR700 nails it: I could sit in a relaxed upright manner with my arms a comfortable distance away from the wide handlebars and my legs in a not-too-aggressive angle with room to spare.
ADVERTISEMENT - CONTINUE READING BELOW ↓
The easily adjustable mirrors are large enough to show me everything I need to see, but the wideness of the handlebars combined with the placement of the mirrors significantly affects the XSR700's ability to lane-split. In more developed countries, this wouldn't be much of an issue at all, but it's a different story here in the Philippines where lane splitting is not only the norm but also often a necessity.
Engine performance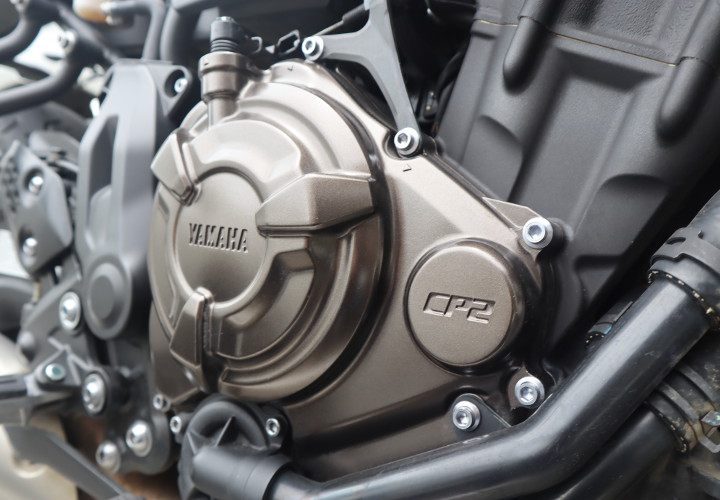 ADVERTISEMENT - CONTINUE READING BELOW ↓
Powered by a 689cc parallel-twin engine with Yamaha's now-famous crossplane crankshaft, the XSR700 is every bit as torquey as the MT-07. The motor pushes out a healthy 73.8hp at 9,000 rpm and 68Nm of torque at 6,500rpm, both of which are delivered in a linear manner thanks to the aforementioned crossplane crankshaft and the cylinders' uneven firing order. The throttle is responsive, but not abruptly so, which means it's quite easy to ride the bike slow or fast.
For the five days I had the unit, I rode it day in and day out, between home and school, to random cafes, up and down SLEX to grab brunch in Tagaytay, and around town to run errands. I can't really say I rode very economically, since I had loads of fun revving the CP2 engine. In those five days, I only refueled once before returning the bike. The digital display indicated an average fuel consumption of 15.5km/L, which sounds pretty reasonable considering I just had fun with the bike with total disregard for fuel economy. Officially, Yamaha claims an average fuel consumption of about 25km/L.
ADVERTISEMENT - CONTINUE READING BELOW ↓
As is, the exhaust note produced by the XSR700 isn't half bad, though it can definitely benefit from an aftermarket exhaust system, especially if you intend to flex on your plaid-shirt-and-leather-jacket-wearing friends.
Ride and handling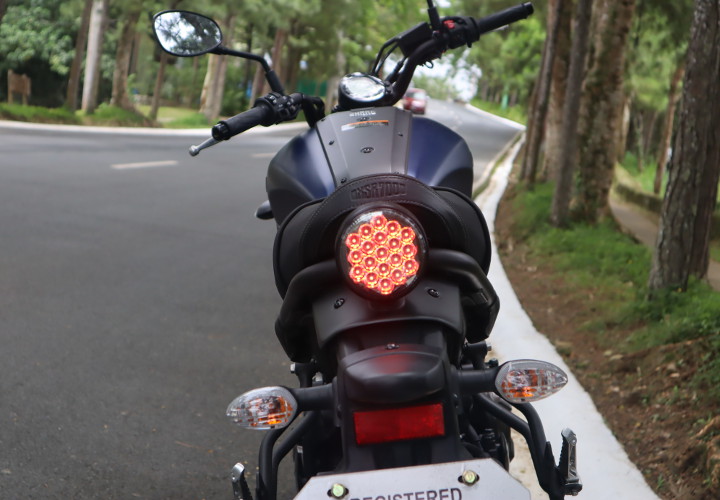 The XSR700 feels a bit like a modern sport bike between the legs, and also handles a bit like one around corners. It feels stable and planted both leaned over in a corner and under hard acceleration. While I would have like it if Yamaha had given this model an inverted fork—all the other XSRs and MTs have one—the right-side-up KYB fork here does a great job of keeping the front steady as you pretend to race from café to café. This stiff, sporty suspension comes at a price, though, as I felt every bump on the road just a little bit more.
ADVERTISEMENT - CONTINUE READING BELOW ↓
The Pirelli Phantom Sportscomp tires not only look cool, but also provide enough traction in both wet and dry environments. I appreciate Yamaha's choice of rubber here, since these Pirellis save owners the trouble of replacing the bike's tires for aesthetic reasons.
Stopping power is provided by twin Advics monoblock calipers clamping onto 282mm discs up front, and a single Nissin caliper and disc combo in the back. Braking is adequate, but stronger front feel would be nice. ABS comes standard, as it should for a bike at this price point and level of performance.
Extra features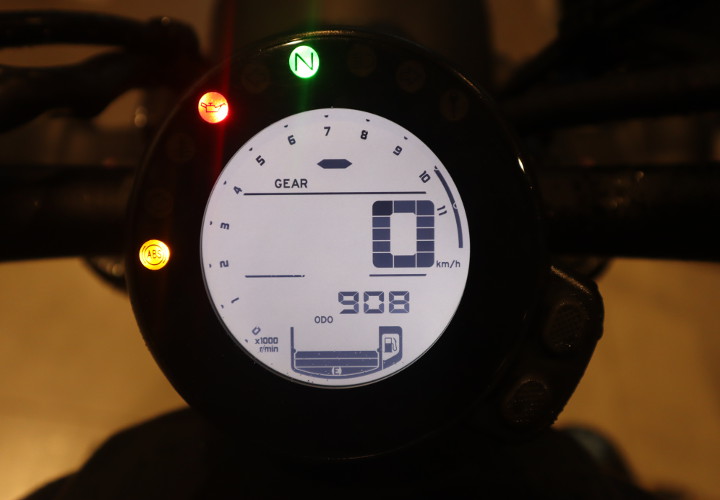 ADVERTISEMENT - CONTINUE READING BELOW ↓
The XSR700 isn't a very feature-rich bike: It doesn't come with traction control or riding modes, ABS can't be turned off, and anti-wheelie controls are nonexistent. There's one digital gauge, and that's it. However, this single unit has everything you need, like the usual speedometer, odometer, neutral indicator, and so on. It has some nifty bonuses, too, like a gear indicator, a fuel-economy meter, an engine temperature readout, and an 'eco' indicator that pops up on screen whenever you're riding economically.
While the bike may sound bare-bones, Yamaha intentionally left the XSR700 that way to make it easier to work on, modify, and truly make your own. An example of this philosophy is the bike's bolt-on subframe, which lets bike builders easily remove this portion along with the passenger seat to customize the XSR700 to their liking, without making any permanent modifications to the frame itself.
ADVERTISEMENT - CONTINUE READING BELOW ↓
The verdict
Yamaha set out to build a two-wheeler that perfectly embodied its 'Faster Sons' philosophy, and the XSR700 is just that: a bike with timeless charm that can be enjoyed by you and, hopefully, your child in the future. It might share a heart and skeleton with the MT-07, but it's built to fulfill a different purpose, which is to show how far Yamaha has come by honoring the XS-1, and to show how much further it can go by staying at the cutting edge of motoring technology.
ADVERTISEMENT - CONTINUE READING BELOW ↓
There may be some things I wish Yamaha had done differently with the XSR700, but as it is right now, this middleweight urban style statement is a seriously good deal to consider for anyone willing to spend a bit more cash over the MT-07.
SPECS: 2019 Yamaha XSR700
Price: P479,000
Engine: 689cc DOCH liquid-cooled parallel twin
Power: 73.8hp @ 9,000
Torque: 68Nm @6,500rpm
Seat height: 32.9 inches
Transmission: 6-speed manual
Score: 19/20
ADVERTISEMENT - CONTINUE READING BELOW ↓