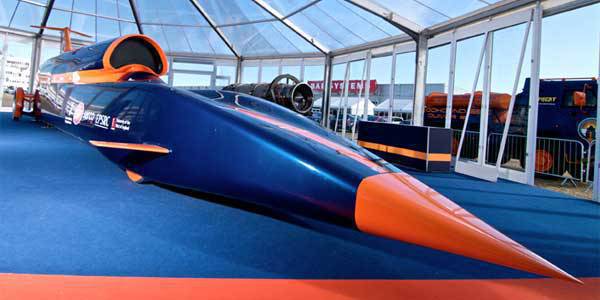 A jet engine- and rocket-equipped car with a six-figure horsepower is slated to set a new world record in land speed in 2012.
The Bloodhound SSC (SuperSonic Car), powered by the Eurojet EJ200 and Falcon hybrid rocket, is designed to deliver 133,000 thrust horsepower and propel driver Andy Green from zero to 1,689.81 kilometers per hour in only 42 seconds. The Bloodhound SSC will allow Green to break his 1997 record of 1,228kph.
The 'supersonic' car--a replica of which is currently on display at the Farnborough International Air Show in the United Kingdom--measures 12.8 meters long and is based on "three years of aerodynamic study and ten exhaustive design evolutions to perfect the shape and aerodynamic package of the planet's ultimate car."
"The Bloodhound SSC shape is completely different," said project director Richard Noble in a statement. "We need to minimise the cross-sectional area to minimise drag, but we also need a supersonic intake and a smart suspension system which will enable the car to run smoothly over the rough salt surfaces. Because the rocket is positioned above the EJ200 and thus raises the centre of gravity, we will need to position the rear wheels on suspension outrigged on draggy struts."
Continue reading below ↓
Recommended Videos
The Bloodhound Project is just entering its build phase with the first test scheduled for 2011. Modifications will be made to allow the car to breach the 1,000 miles per hour or 1,609kph mark by 2012.