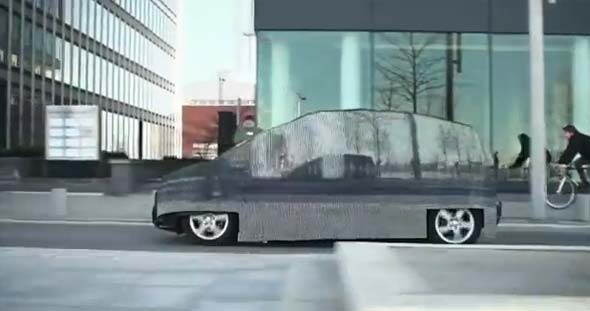 At a time when the entire population of the planet is scrambling to save Mother Earth, every kindhearted car manufacturer is also looking for ways to make vehicles with the least impact on the environment. How do they do this? Hybrids and hydrogen-powered cars are just some of the answers. But if you're having a hard time figuring out the numbers connected with emissions and carbon footprint, Mercedes-Benz has the perfect solution for you.
For an entire week, an "invisible" Mercedes-Benz F-Cell went around Germany to help people visualize the concept of "zero emission."
To make this happen, Mercedes-Benz covered the F-Cell with LED mats on the driver's side and installed a Canon EOS 5D Mark II digital SLR camera on the other side. Images captured by the camera are displayed in real time on the LED. This execution made it look like an "invisible car" is running on the road.
While on the move, the car captured different sights on the streets of Germany. While parked, people had a chance to show off their best angle or just simply goof around the car.
The display periodically shows a text advertisement that digitaltrends.com says translates to "Invisible to the environment. F-CELL with 0.0 emissions."
Continue reading below ↓
Recommended Videos
We're pretty happy with the thought of driving around in a zero-emission vehicle. But a real invisible car would be more awesome. Where would you go and what would you do if you had one?
If you're viewing this on a mobile device and can't see the video, please click here.