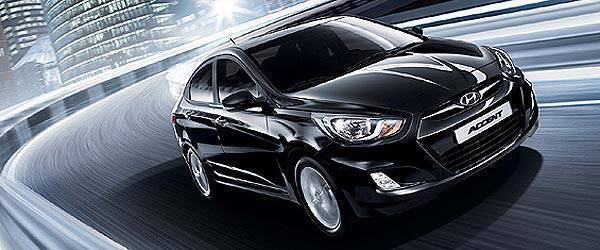 Everyone's raving about the new Hyundai Accent despite the very little information disclosed about the sedan. Well, what do you know? Distributor Hyundai Asia Resources (HARI) has decided to reveal a few more things about the Hyundai Accent just a few hours before its launch.
1. It's the automotive equivalent of High Definition. That's how HARI calls the all-new Accent as it has turned one of its existing nameplates "into one seamless and high-quality innovation made for the fast tracks, amplifying its features into thrill-inducing details and intensifying its power into soul-stirring performance to create one definition of amplitude, vigor, and intensity flawlessly rendered into one engineering entity."
2. It's sexier than the old Accent. It's longer by 90mm and yet it's only 5mm wider and 20mm shorter. Add to that its coupe-like profile, eagle-eye headlights and boomerang-shaped fog lamps and the all-new Accent makes its predecessor look like a refugee from the 1990s.
3. It's the latest beneficiary of Hyundai's Fluidic Sculpture design language. That much is already evident. You've noticed it looks like the Tucson, which was the first vehicle to carry Hyundai's new design language. We'll just have to wait and see though if the car's "smooth, undulating character lines and sloping fenders distinguished on its body frame…would leave car admirers running for their nearest Hyundai showrooms."
Continue reading below ↓
Recommended Videos
4. The interior looks good. The all-new Accent is also the newest vehicle in Hyundai's local line-up to execute the X-design fascia that was first introduced in the Tucson a year ago. That means the cabin temperature and audio system's controls are right smack in the middle of the center console. The deluxe console in the automatic transmission-equipped version is also convenient and provides an easy-to-reach space for items like mobile phones, portable music players and even coffee tumblers for that peaceful morning drive to work.
5. The all-new Accent promises comfort. Hyundai said the Accent's seats are ergonomically designed to interact properly with the bodies of the occupants to prevent repetitive strain injuries. The increased wheelbase also adds legroom and improves the Accent's overall comfort.
6. It's got a manual transmission variant. With five forward gears to choose from to power the 1.4-liter Gamma CVVT petrol engine that produces 107hp and 136Nm of torque.
7. And an automatic gearbox-equipped variant as well. The four-speed automatic variant also gets a Gamma CVVT petrol engine though its displacement has been bumped to 1.6 liters which allows it to put out 122hp and 156Nm of torque.
8. The hexagonal grille isn't just for show. Hyundai's signature hexagonal grille not only allows the engine to breathe fresh air, its well-coated fences keeps large debris and objects from entering the engine compartment. The Accent is the third vehicle in Hyundai's local line-up to get this grille after the Tucson and the refreshed i10.
9. The all-new Accent is one safe car. Besides being equipped with an anti-lock braking system and electronic brake force distribution, the all-new Accent has a strongly-constructed body frame been designed to spread energy on the outer frame to protect the vehicle's occupants and its fuel tank. A knee-protection pad also helps protect the driver from serious knee injuries in a collision.
10. It's also eco-friendly. With is engines equipped with a multi-point fuel injection system, the Gamma engine consumes gasoline efficiently as it injects fuel equally on its four cylinders for a more accurate and stable combustion while emitting very low levels of carbon exhausts. Its 1.6-liter equipped variant also gets an Alternator Management System that improves the Accent's charging efficiency by ensuring the proper flow of voltage to the battery while the engine is running. It also recharges the battery routinely to ensure its longevity.
See more photos of the new Hyundai Accent