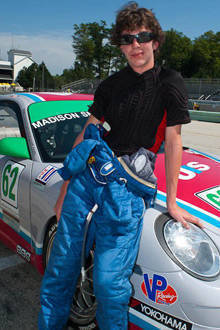 A 15-year-old has done what many of us only dream about and that's to not only win a racing series in his rookie year against veteran semi-professional drivers but to do it in a 911 GT3 Cup race car.
At his age, Madison Snow isn't legally allowed to drive on the streets yet he outclassed his competitors and recently bagged the Gold Cup championship trophy of the 2011 International Motor Sports Association (IMSA) GT3 Cup Challenge at the legendary Laguna Seca circuit. The Gold Cup features Porsche 911 GT3 Cup cars made from mid-2005 to 2009.
Snow took home the trophy as his 55-point advantage over second-place runner Mitch Landry is statistically unassailable with only one more round left in the nine-round series.
According to DailyDerbi.com, while Snow is a relative newcomer in semi-professional motorsports, he's actually a veteran behind the wheel. Snow has been driving go-karts since he was five years old before he moved up to a Mazda Miata for 2010 at 14 years of age to compete in the Miller Park Racing Association, a regional auto racing series in the United States. The rest, as they say, is history.
What's your biggest car-related achievement when you were 15 years old?
Continue reading below ↓
Recommended Videos
Photo from IMSA GT3 Cup Challenge Facebook page