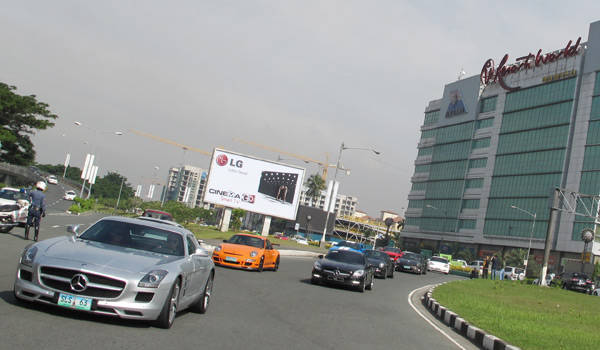 Last Sunday, October 28, an event called "GRrrrrrrrr Supercar Day" emphatically debunked two motoring misconceptions generally believed to be true in these parts: first, that a Third World country like the Philippines is too poor to have ultra-expensive supercars; and second, that owners of said ultra-expensive supercars won't come out in the open for fear of being tracked down by the Bureau of Internal Revenue.
Resorts World Manila's Genting Club, a members-only lifestyle club that caters to the whims of high rollers, held a gathering of exorbitantly priced automobiles through the assistance of Foilacar Manila. The complex's Newport Terminal was dotted by high-end exotic cars that numbered more than 80 by one estimate--including a handful of Ferraris, Lamborghinis, Maseratis, Mercedes-Benzes and Porsches--from 7am up to 12 noon.
The official press release maintains that the event was put together to promote the Department of Tourism's marketing slogan of "It's more fun in the Philippines." Our source, however, swears that the event really started as a fun way to celebrate the birthday of a valued Genting Club client, a businessman named Gerry Ramos. Hence the name of the event: GRrrrrrrrr Supercar Day (yes, there were that many R's printed on the event banner). Ramos brought and displayed his Lamborghini Aventador.
Continue reading below ↓
Recommended Videos
And because the event was supported and attended by supercar owners, it was only natural that top executives from the distributors of luxury brands were present to parade their wares, including CATS Motors' Felix Ang and PGA Cars' Robert Coyiuto Jr., who flaunted their Mercedes-Benz SLS AMG and Porsche Carrera GT, respectively.
Plans are afoot to make this a yearly event. In fact, the full name of the event is "GRrrrrrrrr First Annual Supercar Day." We won't be surprised if we bump into the BIR commissioner at next year's gathering. Check out the photos below and you'll understand why.