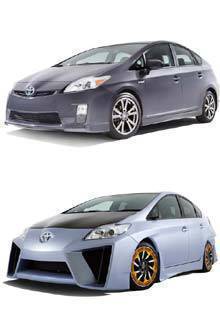 Despite its popularity among many Hollywood celebrities and environment-friendly motorists, the Toyota Prius hasn't exactly made waves in the Philippine market.
Still, we thought those who were able to afford the world's most popular hybrid, and those who are mulling to get one, would be interested to know about the aftermarket upgrades the Prius can get.
Here are a couple of specimens--one that shows actual performance upgrade and another that shows the future of the Prius--right out of the 2010 Specialty Equipment Market Association show in Las Vegas.
Toyota Prius PLUS Performance Package
What it's about: "The PLUS package delivers surprising traction and handling without sacrificing any fuel efficiency. Improved performance handling is achieved with the installation of sport-tuned lowering springs that provide a lower center of gravity, enhancing the vehicles on-road performance through quicker turn-in, enhanced steering response and improved cornering ability. A rear sway bar is added to reduce body roll for flatter, more stable cornering and maneuverability."
Continue reading below ↓
Recommended Videos
The package:
- Seven-piece aerodynamic body kit includes uniquely styled rear diffuser, front and rear bumper spoilers, and side skirts
- 17-inch unique forged wheels
- 215/45R17 tires
- Lowering springs
- Rear sway bar
- Floormats with PLUS logo
- PLUS exterior badge
Toyota Prius C&A Custom Concept
What it's about: "The Prius C&A Custom Concept vehicle was developed by the Conversions and Accessories group at Toyota Motor Corporation in Japan to demonstrate the unlimited potential for sports car modification on the worlds best-selling hybrid vehicle."
The package:
EXTERIOR
- Carbon fiber hood, roof, back door, rear spoiler, aero side skirt with vertical spoiler, rear bumper with vertical spoiler front bumper, front fender flares, rear garinsh
- 18-inch forged wheel with aluminum-made aero ring
- Goodyear Eagle Revspec RS-02-215/40R18 tires
- Styled exhaust tip
- Lighted front and rear Toyota badging
- Door mirror CCD camera system
- Smoked rear combination lamp
- Translucent rear side spoiler on rear combination lamp
- Mystic Lavender body color
INTERIOR
- Alcantara (simulated suede) steering wheel
- Aluminum shift knob with Alcantara suede
- Instrument panel gauge supplement includes "G" meter, output meter, mileage, water thermometer, and voltmeter
- Black interior with Alcantara suede trim on ceiling, "A" and "B" pillar, door trim, rear seat, and console box
- Driver and passenger RECARO seats with embroidered C&A logo
- DENSO navigation system with ECO display functions including motor, engine and total kilowatt output, steering angle (0 to +450 degrees), speed, accelerator open angle, mileage
SUSPENSION
- TEIN lowered sport suspension (four inches in front; six inches in rear)
Check out the gallery below and tell us what you think of the changes.

[gallery]627[gallery]